Drive-in Movie Theaters near Washington, DC and Outdoor Movies in 2020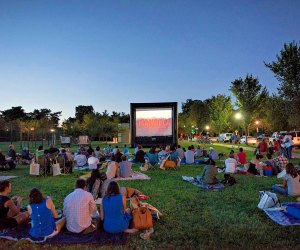 Drive-in movie theaters are usually the stuff of suburban summer nights, but one silver lining of social distancing is the advent of pop-up drive-in movies near Washington, DC this summer! From FREE outdoor movies on the National Mall to a pop-up drive-in at the McLean Metro lot, we've rounded up the top drive-in movie theaters and outdoor movie picks in DC and nearby in Virginia and Maryland.
Widescreen releases near DC in 2020 include Disney's live-action Mulan, set for July 27, the long-anticipated SpongeBob Movie, currently scheduled to pop on August 7, and The One and Only Ivan, based on the kids' book about a silverback gorilla who lives at the mall, on August 17.
Plus: RFK Stadium's schedule is now up and running, and more will definitely be popping up. Stay tuned to MommyPoppins for the latest!
Don't forget to bring masks for the bathroom and concession stands. These fun kids' face masks are just the ticket!