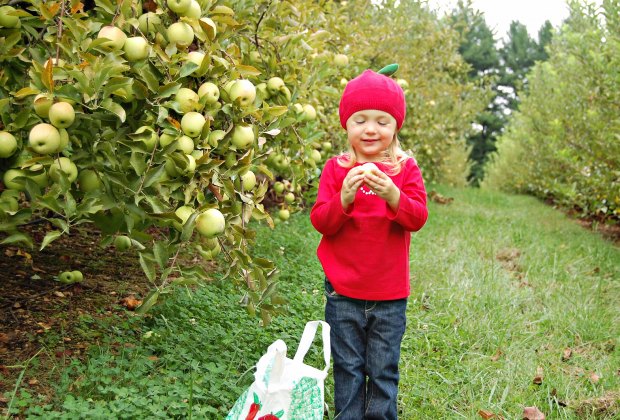 Best Apple Picking Orchards near Washington, DC for Kids
As the leaves turn so too do the thoughts of DC families towards apple picking. This favorite fall tradition is a must for kids and grown-ups alike and often go far beyond just plucking ripe apples from the tree. Many of these orchards host autumnal activities of all kinds, from corn mazes to music festivals and everything in between.
There are several pick-your-own apple orchards and farms within easy driving distance of the nation's capital. But remember: Farm conditions and apple availability change through the season, so be sure and call or check the website before your visit to any of the spots listed below.
Pick-Your-Own Apple Orchards in Northern Virginia
Great Country Farms - Bluemont, VA
Great Country Farms is much more than an apple orchard (you can pick other fruits there, as well, including strawberries and asparagus in the spring and peaches in summer). With a miniature golf course, a ninja course, fishing pond, playground, and dog-friendly picnic area, Great Country is a destination for the entire family. And don't forget about the annual fall festival, which is complete with pig races, a corn maze, wagon rides, and more, and runs daily through Halloween.
Great Country Farms charges an admittance fee: $8/child and $10/adult during regular days and slightly more on festival days. Season passes are also available.
Mackintosh Fruit Farm - Berryville, VA
With a variety of apples ready to pick as early as August, plus market, full on-site kitchen, and playground, Mackintosh Fruit Farm is a great orchard for families looking to pick their own fruit, bring some apple butter home, and stop off for some playtime along the way. The farm also hosts a variety of events throughout the season, including Honey Bee Day, Apple Butter Day, and farm dinner nights. There aren't any fees to access the orchard; simply pay for what you've picked.
Crooked Run Orchard - Purcellville, VA
Crooked Run is a year-round pick-your-own orchard that families can visit again and again, for a variety of fruits and vegetables, from cherries in early summer to apples in the fall and pumpkins and Christmas wreaths for the holiday season. For a peaceful time picking apples and a sip of apple cider, then Crooked Run is the place to go.
Note: Crooked Run Orchard doesn't accept credit cards - cash or check only so be sure to have either of those handy for your pick-your-own trip. There isn't an admission fee.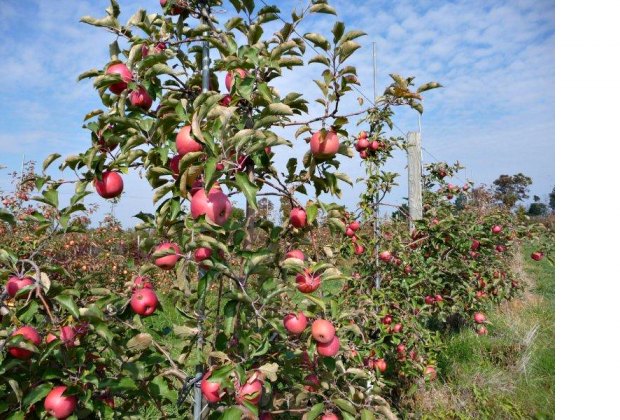 Photo courtesy of Homestead Farm
Pick-Your-Own Apple Orchards in Maryland
Butlers' Orchard - Germantown, MD
From potatoes to berries, herbs to apples, Butlers' Orchard is a great spot to pick-your-own fruits and veggies throughout the growing season. Better yet, there's also an on-site petting zoo, giant slides, hayrides, and playground. During the week, take part in the Harvest Pumpkin Days ongoing fall festival, which includes a small pumpkin and apple, plus access to a straw maze that's perfect for the little ones. Then head back on select weekends in September and October for the farm's Pumpkin Festival for autumnal fun that's kicked up a notch. (And don't forget to come back in November for the Holiday Open House and in the spring for Bunnyland!)
The farm charges a $3 admission per person and offers a $25 seasonal pass.
Homestead Farm - Poolesville, MD
Looking for a simple spot to pick some apples and pumpkins? Then Homestead Farm is your place. Open seven days a week, this orchard is no-fuss pick-your-own farm with a market for local honey, jams, and pre-picked fruit and veggies.
There is a $2 admission per person (babies are exempt). Bring your own containers, as well!
Larriland Farm - Woodbine, MD
There's more to Larriland than just apples! Besides a variety of fruits and veggies available for picking throughout the season, tractor-drawn hayrides, a straw maze, and The Boo Barn, a spot for 4-6 year olds to experience friendly, not too spooky Halloween decorations, are some of the autumn activities hosted at the farm. Don't forget to stop in the farm market for apple cider and preserves before you head home.
Pay for what you pick. The farm is closed on Mondays.
Milburn Orchards - Elkton, MD
From spring to Christmas, Milburn Orchards has something for the entire family, and the fall season certainly doesn't disappoint! Pick apples and pumpkins, check out the Big Backyard (a slew of activities including a playground, giant sand dig, petting zoo, and more), and enjoy the farm's Fall Festival Weekends. Hungry? Stop in for some lunch, baked goods, and ice cream at the farm market.
Apple pickings is open on Saturdays and Sundays starting Labor Day weekend with a $5 picking minimum for adults.