Splash Lab Arts: A New Place for Philly Kids To Get Messy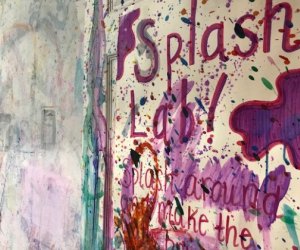 A brand new indoor play space, with an artistic bent, has made its home in East Falls. Splash Lab Arts has quickly become a go-to spot for kids aged four and up to get creative and try new mediums. We got a chance to take a peek at the space in its off hours to see all it had to offer. Read on for a full review!
The Montessori-inspired Splash Lab Arts is perfect for the creative development of young minds. The space includes places to engage in sensory bins, paint, build, and more. One of the great things about Splash Lab is that sensory objects change often, so each visit can feel like a new experience.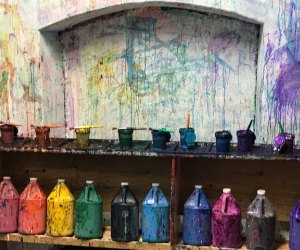 The Splash Room is the perfect place for kids to make a mess, and you won't have to clean a thing!
The most exciting room in the space is the Splash Room where kids have full access to paints they can use on the walls or paper, whatever they choose! This fall, Splash Lab Arts has a few great classes that are especially interesting, providing an outlet for kids to explore and get in touch with their inner artist. Among the offerings is the "Mommy and Me DIY Arts and Crafts" where caregivers can work with the kids and an instructor to create special gifts and crafts for the upcoming holiday season. This class is a great opportunity to see your little one fulfill their creative vision. We had a taste of this in our own exploration where we tested the various mediums available for kids to explore and create with. I was feeling rather nostalgic over the spiralgraph that my son had no interest in, but he (following his own art direction) was tapping into his inner engineer with the imagination blue block space.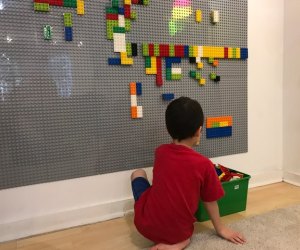 The Lego Wall is a fun place for kids to build. This is a great place for an older sibling to hang out.
Daily drop-ins for Splash and Play take place from 9 AM–1 PM, including weekends. This is a parent-led open studio experience, and is a primary time for toddlers and preschoolers to explore the arts unfettered.
In addition to open play, Splash Lab Arts provides a variety of classes that are made to inspire children using Montessori principles. Children are encouraged to engage in mixed age groups and explore at their own pace. Summer camps are also offered for kids aged 4-12, as well as after school activities. Some of the upcoming classes that look incredibly cool include "Mini Artist Foundation" classes where kids get a chance to develop an art foundation with lessons centered around exploring materials and defining early developmental skills and "Sensory Monsters" where toddlers can play with "edible arts." Projects in this class include pasta dyed with food color, edible paint, and more. The full class schedule is available on their calendar.
Birthday parties are offered in the space on weekends and are quickly booking up months in advance. The space also offers adult BYOB paint nights.
Membership is available, and provides you with monthly access to open play, as well as priority class enrollment, discounts on classes, and discounts on birthday parties. There are also invitations to special members-only events, including discounts and promotions.
What you need to know:
Splash Lab Arts offers open play hours daily from 9 AM - 1 PM.
While this is an awesome place for kids to get messy and explore their creativity, it's not a space they will be able to run around in.
Monthly memberships are available and will gain you access to open play, class discounts, and more.
Splash Lab has creative classes for kids ages 4 and up.
Looking for a night out? Try one of their adult BYOB paint nights! RSVP is required for paint night events.
Need a break during the day? Drop-off hours are available M-F 9 AM- 4 PM.
You can also book your birthday party at Splash Lab on weekends, which includes instructor led activities.
Splash Lab Arts is located at 3510 Scotts Lane #29, Philadelphia, PA 19129. Open play hours take place daily from 9 AM-1 PM.
All photos courtesy of the author