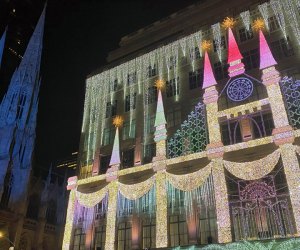 Rockefeller Center: How to See the Tree and More Family-Friendly 2020 Holiday Fun
Rockefeller Center is usually the most crowded place in New York City during the holidays. But with fewer tourists around and many people staying close to home, this could be a great year to go see "the tree," if you can stomach standing in a socially distant line. Once you've snapped your picture-perfect shot, what else is there to do?
There is actually quite a bit for families to do besides gazing at the twinkling evergreen in this 22-acre complex. Rockefeller Center is a great holiday destination with plenty of shopping, dining, and culture for kids of all ages. Include it as part of a holiday windows walk and grab a bite at one of the family-friendly restaurants nearby.
Read on for details on how to see this year's Rockefeller Center Christmas tree, plus 14 more fun things to do at Rockefeller Center this winter.
Editor's note: While we are trying to promote safer activities that occur outdoors or with social distancing guidelines in place, please keep your family and others safe by always wearing a mask and maintaining an appropriate distance.
How to See the 2020 Rockefeller Center Christmas Tree
Many changes are in store for the 2020 tree. When the lights turn on Wednesday, December 2, the streets around the tree will be closed to the public. The following day, West 49th and 50th Streets are closed to traffic, and visitors can join a "virtual queue" to see the tree. Groups of no more than four can enter the tree viewing area from Fifth or Sixth Avenues at 49th or 50th Streets and must follow social distancing markers and traffic patterns to the tree viewing area, which will be located on the streets and not the central plaza. Once you have reached the viewing area, you'll have five minutes to enjoy the tree and snap your pictures before moving on. If your group is larger than four, it will be divided into two or more smaller groups. When foot traffic is heavy, you'll be prompted to snap a QR code at the entrance points to join a virtual line and await your time to enter the tree viewing line.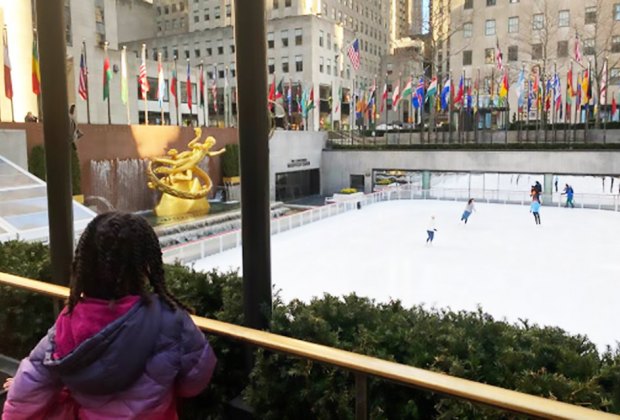 Hit the ice at the famed Rockefeller ice skating rink. Photo by the author
More Family-Friendly Things To Do at Rockefeller Center
1. Take a twirl on the most famous ice rink in the city. This is an essential NYC holiday experience. Go early in the season (or after the holidays) and early in the day to avoid the lines. The Rink is operating at a limited capacity to allow for social distancing, skate times are limited to 50-minutes, and reservations are recommended.
2. Get an up-close view of the giant Swarovski crystal star that graces the top of the Christmas tree. The real star weighs hundreds of pounds and sports millions of crystals, but you can get a miniature ornament-sized one for your own tree at the concourse-level Swarovski shop. Another fun tree-lighting fact: The 45,000 multi-colored lights adorning the big tree would amount to five miles worth of lights if unwound and stretched across the streets of NYC.
RELATED: Guide to Christmas and Holiday Events for NYC Families

There might be a wait to enter the Lego Store, but kids think it's worth it. Photo by Jody Mercier
3. Visit The Lego Store for a little playtime, and be sure to check out the mini version of Rockefeller Center made entirely from Lego bricks. This location has slightly amended hours, so check store hours before you head out. Pop outside and drop your change in the Salvation Army bucket, where bell ringers entertain the crowds with festive songs and dance.
4. Hit the other stores for some retail therapy or holiday shopping. There are more than 100 shops to choose from, selling everything from toothpaste to Tumi luggage.
RELATED: Must-Do Holiday and Christmas Events for New York City Kids in 2020

Visit American Girl Place for some holiday cheer. Photo by Jody Mercier
5. Duck into the glittering American Girl Place on the northern edge of Rockefeller Plaza. There are loads of opportunities for interactive play, including a doll "hospital" and hair and nail salon. The cafe is currently closed, but you can reserve the party room for a special package, including a custom doll hairstyling session, cake and ice cream, crafts, and a goody bag. Packages are for 4-8 people only and are $38 per child; $15 per adult. Reserve in advance.
6. Learn about fire safety at the FDNY Fire Zone. The store occupies a brand new home on 48th Street, just east of Sixth Avenue. General admission is free at this fire-safety learning center, where kids play with interactive exhibits, climb aboard a fire truck, and meet a real firefighter.
RELATED: 9 Best Ice Skating Rinks in NYC for Kids and Families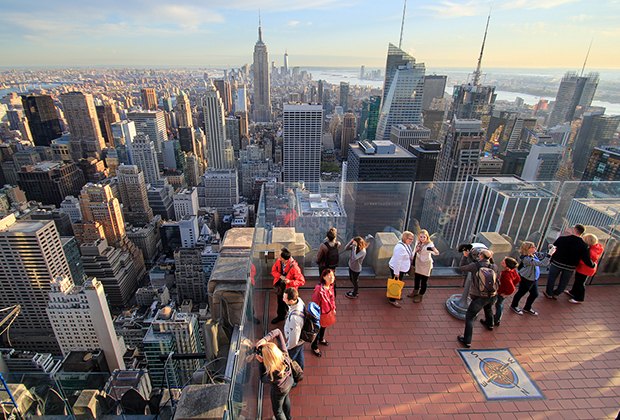 A quick elevator ride to the Top of the Rock offers one of the best city views. Photo by Steve Gardner via Flickr.
7. Head to the Top of the Rock observation deck to experience breathtaking views of the NYC skyline. Don't forget your camera. These are some of the city's best views, and kids ages 12 and younger are FREE with a paying adult through December 31, 2020.
8. Game your heart out during a visit to Nintendo NYC. Entry is on a first-come-first-served basis, but you will need to limit your shopping to 20 minutes.
RELATED: 25 Free Holiday and Christmas Events for NYC Kids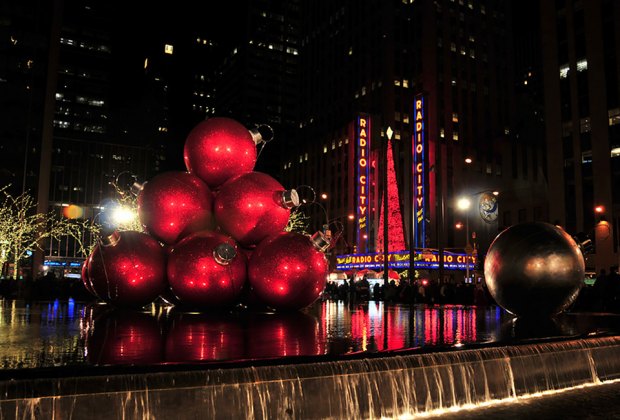 Radio City shines bright at night. Photo by Glyn Lowe via Flickr
9. Strike a pose. The office buildings on Sixth Avenue abound with festive outdoor holiday displays. There's always something to see in this neighborhood!
10. Take a tour for an inside look at Rock Center's art, architecture, and history. Prefer to do it yourself? See how many of these pieces of art you can spot along the way.
RELATED: Holiday Windows Walk: See Midtown Manhattan's Iconic 2020 Christmas Displays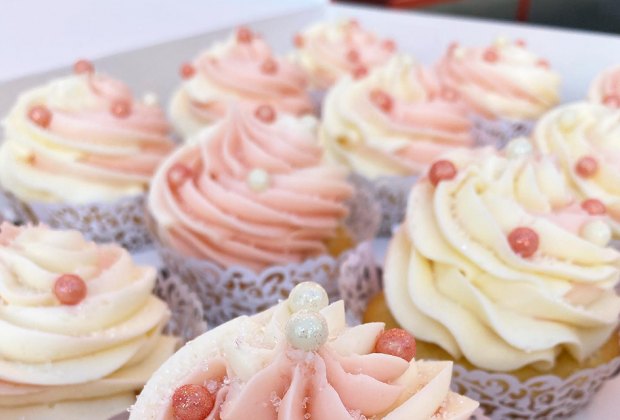 Banana pudding, cupcakes, and other delicious treats are worth the wait at Magnolia Bakery. Photo courtesy of the bakery
11. Be sure to try the banana pudding at Magnolia Bakery. It is not to be missed and a great end of the day treat!
12. Enter (or exit) Rock Center via the subway. Grab a bite at one of the faster, food court-type places and eat at the windowed seating area. There is also an ATM, post office, and clean bathrooms on the Concourse level, along with perhaps two of the city's most crowded Starbucks. Find more eats (and sweet treats) at these area restaurants.
RELATED: Holiday Lanterns and Light Shows in NYC for 2020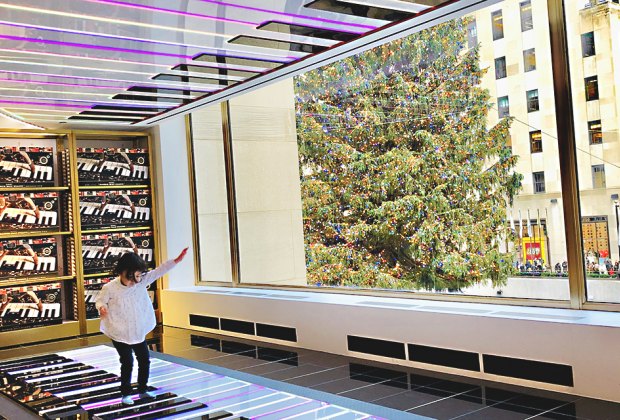 Play a tune on the giant piano at FAO Schwarz. Photo by Janet Bloom
13. At renowned toy emporium FAO Schwarz, greet the iconic toy soldiers at the door and take a whirl on the giant piano before you stock up on amazing holiday gifts. There's even a Build-A-Bear workshop on-site.
14. Check out the festive windows across Fifth Avenue, or visit the nearby, refurbished St. Patrick's Cathedral, which offers a self-guided audio tour.
This article was first published in November 2010; it is updated annually.