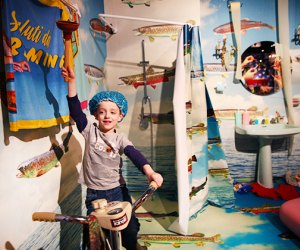 The Wackiest Art Exhibit in NYC Is Free
This winter NYC is spoiled with incredible art, and now we've stumbled upon another fully immersive exhibit that's totally wacky and totally fun to see with kids. Toiletpaper Paradise presented by Visionaire at the Cadillac House in Soho, takes its cue from the "wild aesthetic" of Toiletpaper magazine, according to organizers.
Visitors can explore multiple areas set up like an apartment (bedroom, kitchen, and so on), and all bedecked in psychedelic colors and outfitted with offbeat props that are sure to thrill kids and adults alike.
Read on to see more photos and hear more about this cool and totally FREE installation that's only open until Wednesday, April 12.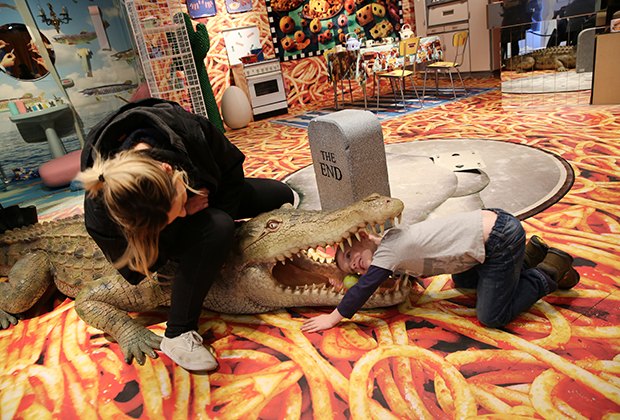 The wide open exhibit space of the Cadillac House has been transformed into several mini domestic settings for this installation, allowing visitors to roam from each mini room to the next, playing with the various props and staging improbable photo ops, from sitting on a faux alligator in the living room to picking up a toilet plunger and shower cap in the bathroom.
There are dress-up opportunities for kids, and hardly anything that is off-limits for touching (aside from the shower curtain). Our 6-year-old fan delighted in trying on grown-up clothes from the steamer trunk, preparing cocktails in the bar area, and talking on a rotary phone with his dad in the bedroom area.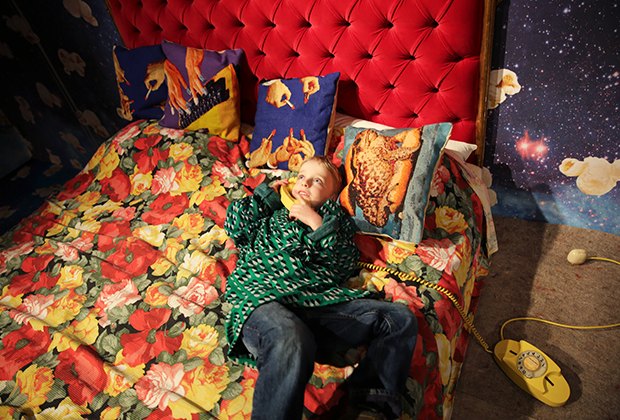 The visuals are over-the-top with a vintage feel and full of rich colors. There's popcorn wallpaper, a floor blanketed in images of spaghetti, and fish paintings on the wall. It's all meant to be a bit subversive and funny, reflecting the sensibilities of Maurizio Cattelan and Pierpaolo Ferrari, co-creators of the magazine. Housewares were produced by Gufram, an Italian furniture manufacturer, and Seletti, but customized by the artists.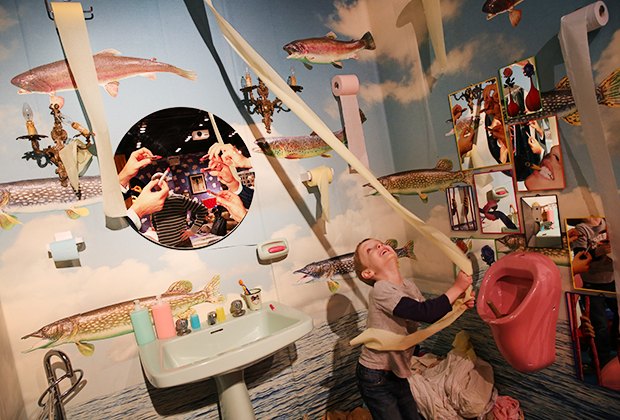 The show is best suited for kids over age 6, as some of the objects are made of glass. Some items might be objectionable to some parents (there are the previously mentioned empty liquor bottles to pour yourself a "drink" and a cartoon picture of a naked bum), but we found those things fairly tame.
Check out Toiletpaper Paradise at the Cadillac House at 330 Hudson Street, through Wednesday, April 12. It's open seven days a week. Arrive first thing in the morning to avoid lines. There is a café and bathrooms on site.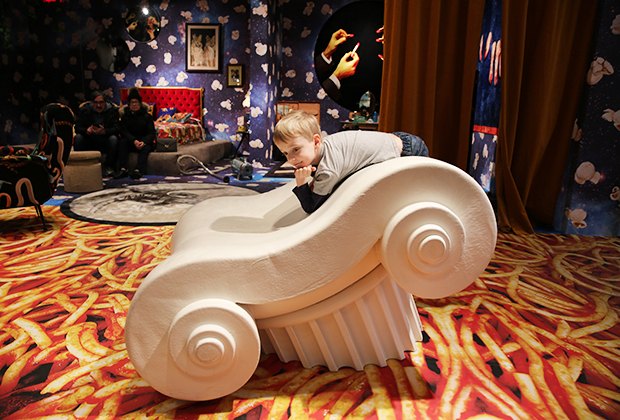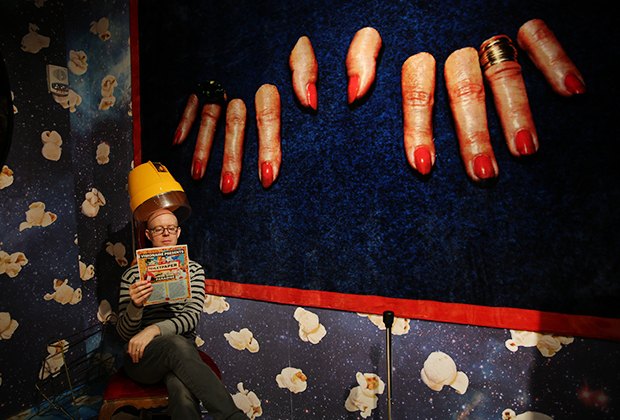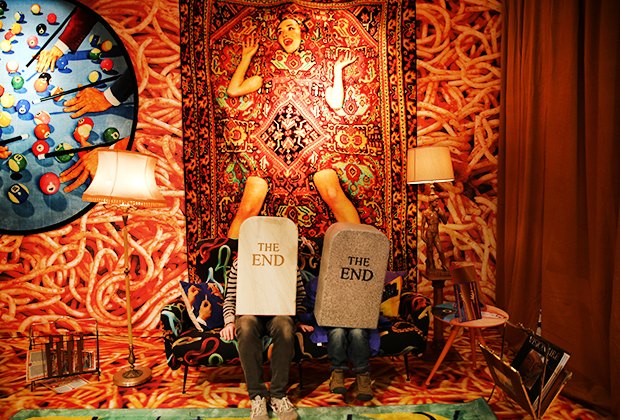 All photos by Shira Kronzon.