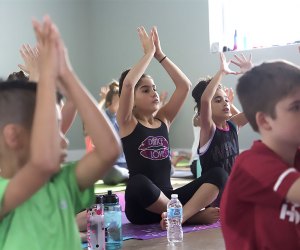 Yoga Classes and Studios for New Jersey Kids
The daily dash from school to soccer practice to dance lessons leaves little time for kids to find some calm on busy days. But there's an easy way to slow down and refocus—add yoga to your kid's routine. Whether you want your toddler, tot, tween, or teen to find balance, physical activity, mindfulness, or a combination of all three, there's a local NJ yoga studio that can help.
There's no arguing with 2,000-plus years' worth of evidence: The benefits of yoga are many. Research shows that kids who practice yoga boost their concentration and self-esteem, increase their flexibility, strength and coordination, and develop a foundation for dealing with stress in healthy ways.
If you're ready to give yoga a try with your kids, scroll down for a list of our favorite studios with yoga classes for kids. For more kids classes, check out our Guide to Classes and Enrichment Programs for NJ Kids.
Yoga Classes for Kids in North Jersey
Bloom Yoga – Fair Lawn
Bloom Yoga sparks your child's inner yogini by mixing in music, games, art, and storytelling. Classes are available for ages 4 to 12, and sessions run for 10 weeks. What's more, class sizes are limited to just 10 students, so your budding yogi is sure to get individualized attention. This studio also offers birthday parties for your yoga-loving youngster.
Ho-Ho-Kus Yoga – Ho-Ho-Kus
Kiddos ages 3 to 11 will find something to suit their physical and mindfulness needs at this Bergen County studio. Little ones get an introduction to balance poses and breathing exercises, while classes for tweens add in body awareness, self-respect, and self-confidence to help ease the major developmental changes going on at this age.
RELATED: Best Music Classes for NJ Babies, Toddlers, and Preschoolers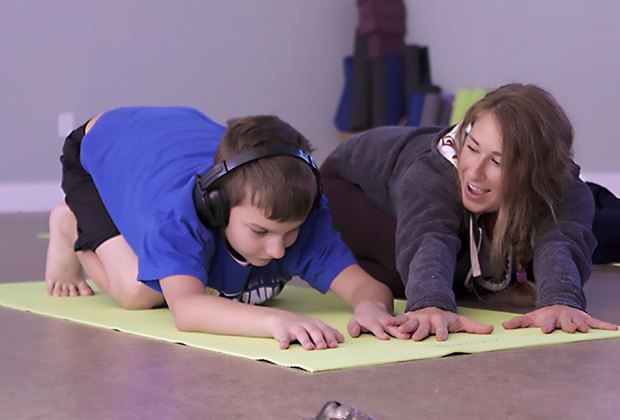 PowerflowYoga Kids in Bloomfield offers a Parents Night Out once a month.
PowerFlow Yoga Kids – Bloomfield
Baby and Me classes at PFY Kids strengthen caregivers to hold and carry their newborns with ease, and offer instruction in baby massage and other calming techniques. Mark your calendars for Parents Night Out, usually held the last Saturday of each month. Drop your kiddo off for a yoga party with games, pizza, and a movie while you get a break!
Shakti Yoga & Living Arts – Maplewood
Children's classes at Shakti are broken down by age group. Tots ages 3 to 5 explore yoga poses and relaxation alongside an adult, while kiddos 6 to 8 do it on their own. Classes for tweens and teens help them understand their changing bodies. Have two aspiring yogis on your hands? Enjoy the 10% sibling discount. Plus, Family Yoga is available once a month for ages 7 to 13.
Yoga Playhouse – South Orange
At this yoga studio exclusively for kids, budding yogis as young as 18 months old start learning yoga in a fun and engaging way. Special classes on anxiety, stress, and science use real-world scenarios to teach lifelong lessons on finding calm. Be sure to check out the studio's birthday party packages and summer camps.
Yoga Classes for Kids in Central Jersey
Inner Spirit Studio – Whippany​
Give your kids an outlet for their circus acts—besides jumping on the couch in the living room—with aerial yoga. Using gravity and silks, little acrobats take flight to gain stability, flexibility, and strength. Sign up for a six-week session, as well as summer camp.
LoYa Yoga – Summit
Games, music, and storytelling are integrated into classes for kids age 7 to 10, while older kids get an introduction to Vinyasa flow yoga to build a solid foundation for continuing practice. The studio also offers yoga classes specifically for young athletes to help prevent injury.
Princeton Center for Yoga and Health – Skillman
While you get your Zen on at this Somerset County studio, your kiddos can attend a yoga class of their own at the same time. Beyond yoga, eight-week Mindfulness for Kids sessions teach stressed-out students techniques for coping with the challenges of everyday life.
Satsang Yoga Studio – Westfield
Introduce kids to the world of yoga through song, play, and stories. They'll learn meditation and relaxation practices (K-5) to self-soothe and de-stress. Middle-school girls ages 11 to 14 learn to unwind in those high-anxiety tween years. Want to get in on the action with your tot? Playtime with My Little Yogi (ages 2 to 4) uses props like scarves, pom-poms, and more to add to the fun.
Yoga Classes for Kids in South Jersey
Be You Yoga – Manasquan​
Be You covers kids of all ages—from six week to 18 years—giving them the skills and mindset to be confident, awesome, thoughtful, and open. Check the schedule for family yoga workshops, held one Saturday per month. You and your little ones will learn poses, breathing exercises, mediation, and relaxation techniques together. Be You also hosts mommy-and-me retreats, summer camps, and birthday parties.
Firefly Yogis – Rumson
This innovative, family-focused yoga studio meets the needs of kids at every stage of growth. Mommy and Me yoga (newborn to age 3) is a great way to learn poses and movement while getting quality time with your tyke. Classes for little yogis (age 3 to 10) combine creative arts and yoga concepts. Tween classes end with a guided meditation, and teen yoga invites both newbies and returning students to find flexibility and balance.
SHINE Power Yoga – Maple Shade
If the thought of adding another activity to your kid's already packed schedule sounds overwhelming, SHINE's community class for kids requires zero commitment. Drop in for a one-hour stretch session every Saturday at 11am. Perfect for ages 4 to 11, it's a low-stress and low-cost way for kids to unwind after a long week of school and extracurriculars and start the weekend on a calm note.
RELATED: Swim Lessons and Classes for NJ Kids

In addition to kids' classes, Soul Power Yoga also offers classes for little ones and caregivers.
Soul Power Yoga – Marlboro
Kids ages 4-12 develop their yoga skills step by step. Start with developing social, sensory and motor skills at Level 1, engage in structured play at Level 2 and challenge them with new poses and flowing sequences in Level 3. After that, teens ages 12 to 15 can take Tween Empowerment, which will keep them relaxed, flexible, and balanced.
Photos courtesy of the yoga studios