Artificial Intelligence with Scratch Online Camp
Young Gates - Kids Online Personalized Classes

Online Robotics Camp
Young Gates - Kids Online Personalized Classes

Spark Math: Free Trial Class
Virtual
Sign up for our free newsletters.
Laser Tag Parties in the Hartford Area and New Haven County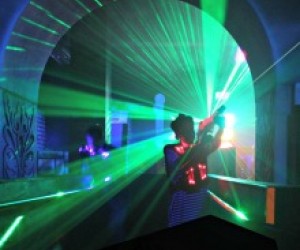 9/23/15
- By
Erin McNamee
Recently my eight-year old daughter was invited to a laser tag party. I was admittedly apprehensive at first -- my little girl, battling with lasers? But she wanted to try it and I'm glad we gave it a shot. If you aren't aware of how it works, the kids wear packs on their bodies that track if they are struck by a laser beam shot by another kid. Most places have obstacles to hide behind as well as for sneaking up on opponents. Kids work in teams so that they are not alone. Different places have varying themes and special effects. If your child likes high adventure and is looking for a thrill, check out the following places in the Hartford and New Haven areas for his or her next birthday party. For more birthday party ideas, check out our Connecticut Kids' Birthday Party Guide.
Hartford Area
Laser Quest

At Laser Quest in Newington, you will be put to the test, working in teams and dodging beams of light from your opponent. Fog and obstacles will help you to hide and at the same time make it challenging to catch your opponent. Adults and children ages 5 and older can play. Birthday party packages that include pizza, drinks and time in the party room are available. Laser Quest also has an arcade.
3005 Berlin Turnpike, Newington, CT 06111 / 
(860) 666-2097

Nomads Adventure Quest
Nomads is New England's largest indoor family entertainment facility, with over 65,000 square feet of fun. A new laser tag arena will debut in October. Birthday party packages include unlimited time on the playscape, pizza and beverage, and a private game of laser tag. Nomads also offers glow-in-the-dark mini golf, bowling, bounce houses, a climbing wall, an arcade, basketball courts, a billiard room, and a cafe and bar for parents.
100 Bidwell Road, South Windsor, CT 06074 / (860) 290-1177
Spare Time Entertainment
Spare Time in Bristol has a high-tech, multi-level laser tag arena with music, fog, and LED lighting with special effects. Their Vernon location is anticipated to be finished this fall. Both locations also have a bowling alley, arcade, and bar and grill on the premises. Birthday party packages are available -- call the facility for details.
177 Farmington Avenue, Bristol, CT 06010 / (860) 583-1669
350 Talcotville Road, Vernon, CT 06066 / (860) 875-2583
New Haven Area
Monster Mini Golf
New in 2015, Monster Mini Golf added a Helios Laser Tag System and a Creative Works Arena to its indoor, monster-themed, glow-in-the-dark, miniature golf course facility. Celebrate parties in the haunted mansion party rooms which are equipped with a full size refrigerator and microwave. A dedicated party expert will lead interactive games and activities before heading off for laser tag.
Christmas Tree Plaza, 210 Indian River Road, Orange, CT 06477 (203) 553-9267
Connecticut Sportsplex
One of the most popular type of parties offered by the CT Sportsplex, the Laser Tag Party consists of four 6-minute Laser Tag games with fog, music, and flashing lights. Parties include time in the party room with pizza, chips, beverages, and a gift. The Sportsplex also has indoor sporting facilities, an arcade, and a playscape.
216 Foxon Road, North Branford, CT 06471 / (203) 484-4383
Laser Planet
Laser Planet has a laser tag arena equipped with techno music, fog, and strobe and black light effects. It also has an arcade. Birthday party packages include two laser tag games, use of the party room, pizza, beverages, and a free game pass.
2457 East Main Street, Waterbury, CT 06705 / (203) 841-0081