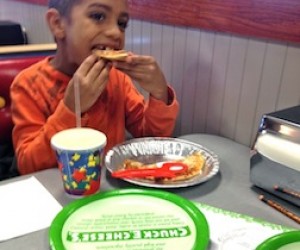 Gluten Free Dining With Kids In and Around Boston
In my family, three of us are gluten free, and I won't lie – it's a challenge. But we've learned to navigate the area in and around Boston, finding places where we can enjoy comfort food, just like all those "normal" families.
If you're looking for a family-friendly place to have a good gluten free meal, read on. I've highlighted some of our favorite places to dine, whether we're in the mood for pizza, burgers, breakfast, bakery treats or just a nice meal.
---
Burgers
Not Your Average Joe's - Although NYAJ has a full gluten free menu, we go there for the burgers. Actually, we really go for the pre entrée bread that comes with an incredibly delicious (and garlicky) oil for dipping. The atmosphere is fun and casual, but chic enough for parents to feel like adults.
99 Restaurants – My kids are always stuffed when we leave 99, and that's no small thing for my little ones with gargantuan appetites. The burgers are big and they're good. The restaurants are kid-friendly and budget-friendly, and they have a gluten free menu. What more could we want? There are 99 Restaurants in Charlestown, Quincy, Revere, and Somerville.
Pizza
Uno Chicago Grill – We've found Unos to be the most economical option for gluten free pizza. The best deals are on Tuesday nights and snow days, when kids eat free.
Chuck E. Cheese's – I know, weird, right? The pizza is shipped, baked, and brought to the table in its own bag to avoid cross-contamination. It even comes with its own little pizza cutter. Gluten free cupcakes, too. Good to know if your kid gets invited to a birthday party at Chuck E.'s.
Breakfast
Uncommon Grounds in Watertown – We've only been there once, but my daughter still talks about the Gluten Free Stuffed French Toast as if it were a dear friend. The gluten free pancakes are delish, too. You'll want to get there early, as the place is small and seating fills up quickly, especially on the weekends.
The Friendly Toast in Cambridge or Portsmouth, NH – We've been to both locations, and I can say that I have a strong preference for the Portsmouth restaurant. The one in Cambridge seems to have some cleanliness issues. That said, the pancakes can be made gluten free, and the King Cakes might just be my favorite breakfast of all time. Plus, the funky décor does a good job of keeping the kids occupied while they wait for their food.
Baked Goods
Glutenus Minimus in Belmont – As of October 2015, the Glutenus Minimus storefront has closed for business. The best GF baked goods around. I actually know people who frequent Glutenus Minimus even though they don't have to eat gluten free. For more details on the bakery and a review of their pizza, see my post, Glutenus Minimus Saves the Day.
Something Sweet Without Wheat – We tried Something Sweet at a farmers market, and we were delighted with the find. My daughter loves whoopie pies and this is one of the few companies to make a gluten free version. If you can't find the goodies at a local farmers' market, just pick one of the many locations in and around Boston where Something Sweet Without Wheat's treats are sold. They've also recently partnered with Anthony's East Side Deli in Arlington, so now you can get a gluten free sandwich at Anthony's.
A Nice Meal
I've saved the best for last. Hands down, our two favorite kid-friendly and gluten free friendly restaurants are:
Burton's Grill – Take a look at my review to find out all about how Burton's is kid-friendly, allergy-friendly and has great food (and nice bathrooms, too).
P.F. Chang's – Almost every year my kids ask to go to P.F. Chang's for their birthdays. We love the gluten free Chang's Spicy Chicken and the flourless chocolate cake. Chang's gets the whole gluten free thing right. The servers are knowledgeable, the GF menu has plenty of options, and we can always count on them to consistently offer a satisfying (and safe) gluten free meal, served on special plates.
---
Where is your favorite kid-friendly place to get a gluten free meal in the Boston area? Leave a comment!