Thanksgiving Crafts: Fun Projects That Help Kids Give Thanks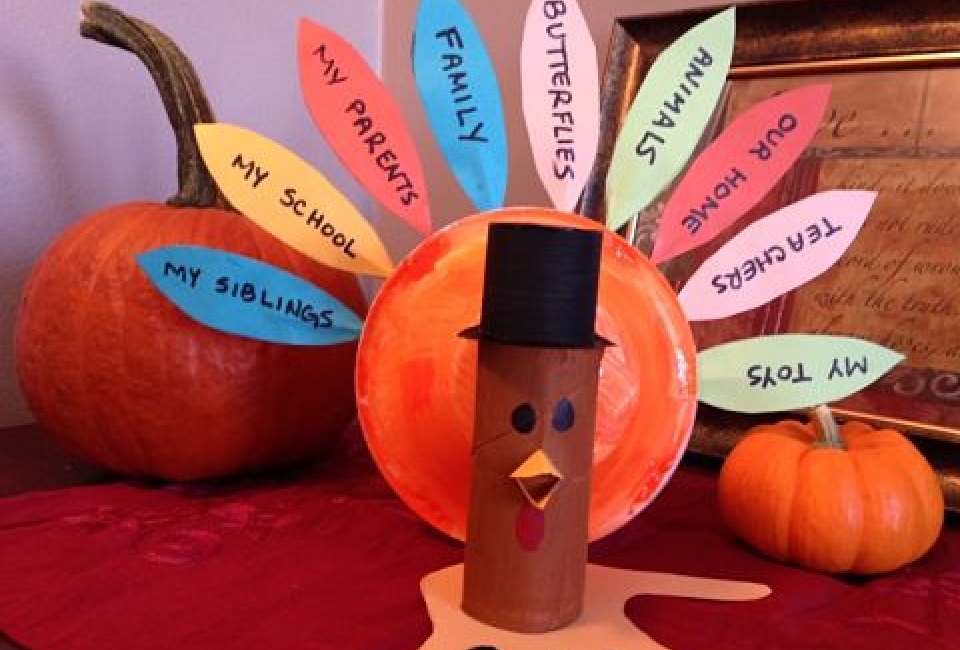 11/4/13
- By
Sonia Gonzalez
My kids have come down from the excitement (and candy overload) of Halloween and are starting to settle into the season of giving thanks. Actually, if I'm being honest, they are looking PAST the season giving thanks, already asking about letters to Santa. I happen to like Thanksgiving. There's no frenzy over gifts or costumes, just lots of good food and family gatherings...and football. Plus it's a perfect excuse to reinforce lessons in being grateful and giving back. So I try to find ways to help my kids appreciate the season and slow down a bit before we head into the holiday mayhem of Christmas. Crafts are usually a hit with my kids, so I like to start there.
I'm no Martha Stewart, but my kids love doing crafts, and the more glue and glitter, the better (according to them). So I've obliged, but on my own terms--they have to be quick and relatively easy. To help get in the Thanksgiving spirit, we've got some fun craft ideas for the family that fit my criteria. These crafts are also a fun way for kids to artistically show what (and who) they are grateful for, which can make it a more lasting lesson. Enjoy!
Thankful Turkey
This is a great way for kids to show what they are most thankful for.
What You'll Need
Two paper bowls
toilet paper tube
glue
construction paper
markers
scissors
paint
a paintbrush
toothpicks
small condiment cup for the turkey's hat (optional)
1. Paint the bowls and toilet paper roll any color you'd like and let dry.
2. Glue the rims of the bowls together.
3. Glue the roll to one of the bowls, creating the body.
4. Make a face for your turkey by first drawing eyes with marker.
5. Give him a beak by folding a small square of construction paper in half diagonally and then cutting along the line to make the beak 3D.
6. Glue on the beak and let dry.
7. Draw a gobbler with a red marker
8. Trace your kid's hand print to use as the turkey's feet.
9. Cut out feather shapes from the construction paper (two for each feather) and have your kids write one thing they are grateful for on each feather.
10. Sandwich a toothpick with one end sticking out between two feathers and glue the feathers together, sandwiching the toothpick in the middle. Let dry.
11. Stick the feathers into the bowls.
12. If using the condiment cup, trace a circle, wider than the diameter of the cup and cut it out for the hat's brim. Glue the cup to the brim. You can also make your own pilgrim hat with black construction paper.
If the Thankful Turkey seems a bit too complicated, try one of these ideas:
Grateful Fingerprint Place Cards
Personalize place settings with these adorable fingerprint place cards that give thanks.
What You'll Need
Yellow and Green Construction Paper
Acrylic paint
Small paper plate
Glue stick
1. Cut a corncob shape from yellow construction paper. Squeeze acrylic paint onto the paper plate. Have your child dab his finger into the paint, then onto the cob to create rows of kernels. Let the paint dry.
2. Cut two curved husk shapes from green construction paper and attach them to the cob with a glue stick. Have your child write "I am grateful for" on the top husk and the name of a friend or relative on the bottom husk. Go one step further use the back of the place setting to have them write one reason they are grateful to that person.
3. Fold a long rectangle of paper into a stand by folding the paper into a triangle with a small flap for gluing. Glue it to the back of the place card.
Grateful Jar
During your Thanksgiving meal, pass this Grateful Jar around and have each person draw a card and answer the question.
What You'll Need
Construction Paper
Marker
Mason Jar
1. Cut out feather shaped strips of construction paper in various colors.
2. Have kids write a question on each feather strip.
Need help getting started? Here are some suggestions:
What is the nicest thing someone has done for you?
What invention are you most thankful for?
How do you show thanks to someone, besides saying "thank you"?
Who are you most grateful for? Why?

Sign up for our free
newsletters.
Mommy Poppins is a family activity website that helps people find things to do with kids.
©
2023
MommyPoppins. All Rights Reserved.
mp-prod4-v4.32.99
We use cookies and other data collection technologies to provide the best experience for our customers.
Learn More