Skytop Lodge, a Refined Family Getaway in the Poconos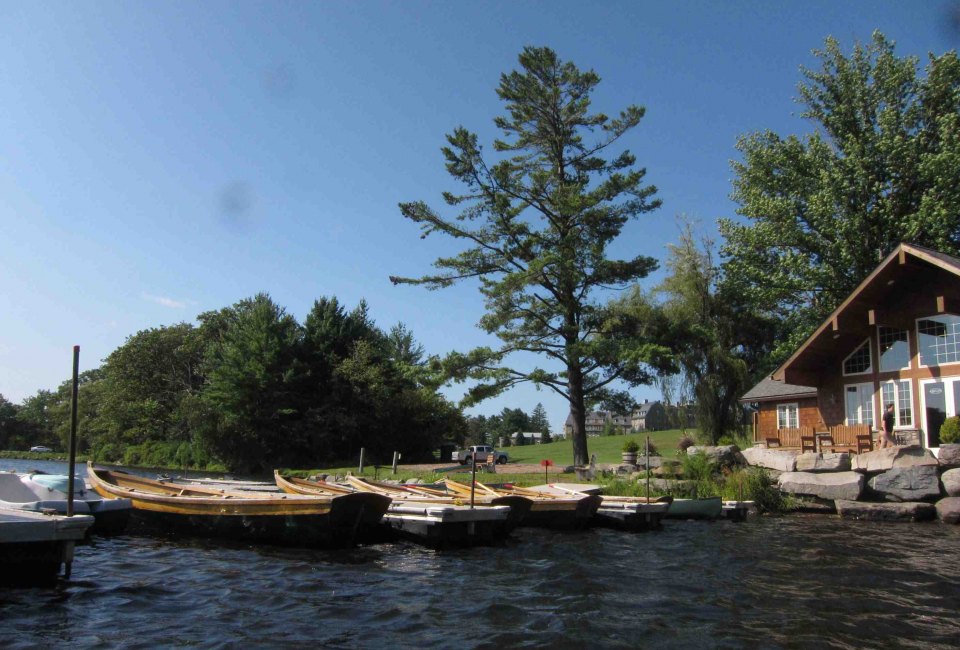 9/3/12
- By
Allison Tibaldi
Skytop Lodge is a timeless, genteel hotel nestled in the rolling hills of the Pocono Mountains. Just two hours from New York City or Philadelphia, it feels a million miles away. The pristine natural environment is the perfect backdrop for having fun in the great outdoors. Many guests that we met are repeat visitors, some who have been coming since childhood and now return with their own children.
Skytop Traditions
Skytop is full of traditions and seems to exist in a kinder, gentler time. It is infused with an Americana spirit and a sizable dose of decorum. It's the sort of place where grandfathers twirl little girls in smocked dresses at the weekly Saturday evening dance. Guests of all ages gather around the fire circle for a nightly snack of s'mores before bedtime. Tea and cookies are served each day in the Main Lodge at 4 pm to the sound of live piano music. Finger bowls are part of the dinner service, but the waiters will laugh with you if your child (or you) tries to sip from it. Adult males are required to wear jackets for dinner in the Main Lodge's Windsor Dining Room, but there is a more casual dinner option, the LakeView Restaurant.
The American Plan includes all of your meals and snacks and many activities
We really enjoyed our meals at Skytop Lodge and the unlimited breakfast and lunch buffets were a god-send for my children's ravenous appetites. Three hearty meals and non-alcoholic beverages are included in your room rate. We especially loved the grilled cheese bar, where you can customize your toasted sandwich to please your palate. The desserts were a high point, with lots of choices that used seasonal fruits as well as some chocolate-laden delights. And the dinner menu featured crowd-pleasers like steak and simply prepared chicken. There is also an excellent wine list, including some well-priced wines by the glass.
Timeless Fun
Don't get the idea that tradition makes this place staid and stuffy. Skytop offers nearly unlimited recreational activities. Some of them are free, but many incur an extra cost.
The golf course is baronial, and even a non-golfer like myself felt tempted to give it a try. I should have, as there are intro group classes for all ages. Tennis is big here too, with well-maintained courts and clinics for the entire family from tots up. Canoes, kayaks, rowboats and pedal boats are all available for rental. We enjoyed our guided mountain bike ride to Indian Ladder Falls. A summer stay will surely include a dip in the lake, where younger kids can bounce on the trampoline and older ones can try stand up paddle boarding. No need to bring the pail and shovel, there are lots of toys available on the sandy beachfront. In addition to a large seasonal outdoor pool you may have a swim year round in the indoor pool, complete with kiddie pool and a large hot tub.
Our visit was in summer, but I was told that winter brings ice-skating, snowshoeing, cross-country skiing and many other ways to celebrate the frosty weather.
21st Century Activities
If you have teens, you know that this hard to please age group requires more than standard activities to engage them. Skytop understands this and caters to those seeking an adrenaline rush in all seasons. The Adventure Center offers a challenging Treetop Adventure Course that includes three zip lines. You can also participate in Laser Tag, Paintball, skeet shooting and Dog sledding, so no one will be bored.
Time Outs
Not all activities at Skytop require you to be physically active. Relax in the stately library filled with books, puzzles and games. We enjoyed participating in the Drumming Circle, an interactive and informative lesson on different techniques and drumbeats from around the world. Kids can play with Playdough, blow bubbles or draw with colored sidewalk chalk. Arcade games, table tennis and indoor mini-golf are gentler pursuits. We loved trying our hand at low-key, old-fashioned games like horseshoes and lawn bowling.
Camp in the Clouds
If parents want some alone time to pursue their own activities or the kids just want to join the fun, guests 3-12 years of age may register for fully supervised Camp In the Clouds each day in summer and year round during weekends and holidays. Full and half-day sessions are available. Current rates are $32 for the full day, $16 for half day.
Natural Beauty
The public spaces at Skytop are lovely. We stayed in the epicenter, The Main Lodge, a stone covered, regal building, adorned with comfy floral patterned wallpaper and chintz sofas in the public areas that encourage sitting and striking up casual conversations with the other guests. The guest rooms are cozy, and there are many different configurations. Flat screen televisions, Wi Fi and other modern amenities abound, but the feel is classic rather than modern. You can also rent cottages or stay in The Inn, which is nestled against the golf course and where the LakeView Restaurant is located.
The natural beauty here is truly special. The lakeside trail is a peaceful place to start your day with a flat and easy family hike or bike ride around its perimeter. Bikes come in all sizes, and there are even some with training wheels. With 30 miles of hiking trails, there is lots of room to explore and commune with nature.
The elaborately manicured gardens are lovingly attended to by a team of devoted gardeners. A large vegetable garden was brimming with ripe summer squash, tomatoes, corn and herbs that are used in the kitchen.
Nature is incorporated into many of the activities and kids camp. You might try flower arranging, or take part in an early morning bird walk with one of the resorts naturalists. Before you leave, pick up a complimentary seed packet and try re-creating some of the stunning flower beds at home.
The Bottom Line
A vacation at Skytop does not come without a price tag, but deeply discounted rates for children help make it a good value for families. Kids under five are free and those 5-17 cost $49 per night when staying in the same room as their parents. Rates for adults vary according to room choice and dates, but a weekend here costs in the range of $600 for two adults; not cheap, but do keep in mind that all meals and some activities are included. For our family the proximity to our home in NYC, boundless choice of activities, natural beauty and hearty cuisine won us over. We are considering returning to Skytop for my mother's 80th birthday, as we saw so many multi-generational families enjoying themselves at the resort.
Skytop Lodge offers complimentary shuttle service to and from the Mount Pocono, PA Bus Terminal. Arrangements for this service must be made with the Lodge in advance, but this makes a visit here entirely possible without a car.