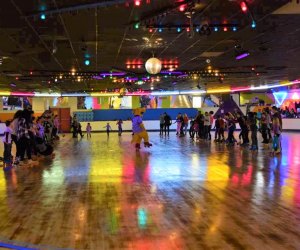 25 Things to do in Waterbury: The Brass City
Known as the "Brass City," Waterbury is the 9th largest city in New England. For families, the greater Waterbury-area is packed with things for kids to do. Whether you have a little conductor, bowler, ice cream lover or daredevil, there is something for everyone. But no matter what you come to Waterbury for, make sure you stop by Sultans Turkish Restaurant for some amazing food afterwards.
Mattatuck Museum and Arts Center
The "Matt", as it is referred to, is an art and education museum located in downtown Waterbury. It has 25 rotating exhibits and is home to an amazing collection of over 10,000 buttons! The Matt offers educational programs for groups of children including Boy and Girl Scouts, homeschoolers, and youth groups. Story-time for children ages 3-5 is offered and the Matt is open for Community Free Days on the second Sunday of every month.
Seven Angels Theater
LCome learn about theater at the Seven Angels. Seven Angels offers many educational programs including a summer theater camp for children ages 7 to 18.
All in Adventures
One of Connecticut's newest adventure rooms. Located at the Brass Mills Mall, open till 9 p.m. every night. Themes range from "Black Ops" to "Zombie Apocolypse." Detectives 13 and under must be accompanied by an adult.
Fascia's Chocolates
Enjoy the delicious offerings at Fascia's during a chocolate tour. Fascia's also hosts "Young Chocolatier" themed birthday parties.
Lakewood Lanes
In business for 50 years, they offer Galaxy Bowling, Bowl-by-the-game, or Bowl Your Head Off.
Apple Cinemas
See a movie on Tuesday or Sunday and pay a reduced rate.
Carvel Ice Cream
This ever-popular chain where you can get soft-serve as well as ice cream cakes. Take-out only. Choose from Bubble Trouble, Maple Chip, Treasure Island, and Turtle.
Sundae Spa
Sundae Spa is a unique pampering and ice cream destination where you can get a hair cut and an ice cream! Bring your pre-teen daughter to get some glam-strands or colored infusions...and a chocolate covered sundae! All-natural hair coloring pigments.
Extreme Paintball
13 different outdoor paintball fields on 75 acres in Waterbury. Open games are played every Saturday and Sunday. Minimum age to play is 10 years old.
Laser Planet
Have your next birthday party at Laser Planet or come on down on a Saturday afternoon with the family. Laser guns and battle vests are lit up! There is a Little Dipper interactive play-space perfect for toddlers to five years old. Open Thursday through Sundays.
Arts and Culture Collaborative
Bring your school-age children to enjoy the classics performed by a full orchestra. This is the Waterbury Symphony Orchestra's 80th season and they will be performing Stravinsky, Beethoven, and Haydn. ACC also hosts the Downtown Draw, a chalk drawing event held during the summer where artists of all ages are encouraged to put chalk to the sidewalk and create a masterpiece.
Palace Theater
One of the best loved theaters in Connecticut, the Palace boasts concerts, plays, and performances of all types. The Palace offers learning opportunities such as "Learning in the Wings" for high school age students. Participants can job shadow and learn about house management, box office management, and technical direction for theaters.
Brooklyn Baking Company
Treat the kids to freshly baked donuts and, of course, a hot coffee for mom or dad. Brooklyn Bakery offers many baked treats including apple turnovers, chocolate chip cookies, chocolate eclairs, Portuguese rolls, Italian bread, and cupcakes.
Frankies Hot Dogs (several locations)
Do your kids like a really good hot dog? Then check out Frankies. This restaurant has been around since the mid-30's and known in the community as the "Hot Dog King." You can get your dog with chili, onions, bacon, cheddar cheese, you name it!
Pepe's Pizzeria
Historic chain of restaurants famous for their wood fired oven pizzas, begun by Frank Pepe. Pepe's offers a full Italian menu of the favorites Connecticut natives have come to expect. Every family has to try Pepe's once! Located on Reidville Drive.
Railroad Museum of New England
The RMNE offers rides for kids that are a big hit area-wide. Choose from the Easter Bunny Express, a Summer Scenic ride, or the very popular Santa Express, all of which sell-out very quickly. After the ride, stop by one of the local restaurants to grab a bite.
Dippys Ice Cream and Shakes
Open all year round and on holidays, Dippy's uses vanilla from Madagascar along with premium nuts and other toppings. Taste one of their popular flavors: Butter Pecan, Egg Nog, Toffee Crunch, and Coconut Covered Almond.
Greater Waterbury YMCA
The Waterbury YMCA offers so many things for the whole family to do from swimming, free youth sports classes (with membership), and even community planned events like the Chilly Challenge and the Fischange-Cicchetti Road Relay.
Silas Bronson Library
If you are looking for a fun, child-centered program or somewhere to bring your toddler to story time, Silas Bronson Library offers several children's programs to choose from. For elementary school-age children, they offer a coding club, a Roblox club, and a Learn to Type class. Teen programming includes monthly board games and movies.
Big Franks BBQ
If you and the family are hungry and you want to throw down some spicy BBQ, order from Franks. Delicious offerings include brisket and pulled pork. Kids' menu includes corn dogs, chicken strips, hamburgers and more. Take out only.
Park and Recreation
The city of Waterbury maintains over 30 parks and recreation areas of all shapes and sizes. Residents ages 3 and up can take part in recreation activities held at one of five locations, including: North End Recreation Center, Waterville Recreation Center, William Tracy Park House, Chase Park House, and River Baldwin Recreation Center.
Roller Magic
Do your children love roller skating? Waterbury Roller Magic is a great place to go. Enjoy the large rink, colorful lights, and music. Birthday party time slots are offered, but there are also family skate times on Wednesday evenings, Friday nights, Saturday afternoons, and Sunday afternoons.
In nearby Cheshire:
Sweet Claude's Ice Cream
Do you love ice cream? Sweet Claude's offers delicious flavors like Dough-si-Dough, Maple Walnut, and Mississippi Mud. They are located conveniently on Main Street in Cheshire and accept check or cash only.
Barker Character, Comic, and Cartoon Museum
No stop to Cheshire is complete without a trip to the Barker Museum. This is the most unique Museum your children may ever go to. Browse the massive collection of toys, posters, advertisements, and memorabilia all on the topic of cartoons and cartoon characters. Have your picture taken with a life-size Simpson family (of Simpsons fame).
Whippersnappers Play Gym
Little kids will love running around in this place. Covered in soft edges, kids ca slide, bounce, climb, and play their way around this gym. They offer classes for kids several times a week, as well as several open play times.
Photo: Roller Magic