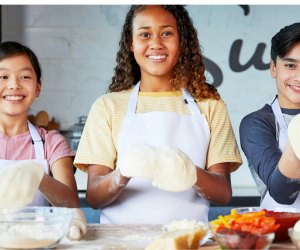 Cooking Classes for Kids in Connecticut
Cooking classes are a great kids activity. Kids love cooking and are definitely more likely to eat cuisine they have helped prepare. So get those aprons ready and sign your child up for a kids' cooking class! Pros at these kid-friendly cooking schools in Fairfield County and Hartford, Connecticut reinforce the importance of practicing safe cooking techniques and trying new foods. For kids toddlers through teens, these cooking programs are sure to spark creativity, expand palates, and maybe even inspire your resident junior chef to lend a hand in your own kitchen.
Check our guide to the Best Kids Classes and Activities in Connecticut for more educational and fun ideas.
Kids' Cooking Classes around Hartford
Foodology Cooking School - Plantsville (Southington)
Children as young as 2 can put on their chef's hats here and bake cookies (adult-and-me classes are designed for ages 2 to 5), while more sophisticated fare such as Super Bowl menu, French macarons, and an Irish dinner, are offered for ages 6 and up. Chef Christina uses her "sugar-coated imagination" to whip up delicious goods on a daily basis and loves to share her secret recipes with budding culinary stars.
Sur la table Cooking Classes - Canton
Ideal for teens, these culinary classes feature more advanced techniques (including knife skills) and recipes such as French desserts, Italian pastas, and Asian favorites. Check the website, however, for occasional Mommy and Me Baking classes for ages 7 and up.
Stew Leonard's - Newington
From Nutella-infused treats, to chocolate covered strawberries, heart-shaped hand pies, cupcakes, and savory treats like crispy chicken tenders and cheddar bites, chefs ages 2 and up are invited to join the fun of cooking, and leave with happy tummies and new friendships. Classes also offered in Danbury (Fairfield County).
The Little Green Tambourine - Canton
This spot offers lots of children's events and programming, but Thursdays are designated cooking days. "Messy Cooking" brightens the morning when little chefs (ages 2 to 5, with caregiver), measure, mix, learn about new ingredients, and bake. The "after school cooking" crew (ages 5 to 9) learns skills such as proper food handling, kitchen safety, and reading recipes. Each week they make a new treat to bring home.

Kids can design their own cookies in Wilton. Photo courtesy of The Cookie Workshop
Kids' Cooking Classes around Fairfield
Aux Delices – Westport
Hands-on cooking lessons focus on teaching easy, interesting, and seasonal food preparation, utilizing a variety of cooking techniques. Classes are held Sunday afternoons and include a variety of scrumptious recipes, including mini frittatas, tortilla roll-ups, funfetti cookies, savory foods such as meatballs and hearty soup, holiday treats, fruit smoothies, and more. Classes are for kids ages 8 and up.

Cucina Casalinga - Wilton
Chef Sally opened her school more than 25 years ago, and homemade pizza, focaccia, calzone, homemade meatballs, and Anginetti (lemon drop cookies) are just some of the scrumptious recipes introducing children ages 9 to 16 to the world of fine Italian cooking. The home-style, hands-on learning, however, also includes Mexican and Chinese cuisine, grilling, baking, and cake decorating.
The Cookie Workshop - Wilton
Learn to bake delicious cookies while socializing and making new friends in a nut-free bakery. No reservations are required, so drop by (the last seating is at 2pm) for a fun play date or parent-child bonding time. Little bakers will make vanilla, chocolate, strawberry, or chocolate-chip cookies.
Sprout Chefs - Darien
Introduce sprouting chefs to the pleasures and benefits of preparing healthy food from fresh and seasonal ingredients. Participants may follow a recipe or create their own , depending on the lesson of the day. Classes are designed for children in grades kindergarten through 5. Especially fun is the course "Cooking Around the World," which takes little chefs on a culinary adventure to Mexico, France, Italy, Japan, Korea, Kenya, and more.

Kids ages 10 and older can learn sophisticated techniques in day-long workshops at Fig. Photo courtesy of The Fig Cooking School
Kids' Cooking Classes around New Haven
The Fig Cooking School - Milford
The school offers monthly, day-long (5 hours) culinary workshops for kids ages 10 to 17. Classes go beyond recipe basics, integrating games and cultural activities, and guaranteeing a day of learning, laughter, and delicious treats.
A Pinch of Salt - Various Locations
Two-hour, hands-on classes introduce children to age-appropriate cooking tools and techniques such as knife handling, sauteing, and roasting. Chef Raquel guides young ones in learning how to prepare delicious and healthy meals using fresh ingredients.