5 Indoor Rock Climbing Places For Kids in New York City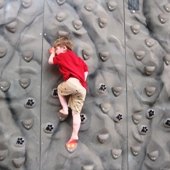 Indoor rock climbing is a great way for kids to get some much needed activity in the dead of winter (and maybe bounce off someone else's walls for a change). Kids love it and it isn't too pricey. You can try it once at a drop in session and see if the kids like it, and if they do most of these places offer after school and weekend programs, not to mention birthday parties.
Let the kids climb the walls this winter at one of these five rock climbing gyms in New York City.
Field House at Chelsea Piers – Chelsea
23rd Street and the Hudson River
Many of us have escorted a little one to birthday party here and have seen the 30-foot-high climbing wall designed with kids in mind. Children ages 5 to 6 can try a Rock-N-Rolls session. In these 90-minute classes, kids can rock climb as well as play with the other equipment like the giant foam pit for $30 a pop. The sessions run on weekends and holidays during the school year and on weekdays during the summer. You have to preregister (the schedule goes up every Thursday and it fills up quickly. I have yet to be able to register my son for a session and I have tried... a lot. There are great birthdays party options that include the rock wall, too.
Aviator Sports & Events Center – Marine Park
Floyd Bennett Field, 3159 Flatbush Avenue
This massive airplane hanger turned sports center boasts a 35-foot-high wall in the Main Street area of the complex. Children ages 5 and up can drop in for a climb ($10 for two tries). Climbs are offered on a first-come first-served basis with required shoe rental of $5. Hours vary so make a quick call before you head out to avoid disappointment. Aviator also offers rock climbing birthday parties.
Manhattan Plaza Health Club – Midtown West
482 West 43rd Street near Tenth Avenue
This health club offers 5,000-square-feet of climbing space for your little one's enjoyment. There are no classes or groups for kids, but children ages 4 and up are welcome to come and climb. What the club suggests is that mom or dad take the basic introductory class to learn everything you need to know about the sport, including belaying (holding the rope your child is attached to). This will allow your child access to the wall whenever the club is open. Visit the website for pricing.
Brooklyn Boulders – Gowanus
575 Degraw Street near Third Avenue
A veritable climbing mecca, Brooklyn Boulders has a wall for kids and allows children as young as age 3 to scale the regular walls. Kids can drop in on weekends or sign up for the after-school climbing league. There are also teen programs and birthday party packages for all ages (even grown-ups).
Klub4Kidz – Williamsburg
159 North 4th Street between Driggs and Bedford Aveneus
This Brooklyn play space has the perfect size wall for kids: 18-feet high, large enough that they need ropes and harnesses, and still small enough for them to manage to get to the top. While there aren't any rock climbing classes, there are open climbing sessions for children ages 3 and up every day for $12 per kid. Or buy a combo pass that lets the kids play in the massive climbing structure as well for $25. Monthly memberships and birthday parties are also available.
There are also child-size rock climbing walls at the Liberty Science Center in Jersey City and the New York Hall of Science in Queens that are free with museum admission. And there is a teeny-tiny one at Chelsea Playground on Staten Island with pay-to-play sessions.
Find more indoor fun in our Inside Activity Guide.
This post was originally published in January 2011.