Summer Internships for Teens in New York City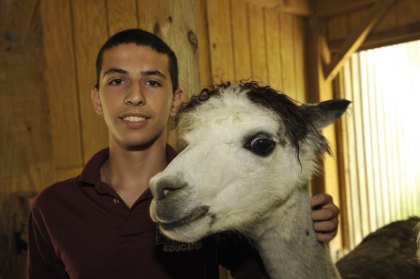 If your teen is too old for summer camp, and wants to have fun while learning this summer, he should consider an internship. Internships offer a way for teens to pursue their passion while doing meaningful work - and teens can often get required community service hours to boot. Places like the New York Aquarium, the American Museum of Natural History and the Prospect Park Zoo offer great intern programs for teens, read on to find out more about these and more.

A Wild Time
The Prospect Park Zoo is accepting applications for Teen Volunteers. Discovery Guides staff exhibit areas, run children's activities and assist with special events.
Applicants must be at least 14 years old, have completed middle school, and have a strong interest in wildlife and conservation. They also need to be comfortable with public speaking, since they will be answering questions about animals and directing visitors around the zoo.
The deadline for summer applications is April 1st. For more information contact Debbie Dieneman at 718-399-7339 Ext. 325 or email ddieneman@wcs.org.

New York Aquarium
The New York Aquarium has a teen docent program where kids ages 15 and up help staff exhibits, teach visitors about marine conservation, and assist at events and education programs. The docents teach visitors how to interact with horseshoe crabs and sea stars at the touch pool and help at craft tables.   
Admission to the aquarium docent program is competitive. After an interview and orientation, accepted candidates must complete an intensive training course. The training includes sessions on marine science and public speaking skills.
Applicants under age 18 must have a teacher fill out the recommendation form and a parent must sign it. 

Applications are accepted between March 15 and May 18. An interview is mandatory. If accepted into the docent program, you will be required to attend six training sessions  from 10:30 a.m.–4:00 p.m. on:
    •    Saturday, June 25, 2011
    •    Sunday, June 26, 2011
    •    Wednesday, June 29, 2011
    •    Thursday, June 30, 2011
    •    Friday, July 1, 2011
    •    Saturday, July 2nd, 2011
If you have any questions, call 718-265-3450, Monday - Friday, 9:30 a.m. - 4:30 p.m. or email nyadocent@wcs.org.

Jewish Art and Culture
The Jewish Museum has a Teen Intern Program for students entering grades 9 through 11 .
Interns assist professional educators with the Museum's Art Activity Center, special family performances, workshops, family day events, and storybook readings while learning about Jewish art and culture. All interns participate in a series of training sessions.
Students are required to attend all training sessions at The Jewish Museum on selected Sunday afternoons in the spring.
For more information, call 212.423.3254 or e-mail teeninterns@thejm.org.
To download the 2011/2012 application click here.
The application and recommendation are due by March 9, 2011.

Science Kid
The American Museum of Natural History offers The Saltz Internship Program, an intensive learning and work experience. It builds on the museum''s After-School Program, and preference will be given to students who have completed two After-School courses in astrophysics, earth and planetary sciences or biological sciences.
Interns help visitors "think like scientists," using things like infrared camera and digital USB microscopes. Interns work with the Saltz Expedition Centers, meet Museum scientists, explore scientific content, and learn how to teach. One intern said he had a lot of fun explaining to visitors why he liked science so much and why they should, too. He also loved meeting other scientists, getting to know other teens who were into science, and going behind the scenes at the museum.
Students who are over the age of 16, and live or attend high school within the five boroughs of New York City are eligible.
For the summer, there is mandatory training June 29 - July 6 10am -4pm, along with mandatory seminars Mondays, July 11 - August 14. Interns must commit to 12 hours per week, in two hour shifts, with a  maximum of two shifts per day, and at least one weekend shift. Interns get a small stipend at the end of the summer, covering transportation costs.
Applications, which require two letters of recommendation and an essay, are due April 1.  Download the application.
For more information, email Christina Pease or call 212-313-7686.

Looking Ahead: Art & Design
The Cooper-Hewitt, National Design Museum has a Scholars program whose deadline for this summer has already passed. If you want to consider this for next summer, applications are usually available in mid-December for the program, which accepts sophomores through seniors in high school.