Best Places to See Cherry Blossoms in NYC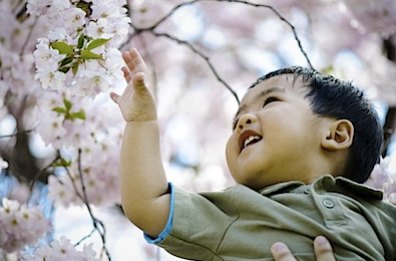 There's no more delightful way to enjoy the onset of spring than seeing the beautiful cherry blossoms flowering all over New York City. Everyone seems to know about the Sakura Matsuri Cherry Blossom Festival at the Brooklyn Botanic Garden, but there are several other places where you can enjoy gorgeous cherry blossoms without the crowds.
In Japan, cherry blossom viewing is taken to almost religious heights. The blooming flowers are carefully watched, enjoyed and celebrated. Sakura Hanami parties are traditionally held throughout the country to celebrate the season, and feature eating, drinking and music.
Here are the best places to see cherry blossoms in New York City this spring. You might also enjoying looking at our cherry blossom slideshow from years past.
Sakura Matsuri 2015/Cherry Blossom Festival – Brooklyn Botanic Garden
The BBG has the most lavish celebration of cherry blossoms in New York City. This year, the weekend-long festival takes place on Saturday, April 25-Sunday, April 26 and includes Japanese cultural activities, music and art. Kids will enjoy sword fighting, Taiko drumming, manga artists, children's workshops, a puzzle plaza and all of the people dressed up in Japanese costumes. However, the BBG's Cherry Blossom Festival also draws huge crowds, so you might want to visit the Garden's famous Cherry Blossom Esplanade earlier in the season, especially since the trees are already blooming.
Randall's Island Cherry Blossom Festival – East Harlem
The activity-packed Randall's Island is hosting its annual fest on Saturday, May 2. In addition to checking out its collection of cherry blossoms, families can enjoy kite flying, face painting, arts and crafts, plus view an exhibition of locally made Japanese pottery.
Riverside Park Cherry Walk – Morningside Heights
Riverside Park has its own Sakura Park with a beautiful Cherry Walk featuring trees gifted from the Committee of Japanese Residents of New York decades ago, in celebration of the 100th anniversary of Robert Fulton's steam-power demonstration on the Hudson and the 300 year anniversary of Henry Hudson's discovery of the river. The cherry trees are located between 100th and 125th Streets.
Queens Botanical Garden Cherry Circle – Flushing
While the Queens Botanical Garden doesn't have any special events for Sakura, it does have a beautiful Cherry Circle. In addition, on Sunday, April 26, the garden hosts an Arbor Festival with gardening and environmental workshops and demos, a beer tent and children's activities.
New York Botanical Garden – the Bronx
Although NYBG's Cherry Valley doesn't get a fest, the blossoms are still sweet. There are more cherry blossoms scattered throughout the Ross Conifer Arboretum too. While you're there, you can catch the annual Orchid Show (through Sunday, April 19) and of course there's always the Everett Children's Adventure Garden and the Ruth Rea Howell Family Garden, as well as weekly family activities.
Central Park – Manhattan
Central Park is a great place to view cherry blossoms and have a picnic (not allowed at the Brooklyn Botanic Garden), or visit the zoo, a destination playground or a museum. There are several spots to find cherry blossoms in Central Park. Some of the best ones are on the bridal path at 90th Street, East Drive at 66th Street, the east side of the Boathouse at 74th Street and Cherry Hill mid-park at 72nd Street just west of Bethesda Terrace.
Find out about other great things to do this season in our Spring Fun Guide.
This post was originally published in April 2012.