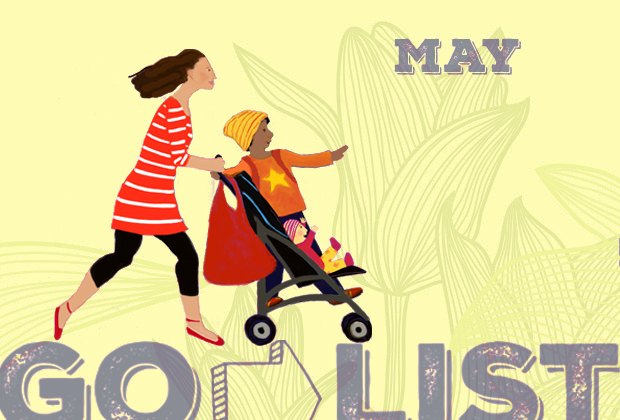 May GoList: Best Things to Do With NYC Kids
May is beloved in NYC for the return of warm weather, outdoor dining options, and family-centric holidays such as Mother's Day and Memorial Day weekend. And get ready for the unofficial start of summer as Governors Island, city beaches, water parks, and amusement parks all open for the season this month.
There are fairs and festivals everywhere you turn in May, and our GoList includes the top things to do with kids in New York City this month, many of which are FREE. Enjoy no-cost annual favorites such as the New York Dance Parade, Bike Expo New York, and the Urban Wildlife Festival. There's a ton of exciting new spring theater for families, too.
For more activity ideas, see our Event Calendar and our Spring Fun Guide. It's also a great month to check out our NYC Parks & Playgrounds Guide.
As always, if an event piques your interest, click through to our listing for all the details, including address and time. And keep in mind, in NYC really cool things to do with kids often book up quickly, so buy your tickets ASAP or, in the case of FREE events, arrive as early as possible. Be sure to sign up for our FREE newsletters so you can get our picks delivered to your inbox.
RELATED: Best NYC Family Festivals and Fairs This May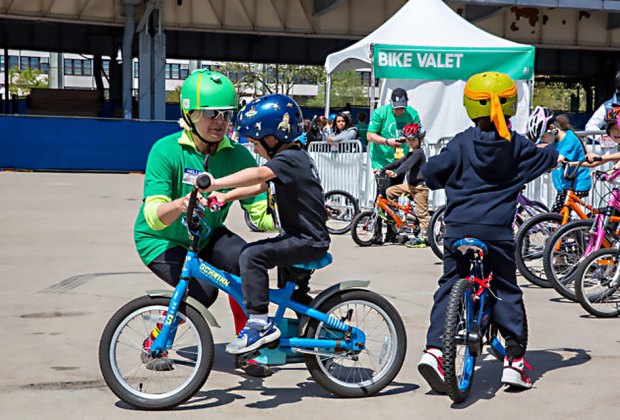 Learning to ride a bike is just one of the activities at Bike Expo New York. Photo courtesy of the expo
Bike Expo New York — Red Hook, Brooklyn
Friday, May 3–Saturday, May 4
Nearly 100 exhibitors will be on hand to celebrate everything on two wheels. Kids can learn how to ride a bike or sharpen their skills, see a BMX show, and more. All proceeds from the expo help fund Bike New York's expanding educational programs. FREE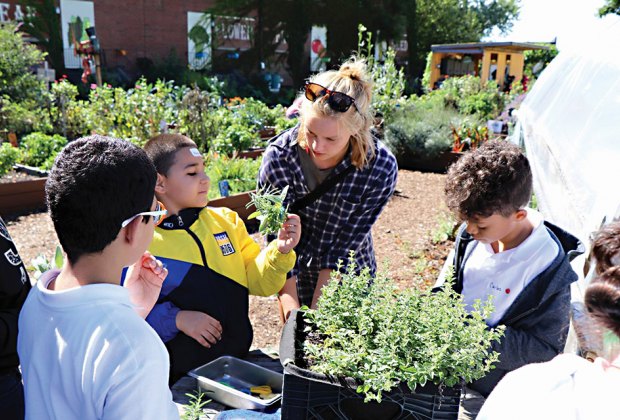 ShinDig is a family-friendly volunteer opportunity on Governors Island. Photo courtesy of Governors Island
ShinDIG — Governors Island
Saturday, May 4
If your family is always among the first in line for the ferry when Governors Island opens for the season each year, this volunteer event is your chance to show your love for the Gov. Register in advance for one of two shifts of family-friendly volunteer projects all over the isle, then enjoy a celebration for volunteers with prizes and treats. FREE
Urban Wildlife Festival – Washington Heights
Saturday, May 4
Head to Fort Tryon Park to visit with owls, hawks, porcupines, tortoises, and other critters at this outdoor festival hosted in part by Urban Park Rangers. Kids will learn about the animals' traits and behaviors from New York state licensed rehabilitators, but will likely also appreciate the other activities like relay races, animal-themed arts and crafts, and live music. FREE
Lincoln Center Block Party — Midtown West
Saturday, May 4
This day-long neighborhood bash is jam-packed with free performances, concerts, workshops, crafts, and activities in honor of Lincoln Center's 60th anniversary. The plaza and its surrounding buildings overflow with reggae, hip-hop, Broadway, jazz, soul, Indian classical, and chamber and symphonic music performances, plus dance performances of every kind from samba to ballet to step dancing. FREE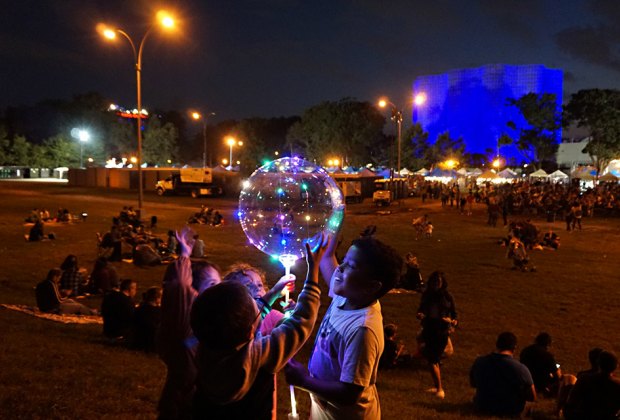 The Queens Night Market is packed with activities, music and an abundance of delicious, affordable food! Photo courtesy of the market
Queens Night Market — Corona, Queens
Opens Saturday, May 4 and runs weekly through the fall
The weekly open-air night market returns to Flushing Meadow Corona Park for 2019 with extended family-friendly hours, low prices (food items are all $6 or less), weekly musical performances, and hundreds of vendors selling everything from pork buns to pastries to paintings. Our video of the Queens Night Market from last year captures a small slice of the deliciousness. FREE, but bring cash for snacking and shopping.
Inventgenuity Festival — Dumbo, Brooklyn
Sunday, May 5
This annual Brooklyn maker festival from the Beam Center returns with STEM-filled workshops, crafts, demonstrations, and more collaborative projects for kids. This year, participants can learn about the science behind flipbooks and create a flipbook of their own. Workshops are typically FREE, but require advance registration and often a small materials fee. Events do fill up fast. FREE
STEM Expo at NYSCI — Corona, Queens
Friday, May 17
For one jam-packed night, New York Hall of Science invites families with kids in middle school, high school, or college to explore summer academic and internship opportunities in STEM—that's science, technology, engineering, and math, but we bet you knew that already. In addition to learning about these fantastic programs, visitors can check out interactive science demos, tour the museum's many exhibits, explore the museum after dark, and enjoy Queens-made eats. FREE but an RSVP is required.
National Museum of the American Indian Annual Children's Festival – Financial District
Saturday, May 18–Sunday, May 19
This annual celebration at the National Museum of the American Indian showcases the ingenuity of the Indigenous cultures of the Americas and includes loads of interactive events. Expect crafts, dancing, and even some STEM action. This year, activities and performances focus on the Taíno culture of the Caribbean. FREE
Craft in Focus Festival — Industry City, Brooklyn
Saturday, May 18–Sunday, May 19
Makers take over Industry City in this weekend-long festival of workshops, classes, and activities devoted to the handmade arts. Kids and grownups can learn new art techniques, build robots, construct a tiny house, or just watch master artisans create everything from musical instruments to mosaics to jewelry. FREE
RELATED: NYC Spring Fun Guide: Outdoor Fun, Fairs, Day Trip Ideas, and More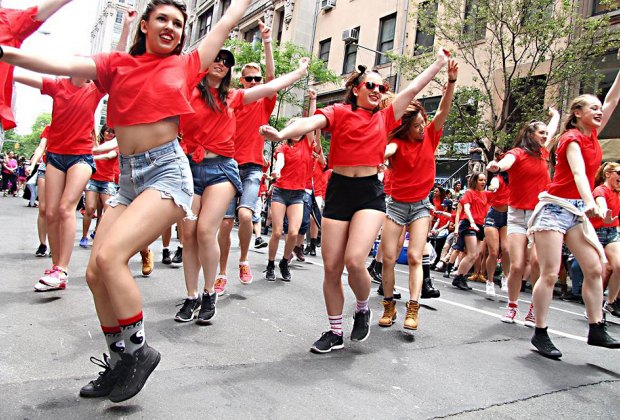 It's all dancing in the streets at the annual Dance Parade New York. Photo courtesy of the parade
Dance Parade New York — Flatiron and the East Village
Saturday, May 18
This annual dance procession is deservedly on our list of the best NYC parades for kids. It kicks off near Madison Square Park and ends in Tompkins Square Park. Along the way, more than 10,000 movers and shakers shimmy down Broadway in elaborate costumes doing more than 75 dances, including the salsa, tango, waltz, hula, break dancing and more. To participate, register in advance and join a group. Otherwise, go to cheer them on, and hit the after-party in Tompkins Square Park for complimentary dance workshops and multiple stages of dance performances. FREE
Essex Street Market's Block Party — Lower East Side
Saturday, May 18
This Lower East Side mainstay has relocated to a new spot across Delancey Street, and this year's celebration will be its first in the market's new home. Get a taste of all the Essex Street Market has to offer at this old-fashioned neighborhood bash featuring eclectic homemade eats, live music, and kid activities such as face painting and balloon animals. Local faves like Ice & Vice, The Bao Shoppe, and Petee's Pies will be on hand selling their dishes. The fest is FREE, but bring moola for grub.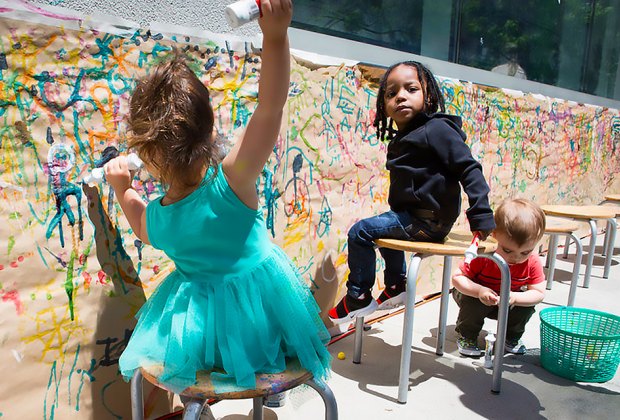 Spend an afternoon making art with your kids and NYC artists at the CMA Family Day.
CMA Family Day — Hudson Square
Sunday, May 19
This art-making festival hosted by beloved downtown kids' art institution the Children's Museum of the Arts lets kids work with NYC artists one on one. Enjoy a variety of hands-on projects for all ages, including photography, sculpture, painting, and animation. While tickets are pricey, we think it's a worthwhile event to support, since all proceeds raise funds for the museum's free educational community programs, including visits for Title 1 Schools, art classes for children living in transitional housing and children with disabilities, and free after-school programs.
Fleet Week — Various locations
Wednesday, May 22–Monday, May 27
Each year during Fleet Week, those in New York and the surrounding area are given an opportunity to meet those who serve at sea, as well as witness firsthand the latest capabilities of today's maritime services. Events kick off with the Parade of Ships and continue with various vessel and vehicle viewings, musicals and movies, and even a bubble garden. Some events are FREE.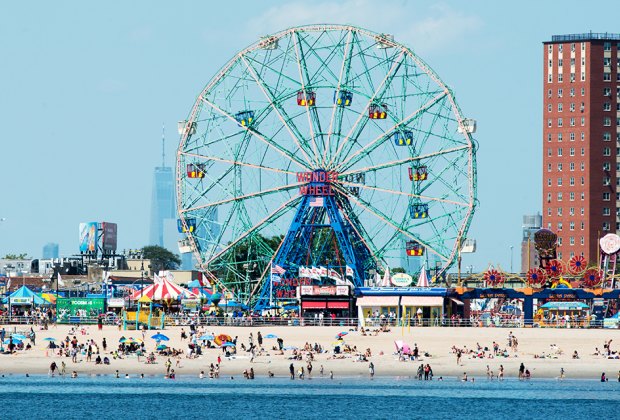 Coney Island Beach is a family favorite. Photo by Julienne Schaer for NYCGo
Opening Weekend for City Beaches — Citywide
Opening Saturday, May 25
Memorial Day weekend is considered the unofficial start of summer because beaches in NYC (and the tristate area) open the Saturday before the Monday holiday. While day trips to nearby shores in New Jersey and Long Island are lovely if you have a car and don't mind waiting in traffic, you can access beaches in four boroughs with just a swipe of your MetroCard. Only Manhattan does not have a beach, though ironically, Brooklyn has a Manhattan Beach. Coney Island is, of course, a family favorite since it boasts amusement parks, the New York Aquarium, and other kid-friendly attractions. But don't count out Brooklyn's Brighton Beach, the Bronx's "Riviera," Orchard Beach, or surfing central Rockaway in Queens. FREE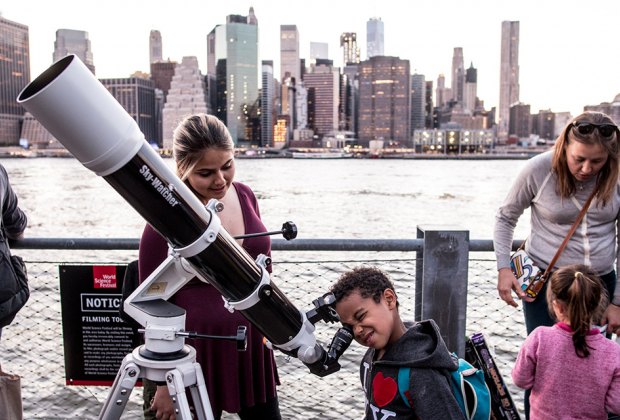 Imagination, ingenuity, and inventiveness are the themes for World Science Festival NYC.
World Science Festival NYC – Citywide
Tuesday, May 28–Sunday, June 2
The annual World Science Festival promises a week jam-packed with more than 70 events across the boroughs including discussions and debates, theatrical performances, films, town hall gatherings, fireside chats, hands-on experiments, and outdoor explorations. The schedule includes both FREE and ticketed events.
Strawberry Picking — Tristate area
Late May
Although you can do almost everything in NYC, there are a handful of activities that are only accessible outside the five boroughs. Strawberry picking is one of them (unless you count grabbing them off the aisle at Fairway). Nothing beats the taste of strawberries plucked straight from the vine when they're in season (as in late May and early June). Happily, there are a number of pick-your-own patches not too far from the city, many of which open for picking Memorial Day weekend.
Honorable Mentions
NYC has so many amazing things going on, it's often difficult to for us to choose our GoList picks each month. So here are a few more cool events worth considering for your May calendar.
Be one of the first on line for the ferry when Governors Island officially opens for the season on Wednesday, May 1. FREE
Snag a FREE comic book at participating shops on Free Comic Book Day Saturday, May 4. FREE
See a curated selection of the best films from this year's BAMKids Film Festival in Fort Greene, Brooklyn on Saturday, May 4.
Unleash your kids' inner rainbows with color powder plus food, art, and dance at the Holi Hooray celebration at the Brooklyn Children's Museum on Saturday, May 4.
Introduce kids to the rich tradition of classical music at the Staten Island Children's Museum's Classical Music Festival on Sunday, May 5.
Hear taiko drum and bamboo flute performances and celebrate Japanese art at the Japanese Cultural Festival at the Children's Museum of the Arts on Sunday, May 5. FREE
Watch performances from top Irish dance companies and get in on the high-stepping action as a family at the day-long Annual Irish Dance Festival at Riverside Park South on Sunday, May 5. FREE
Ride on a vintage subway car at the New York Transit Museum's Party on Wheels to benefit the museum's education programs in downtown Brooklyn on Sunday, May 5.
The kickoff event of the Brooklyn Bridge Park summer season is a high-flying kite festival at Pier 5 on Saturday, May 11. FREE
Long Island City hosts its fourth annual LIC Springs Block Party with performances, art making, games, and loads of local vendors on Saturday, May 11. FREE
There's sheep shearing and a spring festival at the Queens County Farm Museum, Saturday, May 11.
Join the bucket brigade at Riverside Park when volunteers, including kids, help refill the sandboxes on Saturday, May 11.
Spend Mother's Day weekend at the gorgeous New York Botanical Garden's fete for all moms, Saturday, May 11-Sunday, May 12.
Climb aboard an ambulance, tow truck, and other cool vehicles at the Touch-a-Truck fest on Saturday, May 18 in South Slope.
Watch the sheep shearing at the Annual Fleece Festival: Wild and Wooly Weekend at Prospect Park Zoo, Saturday, May 18-Sunday, May 19.
Shop more than 150 vendors from around the world offering African, Caribbean, and African-American food, crafts, and fashion at the DanceAfrica Bazaar beginning Saturday, May 25.
Sail the New York Harbor aboard the historic 1885 schooner The Pioneer beginning Saturday, May 25.
Catch the final weeks of the seasonal Butterfly Conservancy at the American Museum of Natural History before it closes for the summer on Monday, May 27.
Photos courtesy of the venues unless otherwise noted.