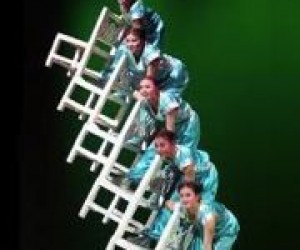 Things To Do With Kids This Weekend in NJ February 25-26: Dr. Seuss Storytime, The Little Mermaid, Family Night of Art & More!
For such a short month, February sure packs a punch with all of its holidays and celebrations. Now that we've said farewell to the 100th day of school, Groundhog Day, Super Bowl, Presidents' Day, and Mardi Gras - oh, what's a family with kids to do!?!? Well, thankfully there's still plenty happening in New Jersey to keep you and your kids occupied until the official spring thaw arrives, such as Science Saturday with Slime, Wetland Habitats, Peking Acrobats, or a Family Winter Nature Walk. Read on for all of our picks and remember, you can always find even more weekend activities in our Event Calendar. Enjoy these last few days of February, New Jersey!
Saturday February 25th
Dr. Seuss Storytime (all of NJ)
As part of the NEA's Read Across America program, from 9-11am your local Target will be hosting Dr. Seuss Storytime. There will be lots of free fun to be had, such as a live reading of The Lorax, free goody bags, reading activities, and more. For more information visit the program website.

Wetlands Habitats (Mountainside)
Spend your morning at Trailside Nature Center's state-of-the-art environmental center with your family to learn all about vernal pools, rivers, lakes and ponds. You'll enjoy exploring and learning about the animals that live in these important areas and the kids will also have a blast meeting live turtles from Trailside's reptile collection. 10am. Free (donations welcome). For more information: 908-789-3670.

The Little Mermaid (Budd Lake)
We all know and love the movie of this classic tale of a mermaid and her Prince. And at the quaint Pax Amicus Theater in Budd Lake you can bring your family out to see live theater for about the same price as a movie ticket! Performances at 11am every Saturday through March 10th. $12 per ticket. For more information: 973-691-2100.

Super Science Saturdays: Slime (Morristown)
Although the Art of the Brick exhibit has ended, the Morris Museum is still a great place for family fun. For those kids (and adults) that can't get enough goo in their lives, this Super Science Saturday program about Slime will be thoroughly enjoyable. 12-2pm. $3 per child plus museum admission. Also, while you are at the Museum you might want to check out the Hudson Vagabond Puppets show of Caps for Sale and Billy Goats Gruff at the Bickford Theater at 2:30pm ($10 per ticket). For more information: 973-971-3718.

All-State Wind Ensemble, Symphonic Band & Women's Choir (Newark)
As part of NJPAC's Family Time series, this performance at 3pm features a collective of some of the most outstanding young singers and instrumentalists from throughout New Jersey. A wonderful way to drive home that important life lesson of "practice, practice, practice"! $9-26 per ticket. For more information: 1-888-GO-NJPAC.

Family Fun Night of Art (Maplewood)
Pizza, art and family time on a Saturday from 4-6pm!?! Sounds like a perfect night to me! Join the staff at Express Yourself Studios in Maplewood for their weekly family workshop. The workshop fee of $20 per person (for 4 or more participants the workshop fee is $15 per guest.) includes 2-hours of studio time, one (1) guided art project, pizza, beverages and materials. And best of all everyone leaves with a frame-worthy piece of artwork. For additional information or to reserve a spot for your family please contact the Studio at 973-763-5256.

Sunday February 26th

Kids Tour of the Ford Mansion (Morristown)
Here's a historic house tour at Ford Mansion at Washington's Headquarters geared for the younger set. It will feature kid-approved activities, such as a scavenger hunt, history role playing and learning about 'gross stuff', like 18th century bathrooms. Sweet! Program begins in the Washington Headquarters Museum at 10:30am and 2:30pm. $4 per adult, children FREE. For more information: 973-539-2016 x210.

Kids Can Expo (Cape May)
Celebrate winter with the NJ Audubon Society with a full day of games, nature exhibits, live animals, crafts, entertainment, learning, and FUN for kids of all ages at Cape May City Elementary School. Many environmental groups and cultural organizations will be participating and providing activities. Stage performances will take place throughout the day, and refreshments will be available for purchase. 11am - 4pm. $6 per person / children under 3 are free. For more information: 609-898-8848.

Children's Winter Nature Walk (Alpine)
Get everyone out of the house for this fantastic (and FREE) guided hike through Palisades Interstate Park at 2 pm (meet at State Line Lookout, northbound Palisades Interstate Parkway opposite Exit 3). This easy walk with moderate slopes is about 2 miles (around 90 minutes), so it's best for older children or younger kids in a back carrier. For more information: 201-768-1360 ext. 110.

The Peking Acrobats (Princeton)
Come out to the McCarter Theater at 3pm for some plate spinning and bowl balancing by this troupe of 25 elite gymnasts, cyclists, jugglers, acrobats, and tumblers. Your family will be spellbound by their acts of strength, balance, agility, and grace. This is sure to be huge hit although "Kids, Do Not Try This at Home" may be your new mantra. $35-48. For more information: 609.258.ARTS(2787). (Also playing March 2nd at 7:30pm at NJPAC and February 24 at 7pm at Raritan Valley Community College)

Don't forget: We have additional activity listings in our Event Calendar. And if you are heading into NYC for the weekend make sure you visit the New York City Mommy Poppins events calendar to get the latest on all the fun to be had, NYC-style.

Planning an event? Submit it to our calendar.

Did someone forward you this email? Subscribe to our free newsletters.