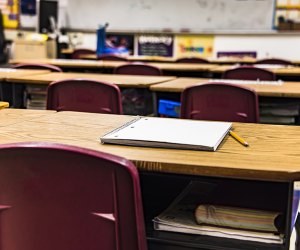 UPDATED: All NJ Schools Ordered To Close Wednesday
Updated Monday, March 16, at 5pm.
All of New Jersey's public and private schools—pre-K through 12, as well as colleges—will be ordered closed on Wednesday to help slow the spread of the coronavirus, Gov. Phil Murphy announced at a press conference on Monday. It's one of many increasingly stringent steps being taken in New Jersey, where confirmed cases have risen to 178.
Murphy also announced that he's mobilizing the National Guard, and he urged all NJ residents to stay home from 8pm to 5am each day. In addition, all New Jersey movie theaters, performing arts centers, gyms, clubs, and casinos will be closed indefinitely as of 8pm Monday.
"We do not take any of these steps lightly," Murphy said. "We know that each comes with its own set of impacts on residents, families, communities, and businesses. But at this moment, our paramount concern must be to flatten the curve of new cases so we do not overload our health care system."
With schools closed and most public places shuttered, parents are finding themselves in the position of teaching their school-age children and trying to keep little ones entertained, many while trying to work from home. Check out our Cornavirus Guide for Parents to find the latest info, including closings of other NJ institutions and venues, as well as plenty of resources to help you cope. We've got Boredom Busters to keep the kids busy, plus educational science experiments, fun exercise games, online learning resources, and more.
Schools and universities across the greater New York metro area are also closing, including the NYC Department of Education, which announced that it will be closed at least through April 20. See more about New York school closings here.
Where To Go for More Information About Coronavirus
Visit the New Jersey Department of Education website for more information about NJ schools' response to coronavirus.
The New Jersey Department of Health is operating a hotline for residents' coronavirus concerns: 1-800-222-1222 for those with a NJ phone number or 1-800-962-1253 for those with an out-of-state number. It is staffed 24 hours a day by trained healthcare professionals.
Find more information about the symptoms of coronavirus and how to prevent its spread on the New Jersey Department of Health site. Local officials are telling the public to refrain from panic, but to use common sense in terms of staying home if you're sick...and avoiding others who are sick. Commissioner Persichilli recommended staying at least six feet away from anyone who is sick. "Sneezing, coughing, sniffling—if you're near someone that seems sick I would move," she said during the press briefing.