< Event Calendar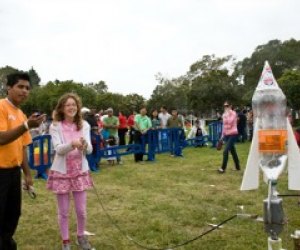 Rocket Launch
Sat May 11, 2019
9:00am to 2:00pm
Discovery Science Center presents a free family event at the Boeing Company in Huntington Beach.
The annual Rocket Launch is full of engaging, hands-on activities highlighted by designing, building, and launching one's own rocket made from a 2-liter plastic soda bottle.
Families can build a rocket at home, or use provided supplies to construct a rocket with the help of real engineers. The competition consists of creating and launching a bottle water rocket (be warned, you may get wet!) and the payload with the longest "hang time" in the air wins.
If you wish to participate in the launch, you need to bring a 2 liter soda bottle; other materials are provided though you may bring other items for constructing your rocket. The event is outside so consider bringing a blanket or lawn chairs, sunscreen, etc.
The Boeing Company
5301 Bolsa Ave
Huntington Beach, CA 92647
** Event dates/times are subject to change. Please click through to the event website to verify.