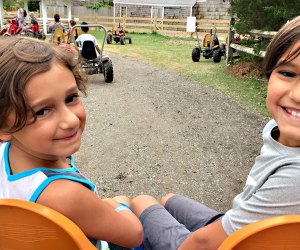 Mattituck with Kids: Fun Things to Do in this North Fork Town
Stroll along Love Lane. Peek into the boutique shops, sample ooey-gooey cheeses or pop into Love Lane Kitchen for breakfast or lunch — or a cup of joe to go. Grab sandwiches and salads from Ammirati's and dine al fresco. Bonus: for three hours on the first Friday evening of summer and early autumn, Love Lane is closed to traffic, allowing pedestrians to explore and sample the area. If you're taking the train, this is where you can catch the LIRR, too.

Pick a bucket of juicy berries at Patty's Berries & Bunches.
Pick your own at Patty's Berries & Bunches. After scouring the vines for the plumpest of berries, head to the stand where you can enjoy a fresh scoop of ice cream with macerated berries. Note: Flowers run from the end of May through October and Pick Your Own Berries runs from June to early September.

Take part in some friendly sibling rivalry at the rubbery ducky races at Harbes Family Farm.

Have a rootin' tootin' fun time at Harbes Family Farm. Entrance to the front grounds is free and guests can use picnic tables, lawn games, enjoy farm stand food and live music. Join Farmer Fred in The Barnyard Adventure [fee] for a pig race, pet fuzzy bunnies, find your way out of the corn maze — then of course try some of their fresh roasted corn with butter. There are hours of fall farm fun to be had at Harbes (plus a winery on site!). Lookout for their peach, watermelon and apple festivals throughout the year.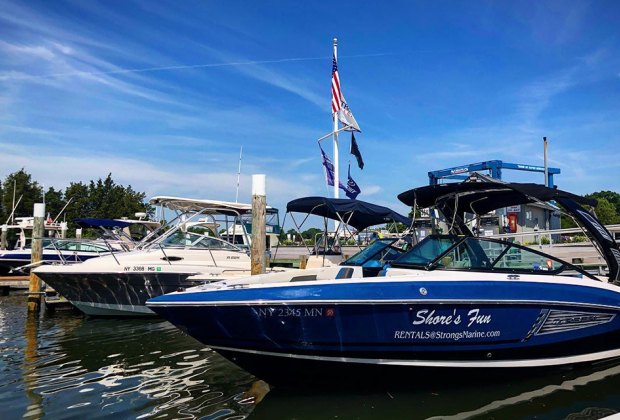 Spend the day on the water on a rental boat from Strong's Marina. Photo courtesy of the marina
Rent a boat at Strong's Marina. Navigate the waters from the Mattituck Inlet to the Long Island Sound. These 18-5' watercrafts are ideal for family watersports, fishing and cruising.
Zig zag through the vines at Macari Vineyards. Between sips of Syrah, chase the wee ones through the vineyard. While outside food is not permitted, domestic and imported artisanal cheese and charcuterie are available à la carte — ooh la la!
Spend the night in a former potato packing barn at Cedar House Bed & Breakfast. Cedar House has five distinctive guest rooms, an expansive great room, equipped with a billiards table, puzzles and games, and a spacious dining room. Surrounded by acres of pristine countryside and Scarola Vineyards is right out back!
Get close to nature at Laurel Lake Preserve. Nearby in Laurel, there's a 500-acre preserve with abundance of wildlife, a large water-filled kettle hole formed more than 10,000 years ago and home to fish including largemouth bass and rainbow trout. Navigate through 14 miles of hiking trails — all flat. It's mostly wooded, but pack a hat, sun and tick protection!
Drop a line in Marratooka Pond. With ¾ of a mile of shoreline to fish from, there's ample opportunity to hook a largemouth bass, pumpkinseed, or yellow or white perch.
Pack a picnic for Veterans Memorial Park. The Peconic Bay-facing park has a lifeguard beach (in season) with restrooms and an outdoor shower, as well as a fenced-in children's playground. There is a large picnic area with tables and barbeques and on-site parking. Note: non-resident permits are $25/day during the season.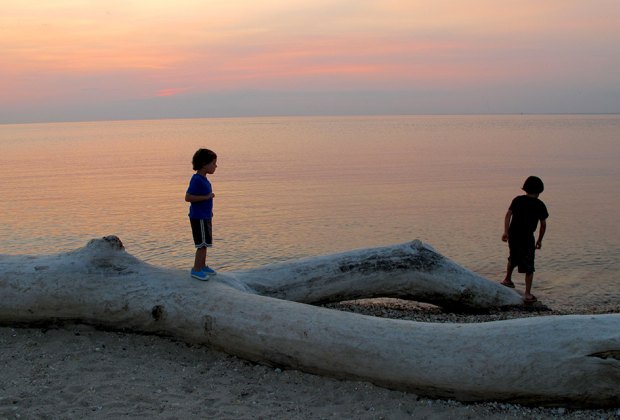 Watch the sunset at Bailie Beach.
Watch the sunset at Bailie Beach Park. The Long Island Sound is renowned for its majestic sunset views. This quiet sandy beach extends west to the Jetty, dunes, and a tidal wetland area that are home to a variety of birds and wildlife. Walk along rocky Bailie Beach and perch on a washed-up driftwood to take in the sights. Note: There are no lifeguards or restrooms here. Parking is limited to a small area at the end of Bailie Beach Road and you must have a Southold Town permit to park there in season.
Photos by the author unless noted