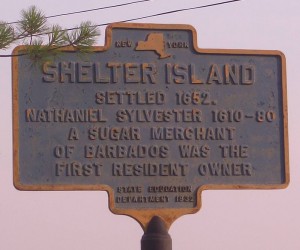 Long Island Staycations: Shelter Island
Tucked away between the North and South Forks of Long Island, is a shady retreat with glorious beaches, abundant wildlife, and a friendly laid-back atmosphere. My family has been heading to Shelter Island since 1963, and the island has changed surprisingly little over the years. It's still OK to stop and say "hi" to a passing driver. It is never so noisy that you can't hear the birds chirp or the crickets sing. One third of the island belongs to the Nature Conservancy's Mashomack Preserve.
Here's a look the wonderful things you can do with your kids on Shelter Island. To find the locations please check out my custom map, as many do not show up properly on Google.
GO SWIMMING
Shelter Island has calm waters and its beaches slope gradually into deeper water, making them ideal for children. There are two public town beaches, Wades Beach and Crescent Beach, both with lifeguards and bathroom facilities. Unless you walk or bike to the beach you will need a Town parking permit (details below).
Crescent Beach lies along Shore Road at the end of West Neck Road in Shelter Island Heights. It is a long sweeping crescent of white sand with very few pebbles and has glorious sunsets. The Sunset Beach Motel across the road has a full restaurant. The hotel's beach umbrellas and chairs are available for anyone to use by agreement with the town. The only drawback to this beach is the crowds that come over from the Hamptons on the weekends.
Wades Beach on Midway Road is far less crowded, often breezy, and has a few more pebbles, so beach shoes can be welcome. Directly behind the beach is a salt marsh bordering Westneck Creek. The marsh and creek are full of fiddler and hermit crabs. Be careful not to get stuck in the deep mud if you wade into the marsh. A volleyball net is often set up next to the parking lot. There is no refreshment stand or shop anywhere near this beach so bring supplies. The bathroom facilities here are nicer than those at Crescent Beach and there is a hose/water faucet on the side of the building to rinse your stuff off before heading home.
Town Beach Permits (and shellfish permits) are available from the Clerk's office for $35 per any 7 consecutive days, $71 per any 31 consecutive days, or $200 from Memorial to Labor Day. Fines for not having a permit are $100, and the police patrol the beaches frequently. Bring your vehicle registration or rental agreement with you. If you are staying at a hotel or B&B check to see if they have a permit for you.
BEACHCOMBING
The beachcombing here is great! The island was formed from a glacial moraine, the rock pile pushed in front of a glacier, and its beaches have colorful rocks from all over the state. We also have bright orange and yellow jingle shells, and tons of boat, scallop, whelk, clam, mussel, and crab shells. Wades Beach and Crescent Beach get cleaned each day and all the seaweed piles and goodies get swept away. But we have miles and miles of beaches accessible via the town landings. These are not bathing beaches, and swimming is definitely at one's own risk, but they are great for wading, seining, and beach combing. One of the best beachcombing beaches, with a great view of the Bug Light, is at the end of Menhaden Lane.
BOATING
Spend time on Shelter Island and you will start longing to get out on the water. PDJ Boards offers stand up paddle board tours, sales and rentals. Kids as young as 6 can try the boards, and smaller kids can sit on Mom or Dad's board. Shelter Island Kayak Tours is also family friendly and gives tours and lessons as well as renting kayaks.
If you want to explore Gardiners Bay or the Sound, Tubby Charters offers fishing and cruising trips. Camp Quinipet offers weeklong sailing classes in the summer. If you are staying at the Pridwin Hotel you can also rent their sailboats, bike-boats and motorboat. If you bring your own craft, there are many town landings where they can be launched.
GO FISHING
The favorite spot for bottom fishing is off Second Bridge on Winthrop Road where Gardiners Creek flows into Dering Harbor. Most days you'll find a family or two parked at the roadside and fishing off the bridge. A less placid fishing experience can be had off Reel Point where the water rushes in and out of Coecles Harbor into Gardiners Bay. The current here is quite strong and it is a small hike to get to the point from where Ram Island Road dead ends. To find these spots check my map. Bait, tackle, and great advice can be had at Jack's Marine on Bridge Street: 631-749-0114.
TAKE A WOODLAND HIKE
One third of the island belongs to the Nature Conservancy. Mashomack Preserve, at 47 South Ferry Road, has an excellent nature center with peek-a-boo displays explaining life in the forest, salt marshes, meadows, and seashore. Just outside the center is a short walking trail with educational stops and exhibits along the way. There are also many more miles of hiking and dirt biking trails. Call 631-749-1001 for more information.
Mashomack offers an exciting program of educational workshops and outings for families. This summer it has storybook walks, bat spotting, marsh muddling, and a nighttime stroll under a blue moon. On September 1st one of my favorite events will be held—an evening seine net haul followed by a marshmallow roast. The summer and fall program listings may be found here. Its fun print-out activities for children here.
FARM & SING AT SYLVESTER MANOR
Sylvester Manor is a 243-acre historic plantation and educational farm that has been in the same family since 1652. The 1735 Manor House is home to the 15th generation of the family. In summer it hosts farm programs for children ages 3 to 12. These do fill up, but it is always worth checking for space. More information may be found here or by calling 631-749-0626.
Farmstand Events
Every Saturday in July and August the Manor's Farmstand on Bateman Road has fun activities for the whole family. From 9 am to 10 am there are free cooking demos with Chef David Lapham. At 11am everyone is invited sing and play rounds, worksongs, and folk songs in group harmony. At 12pm there is a group folk jam. For more information contact Brian Dolphin at 646-408-7151.
TRY A DAY CAMP
Camp Quinipet, a Methodist retreat set on a big wooded peninsula at the far end of Crescent Beach, offers a nondenominational day camp for children of all ages. A day in camp usually includes swimming, games and arts and crafts. Morning, afternoon and full-day options can be reserved on a weekly basis. For details and availability call 631-749-0430 or click here.
GO BIKING
Shelter Island is full of families cycling around, baby buggies in tow. Biking to beaches is a great way to avoid buying a parking permit. The roads are almost all shady, the hills moderate, and while there are no designated bike lanes, traffic is light. The only road to be a bit wary of is Route 114. It has a 40mph speed limit, rather than the 35 on the rest of the island, has a few blind curves, and is used by anyone in a hurry. Bikes can be rented or repaired at Picozzi's on Bridge Street 631-749-0520.
PLAY A GAME
Moussa Drame's Shelter Island Tennis Club offers weekly tennis camps and private lessons for all ages at several courts throughout the island. It also manages court rentals if you just want to play with friends.
If you want to enjoy a game of golf, head up Sunnyside Ave to the top of Goat Hill and the Shelter Island Country Club . Goat Hill is the highest hill on the island with absolutely spectacular views. Golf lessons are available at the club from member Scott Lechmanski at 631-495-3352. There is a very nice restaurant, FRESH, located in the clubhouse atop the hill that enjoys the same view.
If minigolf is more your family's style, head over to the Whale's Tale at the junction of St Mary's Road, Bateman Road and Rams Head Road. This 18-hole course winds past mermaids, spouting whales, and lighthouses and offers some fun challenges. It is easy to keep cool here. The course is shaded, and Whale's Tale is also an air-conditioned ice-cream parlor. If you don't want to play you can watch from the shady patio and enjoy the free Wi-Fi. There are also some fun coin-operated rides for younger kids outdoors and a few arcade games inside.
HORSEBACK RIDING
Hampshire Farms is a 65–acre farm in the heart of the island that offers lessons and boarding. Summer programs do fill up but give them a call at 631-749-0156.
PLAYGROUNDS
There is a great sandy playground on School Street right across from the school parking lot. It has climbing structures, swings, bouncy ride–ons and, best of all, a huge collection of Tonka Trucks, and on Shelter Island you can leave great toys in the playground year round and never have to worry that anyone will take them. Across the street, directly behind the school, is a playground for older kids that you can use when school is not in session.
EVENTS
Annual Chicken BBQ
Saturday August 18
4–8 pm
Corner of Burns Road and Cartwright Rd
A gigantic tent is pitched on a field and our volunteer Fire Department roasts tons of chickens on grills made from halves of metal barrels. Corn is cooked in vast cauldrons, hooked out by the netful, and buttered by rolling it in painters' pans. The menu is chicken, corn on the cob, potato salad, watermelon and two drinks apiece. The corn is always sweeter than anything you can ever find in the markets. You can eat under the tent or pick up your chicken in the take out line. Tickets can be purchased from local merchants or on the day of the event.
First Great Shelter Island Duck Race
Sunday August 19
1:30 pm
Gaily caparisoned rubber ducks will be launched into Chase Creek to raise money for next year's fireworks show. Viewing will be at First Bridge and the Volunteer Park on Bridge Street.
Firemen's Country Fair
Saturday, August 25
12–3 pm
The country fair has bouncies, carnival games, sand art, and a chance to climb all over the fire engines. There is cotton candy and popcorn and sometimes sno–cones. It also has a wonderful BBQ buffet with fresh roast pork, turkey, sausages, hot dogs and hamburgers and corn. For dessert there is a scrumptious bake sale and watermelon. Everyone eats under a big tent while listening to local bands.
Arts and Crafts Show
Saturday, August 25
10 am–5 pm
Just a block away, and in sight of the fair, a very high quality juried arts and crafts show takes over the school grounds. This is one of the best craft fairs on Long Island and is well worth a visit. Children who become bored can play in the school playground around back and of course be promised the fair down the street.
Snapper Derby
Summer's end brings the annual Snapper Derby. Kids spend the day madly fishing off docks, bridges and boats to try to catch the largest snapper they can. As evening falls they bring in their biggest fish to the school grounds to be weighed and then…cooked! That's right, they will cook your fish right up for you on the spot. If you don't like fish there is free pizza, popcorn and cotton candy. There are prizes for the biggest fish in each age category and each child receives a free Snapper Derby tee shirt. Tee Shirt designs are based on the design contest winners from the previous year. To enter this year's contest pick up a big piece of plywood (probably from Binder Pools) paint your design. The boards will all be lined up and voted on during the event.
So now that I've tempted you on island, where can you buy stuff, where should you eat, and where should you lay your sleepy sandy head each night?
SHOPPING
Jack's Marine and Bliss General Store stand side by side on Bridge Street and have everything you could need for your vacation. Jack's is run by a husband-wife team. Half of the store is a hardware and marine store (fishing poles, bait, flashlights). The other half is one of the best toy stores I have ever seen. The huge range of toys and games are carefully selected to be fun and to engage the imagination. There is also a full section of pool toys, masks, fins, beach chairs and boogie boards. Next door is Bliss, a genuine general store that sells a bit of everything. Bliss has clothing, shoes, shampoo and sunscreen, toys, stationary, beach towels, sewing supplies…everything! Except food. But right next door is Redding's Market. The Heights Pharmacy at 19 Grand Avenue also has toys and a lunch counter with great ice cream. Cornucopia, at 27 West Neck Rd also has some toys and wide range of gift items.
DINING WITH KIDS

There are many restaurants on the island, but here is a lineup of the best places to try with kids. Bella Vita Pizza in the Town Center has pizza and other Italian fare and makes a good smoothie. For tasty local seafood in a very casual setting try Bob's Fish Market and Restaurant, Commander Cody's or Clarks Fish House. All are reasonably priced. Commander Cody's also offers great ribs and fried chicken and will cook and crack lobsters for take out! For good friendly all American fare and great breakfasts as well you should try the Islander. Kyle's has wonderful brunch and sells home baked goods to die for. None of these restaurants has a view. To see the water as you dine try the Dory , the Pridwin, or the Chequit patio. The Dory does not always have the greatest food. What it does have is a back deck looking out over a beautiful salt marsh with herons and sometimes a fishing osprey. The Pridwin looks over the end of Crescent beach and has a great BBQ buffet every Wednesday night that is always filled with kids.
If you're looking to have a picnic, by far the best sandwiches on the island, or indeed anywhere, come from FEDI's grocery store in the town center next to the Post Office. Sandwiches are also available at the IGA and the Eagle Deli on the way to Crescent Beach. For fancier fare, like lobster rolls, try Redding's or Stars Café in the Heights.
SWEET TREATS!
There are two ice-cream parlors on island, the Tuck Shop at the junction of Menantic and West Neck Rd on the way to Crescent Beach and the Whale's Tale. Redding's has fresh gelato and cotton candy, while next door Bliss sells fudge. Stars Café has homemade ice cream. The Shelter Island Pharmacy serves ice cream and lunch at an old-fashioned diner counter. For cookies, cakes, and fresh doughnuts, head over to Kyle's
BEST HOTELS FOR FAMILIES
There are several hotels and B and B's on the island. The Pridwin is probably the best hotel for families. It is set right at the end of Crescent Beach, and has a pool, tennis courts, boat rentals, Ping–Pong and pool tables, and a big if steep front lawn. Once a week it offers movie evenings for the kids so parents can dine alone. Every Wednesday it has an excellent friendly outdoor BBQ. You do need to stroll about four minutes down the waterfront sidewalk to reach the part of Crescent beach that is wide enough to sunbathe on. Pridwin has cottages and rooms.
Dering Harbor Inn would be my second choice for a family. Like the Pridwin it is a full service hotel with cottages as well. It sits on a bluff overlooking Dering Harbor and has a lovely pool, tennis courts, and a state of the art fitness facility that offers a kids yoga class.
The Rams Head Inn is a lovely old building overlooking Coeckles Harbor. Rooms are small and few but the restaurant is excellent. There is no pool but there is a dock and a swing set and a huge rolling lawn to run around on. This hotel might be a bit expensive, but a family could certainly enjoy themselves here and would find a warm welcome.
Sunset Beach Motel is located right on Crescent Beach, which should make it perfect for families except that on weekends it gets a huge mob of the young and chic from the Hamptons. They pack the beach and while not unfriendly, are definitely a beautiful bar scene crowd. On weekdays it calms down and could be perfect.
There are several B&B's on the island. All are clean and friendly. They are small and not be ideal for a family with noisy children unless you were occupying the whole place. For a complete listing of the B&B's and the other hotels on the island click here.
MARINAS
If you are lucky enough to come by boat there are two lovely full-service marinas on island: Coecles Harbor Marina and The Island Boatyard. You can also check out the Dering Harbor Marina conveniently located right in the Heights in easy walking distance to many shops and restaurants.
GETTING THERE
By Car/Ferry
Rte. 114 runs right across the island from the North Ferry at Greenport to the South Ferry at North Haven near Sag Harbor. The ferryboat rides are only about 15 minutes long, although the line can be a bit longer. Once on the island you can pick up a free map at the ferry office or at most local merchants.
By Hampton Jitney & Train
The Hampton Jitney North Fork picks up at several stops in Manhattan and Queens and runs all the way out to Greenport. From the bus stop it is an easy haul across a parking lot to the ferry. The bus can carry bikes for an extra fee if you reserve a place.
LIRR runs to Greenport but you often need to switch trains midway, which can be a hassle if you have to climb stairs with luggage. On the other hand, some of the trains are double deckers which is fun. The train stops right at the ferry dock as well. You can find the current schedule here.
Island Taxis
Shelter Island Go-Fors 631-749-4252 and Flying Cow Taxi 631-749-3454 can pick you up from the ferries and get you to your hotel or rental. You do need to call them ahead of time and possibly again when you are actually on the ferry. They are not cheap. A ride from North Ferry to a hotel other than those in the heights will cost around $12. Some of the hotels have a pick-up service, so be sure to ask. Bring a charged cell phone – the phones at the ferry terminals seem to be out of service a lot.
Have fun!