Moms Night Out! A Painting Party at Canvas Mixers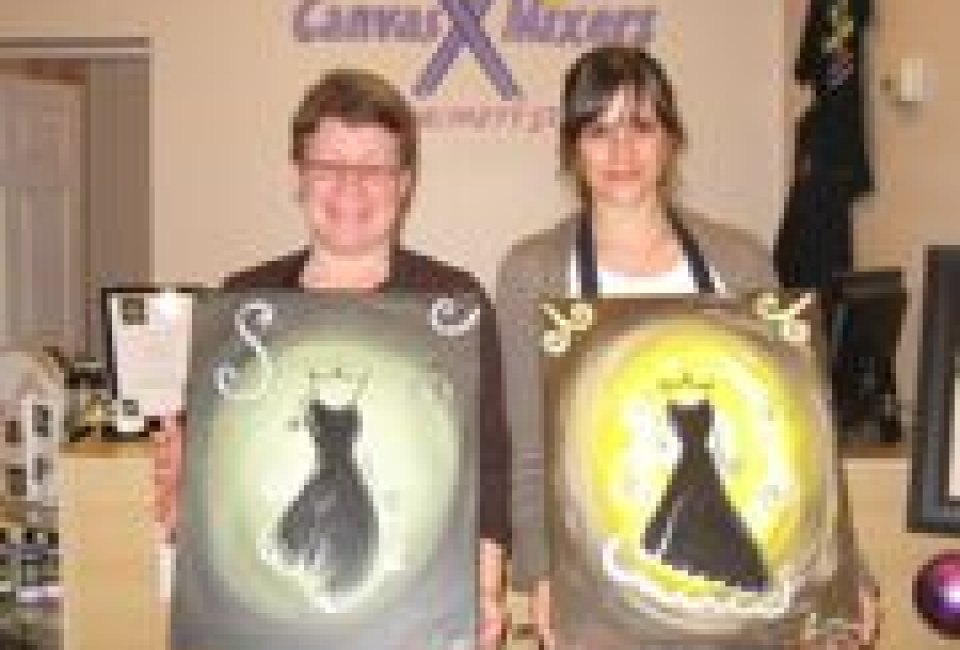 8/1/14
- By
Jen F
"If you hear a voice within you say 'you cannot paint,' then by all means paint, and that voice will be silenced." --Vincent Van Gogh

These words by Van Gogh greeted me at the entrance to Canvas Mixers, a party painting studio in downtown Collingswood, NJ. I must admit that I did hear such a voice in my head. After all, I don't think I'd painted on a canvas in my life. If you look a drawing of mine, you'd think it was from a 9-year-old. But now I was at Canvas Mixers to awaken that long-dormant artist and put her to the test by painting "Black Dress." On a 16" x 20" canvas. With real acrylic paints. While drinking wine. It was going to be an experience!
I wasn't alone in my attempt to find my inner artist. Joined by a group of 25 other women, I was attending one of Canvas Mixer's evening painting sessions. We brought only our wine and some snacks. Upon checking in, my friend and I were directed to the kitchen to open our wine and get some cups. Putting on aprons, we joined the line of women to get our artist palettes (paper plates) and paint. We then sat down at two of the easels holding blank canvases. The painting for the evening was called "Black Dress" and we'd all be painting it--guiding by our lead artist/teacher/fixer of mistakes, Shelly. Although we'd all paint the same thing, we were encouraged to personalize it. For example, we could choose a different background color (I chose sage green while my friend opted for yellow). After getting our paint, we waited for the class to get started while enjoying our snacks and wine.
When everyone was ready, we began with the background. Shelly showed us what to do and offered pointers. "Move quickly to blend the colors before the paint dries," she advised. Somewhat thrilled and a little nervous, we globbed paint on our pristine white canvases and began the background. Swooping our arms around and around, I realized that painting might actually be a bit of workout. Once I got over the "fear" of messing up, I began to have a lot of fun filling in my canvas. In fact, both my friend and I got quite caught up--completely absorbed in blending and mixing the paint and applying it to the canvas. At one point, I realized I was sticking out my tongue just like my son does when he's concentrating hard! Within 10 minutes, our canvases were filled with paint. As I looked around the room, it was fun to see how different yet similar our paintings were. Some opted for backgrounds of blues and purples and pinks. Some made their background expansive and large while others kept it constrained. Shelly walked around, offering advice and helping fix things if problems arose.
While waiting for the canvases to dry before moving on to the dress, everyone spent time socializing, drinking and snacking. I'd highly recommend attending Canvas Mixers with a friend as it is designed to be a social evening. Although there was interaction between all the little parties attending that evening's sessions, I imagine it might be a little odd to attend solo. My friend and I talked about how much our kids would love to attend the kid's class and how surprised we were at the fun we were having.
Once everyone's canvases were dry, we began painting the black dress. Shelly guided us through step by step. By breaking each part down into simple and manageable steps, everyone in the room managed to create a painting that was recognizable but unique. The room was filled with giggles and jokes--"My dress looks like it is meant for Dolly Parton" "I can't paint a straight line for my hanger because I'm too tipsy!" Again, personalization was encouraged. Some opted for bright red dresses. Others decorated their hangers or added pearls. Each dress was different in style and design but, in the end, we'd all clearly painted the same thing.
As we marveled at our finished paintings, I was filled with a sense of accomplishment. While having fun and losing myself in the moment, I'd managed to create a work of art that was pretty good. We all had. As the group came together for the group photo that ends each painting session, the room was filled with a sense of pride and accomplishment.
In the end, I'd managed to create artwork that was good enough to hang in my home, had a delightful girl's night out with my friend, and awakened my inner artist. It was such fun that I plan on returning again. After all, there is a sunflower painting that would look just perfect in my kitchen!
Canvas Mixers offers painting parties on Thursdays, Fridays and Saturdays (starting at 7:00 pm and ending at 10:00 pm). Sunday sessions run from 6:00 pm until 9:00 pm. Tuesday night sessions are reserved for Seniors (55+). There is also a Kid's Class offered on Saturdays from 3:00 pm to 6:00 pm. (My son is already begging me to attend.) You only need to bring a drink and snacks (if you choose). Canvas Mixers provides everything else. Private parties are available 7 days a week--either in the studio or off-site. Be sure to park on the street as there is no parking behind the building (it is reserved for tenants of the building as my friend and I found out when we accidentally got parked in). The Canvas Mixers web site provides all the information you need, including what paintings are being painted on which night. Call 856-873-2614 with any questions.
Originally published January 2012
Places featured in this article:
Sign up for the Mommy Poppins Newsletter today!