Online Robotics Camp
Young Gates - Kids Online Personalized Classes

Artificial Intelligence with Scratch Online Camp
Young Gates - Kids Online Personalized Classes

Spark Math: Free Trial Class
Virtual
Sign up for our free newsletters.
8 Family Friendly Theater Shows in Fairfield County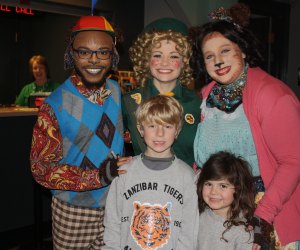 3/20/17
- By
Makayla O'Keefe
While it's pretty great to know that one of the largest meccas for culture in the country is only a short train ride away, there's no need to head all the way to New York City for a taste of good theater. Why not check out some shows a little closer to home? Fairfield County offers a wealth of plays and performances for the kids, at a fraction of the cost of a Broadway ticket. Not to mention, Fairfield County offers a fair share of drama classes year-round.
Lucky for us, there are plenty of family series at our local theaters this spring. From Bridgeport's Downtown Cabaret's family friendly picnic-style presentations to Stamford's stately Kweskin Theatre, be sure to check out some of this season's best shows, right in your own backyard.
1. Downtown Cabaret Theater - Bridgeport
Sure, we all know the tale of Goldilocks and The Three Bears. But this is the Downtown Cabaret. So, we know there's always a twist. In this charming rendition of Goldilocks, you'll get to meet Goldi, the top-selling Girlscout Cookie Salesgirl in Fairfield County, and the Three Bears as they dance and sing to Tom Petty, Stevie Wonder and Sister Sledge. It's sure to delight the whole family.
2. Curtain Call - Stamford
This Spring, Curtain Call will share the beloved story of Annie, a little orphan who charms everyones hearts despite all odds. Advanced purchase of tickets is highly recommended.
3. Westport Country Playhouse - Westport
Sail away on a swashbuckling adventure with Jeremy Jacob who joins Captain Braid Beard's band of comical pirates in search of the perfect location to bury their treasure.
4. Ridgefield Playhouse - Ridgefield
Take a trip down the mighty Mississippi where you'll meet Tom Sawyer and Huck Finn in the classic tale. Tom and Huck's adventures together come to life in this foot stompin' musical.
5. Quick Center for the Arts - Fairfield
Based on Rick Riordan's best-selling series about the adventures of Percy Jackson, The Lightning Thief will share the quest of the young demigod who comes to terms with the father who abandoned him, solve the riddle of the Oracle, and unravel treachery so powerful it rivals that of the Gods themselves. Cookies and juice follow the show.
6. West Side Story - Wilton
Undoubtedly one of the most memorable musicals of all time, the Wilton Playshop will feature West Side Story, a tale of two lovers caught between prejudice and warring street gangs.
7.The Palace Theater - Stamford
Transport your family back to the age of cave men and saber-tooth tigers in The Palace Theater's interactive spring comedy Story Pirates: The Stuck in the Stone Age Tour. Your kiddos will learn the basics of storytelling, building plots, and developing good characters as they get to contribute their own ideas to the performance.
8. Visual and Performing Arts Center - Danbury
Get whisked away on an enchanting tale about Peter and the Starcatcher, the prequel to Peter Pan. You'll discover how Peter became a boy who never grew up in this Tony-Award-winning musical show at the Visual and Performing Arts Center.