< Event Calendar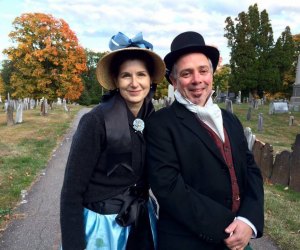 Spirits Alive Historic Hillside Cemetery Lantern Tour
Fri Oct 11, 2019
5:00pm to 9:00pm
Dead men (and women) tell no tales until Cheshire's Historic Hillside Cemetery opens after dark just once each year.
Spirits Alive Historic Hillside Cemetery Lantern Tours will be guided by lantern along paths lit by more than 1,000 candles, stopping among the tombstones to hear eight firsthand accounts of Cheshire's dearly departed.
Spirits Alive Historic Hillside Cemetery Lantern Tour is a fun and unique way to connect with history. Our all new stories told are sometimes funny, sometimes sad, sometimes shocking, and always entertaining and educational. In 2018, Cheshire's forgotten history is revealed through the true stories of a newlywed, a soldier, a criminal, an activist, an alarmist, an inventor, a hostess and a revolutionary. Come hear their stories and figure out which will tell of the dark story of the canal; a 100-year-old heinous crime; a family secret; a brazen burglary; a night of fun that took a wrong turn; a crime and punishment; a revolutionary and a spy; and a town ruined by change and more.
Hillside Cemetery (Historic section)
Walnut Street and Wallingford Road By Grange Hall
Cheshire, CT 06410
** Event dates/times are subject to change. Please click through to the event website to verify.