8 Reasons Parent-Founded Goldfish Swim School is a Family Favorite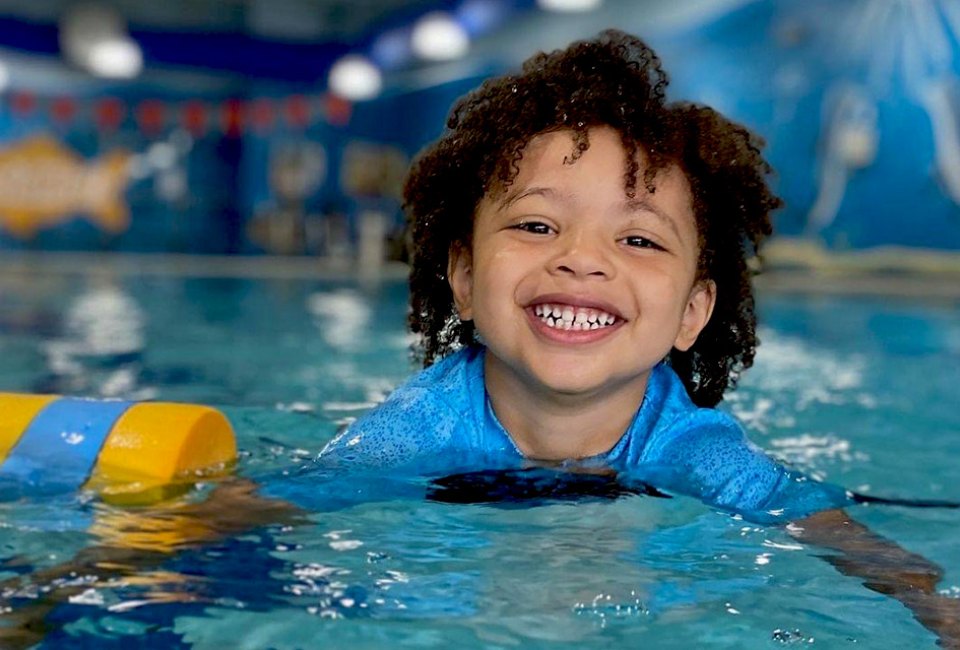 4/11/23
- By
Jessica Laird
Co-founded by a mom-of-four and her husband, Goldfish Swim School is a family favorite for kids' swimming lessons, with 11 locations in the Boston Area. With its one-of-a-kind, play-based curriculum and kid-centric facilities, Goldfish Swim School makes water safety and learning to swim fun and approachable for babies as young as 4 months to kids up to 12 years old. Read on to see why this innovative swim center is in such high demand–and find out how to get started at Goldfish Swim School with a free first lesson.
Proprietary The Science of SwimPlay® curriculum
Designed by parents with parents in mind, the Goldfish Swim School curriculum is built around the idea that kids learn best in a safe environment through guided play. With solid safety measures in place, Goldfish Swim School gives kids the perfect setting to master new skills, conquer fears, and build confidence.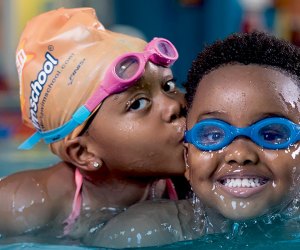 Shiver-free pools heated to 90°
Don't discount the value of warm water, especially when it comes to the littlest swimmers! The higher temps make Goldfish Swim School pools approachable and comfortable all year round, meaning less resistance and more time spent learning.
Tropical-themed facilities designed for fun, learning, and safety
Goldfish Swim School facilities are like no other–from the fun tropical decor to kid-friendly hair drying stations, bathing suit dryers, and private changing huts. State-of-the-art equipment is used in both the pools and pump rooms to keep the water and air quality at the highest level.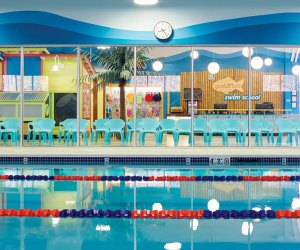 A comfy parents' viewing room–with free Wifi
The only part of Goldfish Swim School that wasn't designed specifically for kids was designed specially for parents. Forget sitting in a pool-side folding chair. Moms and dads can make the most of air-conditioned viewing galleries equipped with free Wifi, where they can relax, work, read, socialize, and watch their kids swim.
Snacks and swim gear at the ready
From kid-friendly snacks like granola bars and popcorn to parent staples, every Goldfish Swim School location is conveniently equipped with a Snack Shack snack bar. Families can also visit the Treasure Island Pro Shop in the case of a forgotten pair of goggles or when in need of a fun reward after class.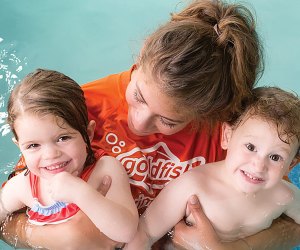 One lifeguard-certified instructor for every four kids
Because safety is top priority at Goldfish Swim School, all instructors go through an extensive hiring process and a thorough training period. Highly-skilled lifeguards have their eye on the pool whenever it's in use, and swim classes never exceed a 4:1 student-to-teacher ratio (or 6:1 for parent and baby classes).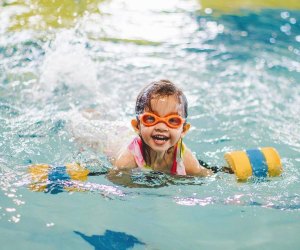 Year-round swim lessons for children 4 months to 12 years
Not only are all Goldfish Swim School locations open year-round, but instead of having parents sign kids up for classes one session at a time, lessons are offered "perpetually." Families simply pay a monthly fee to attend regular weekly lessons.
FREE first swim lesson
If you're interested in giving Goldfish Swim School a try, the first lesson is FREE. Fill out this quick form for more information on your nearest location, and to start your free trial.
Photos courtesy of Goldfish Swim School

Sign up for our free
newsletters.
Mommy Poppins is a family activity website that helps people find things to do with kids.
©
2023
MommyPoppins. All Rights Reserved.
mp-prod4-v4.32.99
Click Here to Sign Up!
i