Online Robotics Camp
Young Gates - Kids Online Personalized Classes

Artificial Intelligence with Scratch Online Camp
Young Gates - Kids Online Personalized Classes

Spark Math: Free Trial Class
Virtual
Sign up for our free newsletters.
Growing Celery and 10 Other Kitchen Scraps You Can Plant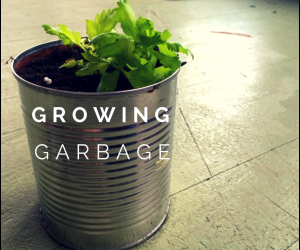 3/17/15
- By
Ally Noel
Instead of tossing out vegetable scraps, re-grow them into new plants. It's so much fun to watch your garbage grow into brand new plants that you can eat again. Celery is a super easy one to grow in the kitchen. We'll tell you how in three easy steps, plus 10 other vegetables you can grow from kitchen scraps. Turn your scraps into your next snack!
Materials:
Celery
Shallow bowl or saucer
Water
Pot with soil
1. Remove the base of the celery from the stalk.
2. Place the celery in a small saucer or bowl with water - base side down. Let the celery sit in the water for about a week.
3. New celery will begin growing from the center of the base. After you have a bit of new growth, transfer the plant into a pot with soil.
Make this eco-friendly project even greener by recycling a tin can into a planter. Pierce the bottom of a can with a few holes to allow for drainage.
10 more food scraps you can grow:
Potatoes
Bean sprouts
Lettuce
Avocado pit
Ginger
Turnips
Garlic
Onions
Fennel
Basil
Show us what you make. Share it on Facebook, Twitter or Instagram and tag @mommypoppins so we can see your creations, too!