6 Sunflower Fields near DC for Pick-Your-Own Flowers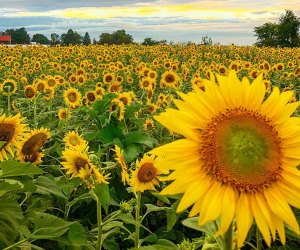 With their bright yellow, orange, and red petals, sunflowers are one of the most beautiful signs of late summer in the DC area. Sunflower fields are also the perfect backdrop for Instagram-worthy photos. And several sunflower fields near DC offer additional fun such as sunflower mazes, playgrounds, farm animals, and more.
For even more farm fun this summer, check out our list of pick-your-own berry farms or strawberry-picking farms near DC.
Here are six sunflower farms or sunflower fields near DC worth visiting with your kids in August and September.
This working farm's Sunflower Spectacular Festival runs August 6 through 15. Located about an hour outside DC, Butler's Orchard features two football-sized fields of sunflowers to stroll through and pick for $12 per bouquet. There are props set up along the way that provide plenty of great photo-ops. Be sure to visit the Farm Park to visit the farm animals, play on the playground, and slide down giant slides. Admission is $5 Tuesday through Thursday and $10 Friday through Sunday for anyone age 2 and older.
2. Summers Farm — Frederick, Maryland
Take a wagon ride out to the sunflower fields at this working farm to choose from more than 35 varieties and colors of sunflowers. The Sunflower Festival takes place August 21, 22, 28, and 29 and September 4, 5, 6, 11, and 12. Admission is $17.50 for ages 3 and older and includes one free sunflower bloom, but you can purchase additional blooms started at $3. You can also see farm animals and enjoy more than 45 activities including a corn maze, farmer golf, and tetherball. Summers Farm is located about 75 minutes from DC.
Kids ages 6 and younger get free admission to this farm about 90 minutes from DC. Admission for everyone else is $15 and includes two sunflower mazes. Pick-your-own sunflowers cost $1 per stem and $5 for six stems. Bring a bucket and water so you can safely transport your flowers home.
A visit to this farm less than two hours from DC would make an excellent day trip. Bring your own clippers to cut sunflowers in the sunflower fields for $1 per stem or $10 per dozen, as well as your own bucket or basket to bring them home in. You can also explore the farm's trails, meet the animals, take a hayride, and more. Peak bloom is late August through September.
Can it get any better than sunflowers and Ice cream? This creamery about 75 minutes from DC has 80 flavors of homemade ice cream to choose from, as well as milk, brown eggs, cheese, and beef. When you finish your ice cream, you can cut your own flowers from Rocky Point's two-acre sunflower field for $1 each. All of the proceeds go directly to St. Jude's Children's Research Hospital. The sunflowers bloom for about two weeks in August.
This farm's Summer of Sunflowers event runs from mid July through Labor Day, and sometimes later. Tickets can be purchased online for $15.50 for ages 11 and up and $11.50 for kids ages 2 to 10; kids under 2 are free. Adult tickets include three cut flowers, while kids' tickets include one cut flower. Additional stems cost $1.50 each. Admission includes access to the farm's huge jump pad, bubble stations, kids clubhouse play area, and more. For about two weeks, there's also a sunflower corn maze. You can also visit the farm from 6pm to 8pm for Sunflower Sunsets, which costs $2 more per ticket. Burnside Farms grows 30 varieties of sunflowers.
And remember—as with any crop, these sunflower farms can't predict with certainty when exactly the sunflowers will be available. So, it's always a good idea to check their websites or call before you visit any sunflower fields near DC.