Top 5 Beaches Near NYC for a Family Daycation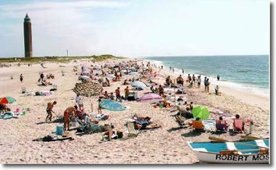 Putting together a NYC best beaches article was one of the hardest posts I've tried to do. For a city that you don't really associate with beaches at all, there sure are a lot of them—and a lot of great beaches too. But I am definitely very opinionated about beaches. In my opinion going to the beach should feel like a vacation, even if it's only a day trip. That's why my list of greatest beaches includes the NYC area beaches that balance these qualities best: beaches that are the most beautiful, have the best sand and waves, the most relaxing atmosphere, are easy to get to and the most the fun to visit.
See my favorite NYC beaches below. You can also check out some of our other beach lists like beaches you can get to by subway, Long Island beaches, Jersey Shore beaches, and private beach clubs. 
Sandy Hook
What I love about Sandy Hook is that it is an absolutely clean, beautiful beach that you can reach by public transportation in under an hour. You can take a ferry ride from Manhattan and then a shuttle bus (or bike ride) to reach the beach. The only thing more beautiful than the beach? Getting there with no traffic!
Robert Moses State Park
As a kid we always went either to Jones Beach or Robert Moses. Jones Beach can be really fun with all its amenities, but I now prefer Robert Moses because it's a little harder to get to, which means it's slightly less mobbed. Both of these beaches are, in my opinion the quintessential Long Island beach. They've got the dunes, the wide beaches of good clean sand, and the great Northern Atlantic waves. Keep a close eye on the kids even when they're out of the water. It's easy to get lost on these crowded, massive beaches.
Fire Island-Fair Harbor
If you can swing Fire Island for a day or longer, it's definitely worth the trip. The best town for kids is Fair Harbor. You can drive or take the LIRR to the ferry (the whole trip will take you about 2.5 hours.) No cars are allowed on the island. It's all bikes, boardwalks and wagons. Add to that the beautiful dunes and the fact that you can walk from the ocean side to the bay side in ten minutes. Fire Island is a great vacation destination right in our back yard. The only downside is there's not much to do there except relax on the beach. Or, maybe that's the upside.
Rockaway Park
I'm not that into urban beaches. The sand is just different. There's no dunes. It just doesn't serve the same purpose as going to a "real" beach, but Rockaway Beach comes pretty close. Just jump on the A train and ride it out (for about an hour from downtown) to the end. It's a pretty cool ride across the Broad Channel into what seems like a little seaside town. The sand is better here than at other city beaches and not as crowded. Pretty great for a subway ride away.
Seaside Heights
The only other reason to go to an urban beach is for the boardwalk and until they finally do something with Coney Island, the best boardwalk around is Seaside Heights on the Jersey Shore. We featured the water park yesterday, but that is just the tip of the icee. The mile-long boardwalk is jammed with every imaginable contrivance to delight children and separate you from your money. You might not even make it onto the beach.