Macy's Thanksgiving Day Parade 2014: Where to Watch, What's New & Balloon Inflation Tips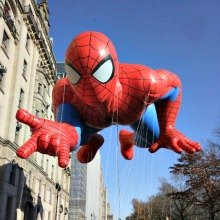 On Thursday, November 27, the 88th annual Macy's Thanksgiving Day Parade will take over Manhattan with marching bands, extravagant floats and massive balloons of Spider-Man, SpongeBob, Snoopy and other beloved kids' characters. Seeing those giant balloons get inflated the night before the parade is a pretty special experience, too. (There's a reason why it's No. 98 on our list of 100 things to do with your kids in NYC.)
If you're planning on watching Macy's Thanksgiving Day Parade in person, we've got the most up-to-date information on the route and the new balloons, plus advice on where to watch even if you don't stake out a spot at dawn. We also have a brief overview of the Balloon Inflation the night before, but you'll also want to check out our in-depth inflation post. You can find more holiday inspiration in our Thanksgiving Fun Guide.
Wednesday, November 26 3-10pm
Start at Columbus Avenue and 79th Street
Over the past few decades, Macy's Balloon Inflation has become a pretty huge event in and of itself. Tens of thousands of people crowd the streets surrounding the American Museum of Natural History to witness Spider-Man, Greg Heffley from Diary of a Wimpy Kid, Ronald McDonald, Hello Kitty and others come to life. New giant balloons for 2014 include Paddington Bear (in honor of the soon-to-open movie), the Red Power Ranger from Mighty Morphin Power Rangers, Eruptor of Skylanders fame and every toddler's favorite blue train, Thomas the Tank Engine. Updated Pillsbury Doughboy and Pikachu balloons will also take their first flights. You can find the complete lineup of balloons, floats and performers on Macy's website.
The Balloon Inflation is mobbed so don't expect a leisurely stroll past the balloons. Instead, you're herded into a procession that starts at West 79th Street and Columbus Avenue, and circles the museum. Since it's so packed, older kids who can deal with crowds do best. Preschoolers often get fussy, especially when there's not much to see or do, which unfortunately is sometimes the case. Plus it's tough to push a stroller through. If you want to go with friends, be sure to travel to the site together or meet a few blocks away. It's impossible to hook up once you're in the fray. Trust me, I have tried. Read our in-depth post about the Macy's Balloon Inflation for more info and to see pics.
If this sounds like too much for you, there's another way you can see the balloons up close. Jonathan, a friend of Mommy Poppins' founder Anna, advises that after the parade is over, the balloons are deflated on the side streets around 34th Street and Sixth Avenue. So you can watch those giants shrink without the mobs.
Thursday, November 27 9am-noon
Starts at 77th Street and Central Park West and ends at Herald Square
You've got to get up really early if you want to find the perfect parade-watching spot... or do you? Well, if you want to be right in front, yes, you must rise with the birds. But my family and I have watched the parade from the streets numerous times and we don't get up at dawn. We simply meander across town to see how close we can get. We always see something and honestly, all my son cares about are the balloons, and they're so big they're visible even from a block away.
For 2014, the parade is sticking with its Sixth Avenue route. Unfortunately, there is no secret uncrowded place from which to watch. Anyone who tells you that is full of baloney (make that Thanksgiving turkey). You definitely want to avoid Sixth Avenue between 34th and 38th Streets, and the grandstand area (usually somewhere around Columbus Circle), as they'll both be closed to the general public. In the past, we've also seen random streets that were inexplicably off-limits to viewers, like portions of Central Park South. If the NYPD says you can't stand somewhere, it's best to comply without argument.
If you want an unobstructed view of everything, you're going to have to stake out your spot around 6am (really), maybe even earlier. In that case, we recommend hitting the west side of Central Park West in the 60s and 70s. (The east side of Central Park West isn't open for viewing.) The further you are from Herald Square, the better off you'll be crowd-wise. Of course, if you know someone who lives, works or is staying at one of the many hotels on the route, start bribing them now. As for trying to snag tickets for the grandstand, Macy's doesn't give them out (or sell them) to the general public.
The exact route of the 2014 Macy's Thanksgiving Day Parade is as follows: The parade kicks off at 77th Street and Central Park West and travels downtown to Central Park South, a.k.a. 59th Street. Here, it heads east to Sixth Avenue, where it continues south to 34th Street Herald Square. The Macy's website has a detailed map of the route.
Just can't handle the cold and crowds? Stay home and watch Macy's Thanksgiving Day Parade on NBC.
Find more holiday fun in our Thanksgiving Guide.
Sign up for our FREE newsletters to get posts like this delivered to your inbox.
This post was originally published in November 2009.