Insider Tips: The 2015 Macy's Thanksgiving Day Parade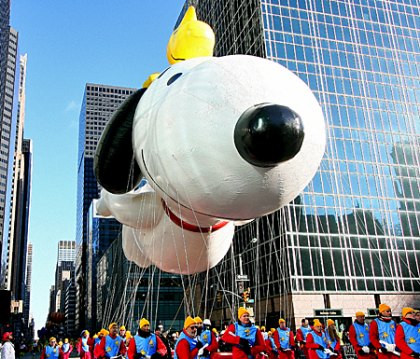 The 89th annual Macy's Thanksgiving Day Parade takes over Manhattan on Thursday, November 26, decorating the city with its boisterous marching bands, extravagant floats and giant balloon characters. The retailer just released its 2015 parade lineup, including new character balloons, such as Red from Angry Birds, and new floats like Snoopy's Doghouse.
If you're planning to attend the parade with the kids, read on for the most up-to-date information on the route, new balloons and the best viewing locations. Check out our in-depth inflation post for an overview of the Wednesday night balloon inflation. You'll find more holiday inspiration in our Thanksgiving Fun Guide.
Enthusiastic paradegoers know the family fun actually begins the day before as those giant balloons receive an annual helium injections. It's no wonder why it's included on our list of 100 Things to Do With Your Kids in NYC.
Remember, sign up for our FREE newsletters to get posts like this delivered to your inbox.
Wednesday, Nov. 25, 3-10pm
Start at Columbus Avenue and 79th Street
The Macy's balloon inflation has become a holiday tradition of its own. Tens of thousands crowd the streets surrounding the American Museum of Natural History to witness Paddington, Thomas the Tank Engine, Hello Kitty and Elf on the Shelf (all returning for 2015) and others come to life.
The four new balloons for 2015 include Red of Angry Birds to celebrate the movie scheduled open in summer 2016; Ice Age's Scrat and acorn; and the return of Sinclair Oil's "Dino," as well as a new Ronald McDonald balloon. 
Experienced balloon watchers know not to expect a leisurely stroll on Wednesday night. Instead, expect to be herded into a procession that favors older kids who can better deal with crowds. Preschoolers might find the crowds frustrating, and be aware, it is hard to push a stroller through the gallery.
If you want to attend with friends, travel to the site together or meet a few blocks away. It can be impossible to connect once you're in the fray. See our in-depth post on Macy's balloon inflation for more info and pictures.
If this sounds too challenging, consider watching the post-parade balloon deflation held on the side streets around 34th Street and Sixth Avenue.
RELATED: Visitor's Guide to NYC for Families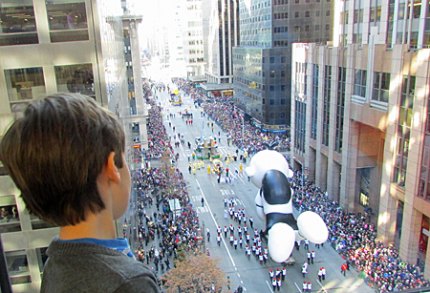 Watch the parade from above if you can!
Thursday, Nov. 26, 9am-noon
Starts at 77th Street and Central Park West and ends at Herald Square
This parade is total holiday madness but also incredible family fun, and an NYC holiday bucket list must. Where else can you expect to see 1,000 clowns, 27 floats, 17 giant balloons and Santa Claus all at once? You'll see everything from Sesame Street characters to cheerleaders and Santa's sleigh!
Wisdom says arrive early if you want to secure the best parade-watching venue. However, some experienced paradegoers prefer a leisurely stroll across town to a comfortable vantage point knowing the giant inflated balloons are visible from a block away.
RELATED: Best Places to Visit Santa in NYC
Even Santa flies in for this event! Photo courtesy of Macy's.
The parade again travels its traditional Sixth Avenue route. But be aware: There is no secret, uncrowded place from which to watch. It's best to avoid Sixth Avenue between 34th and 38th streets and the grandstand area (usually near Columbus Circle) as both are closed to the public. Be prepared for other street closings and make sure to comply with any NYPD advisories.
For an unobstructed view, stake out your spot around 6am, perhaps earlier. In that case, consider the west side of Central Park West in the 60s and 70s. The east side of Central Park West is not open for viewing. However, if you enter Central Park north of 86th Street and meander south you can catch a peek from a hill or playground.
RELATED: Best Outdoor Ice Skating Rinks
Paddington is just one of 17 giant character balloons that will appear at the parade. He's 60-feet tall! Photo courtesy of Macy's.
A few final tips: Experienced paradegoers know the farther you are from Herald Square, the lighter the crowds tend to be. Also, Macy's doesn't distribute tickets to the grandstand to the public.
The precise route of the 2015 Macy's Thanksgiving Day Parade is: Beginning at 77th Street and Central Park West, it travels downtown to Central Park South, aka 59th Street. It then heads east to Sixth Avenue, continuing south to 34th Street/Herald Square. The Macy's website has a detailed map of the route.
If you can't handle the cold and crowds, stay home and watch the Macy's Thanksgiving Day Parade on NBC along with the 50 million other Americans who do each year. 
Top photo: Snoopy returns for his 39th Macy's Thanksgiving Day Parade, earning him the record for most appearances among giant balloons at the holiday festival. Photo courtesy of Macy's.
This post, originally published in November 2009, is updated annually.