Online Robotics Camp
Young Gates - Kids Online Personalized Classes

Artificial Intelligence with Scratch Online Camp
Young Gates - Kids Online Personalized Classes

Spark Math: Free Trial Class
Virtual
Sign up for our free newsletters.
New Pop In! Play Space & Cafe: Fun for Little Ones in Larchmont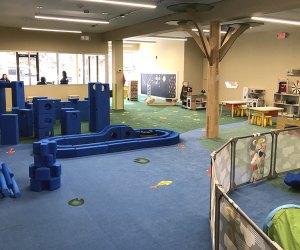 3/6/20
- By
Susan Miele
Life in Larchmont continues to perk up for families, with yet another opening of a family destination. We recently told you about the arrival of D.I.Y. Slime, where kids can get their hands on STEM-y fun without messing up their own home. On its heels comes Pop In! Play Space & Cafe, a new indoor spot geared toward kids under 6 that offers stimulating stations, flexible pricing, and birthday parties.
We paid a visit to size things up for our readers. Spoiler alert: We give it a big thumbs-up!
Read on for the inside scoop about Pop In! Play Space & Cafe. To stay in the know about new businesses, camp listings, our top picks from our Event Calendar, and more, make sure you're signed up for our newsletters!
While Larchmont has experienced some business closings over the past few years, a spate of development is giving new life to its downtown, most recently with the arrival of Pop In! Play Space & Cafe, which took over the storefront previously occupied by The Voracious Reader. The thoughtfully curated space is the brainchild of owner Yuko Kuro, who left her job in finance to fill what she saw as an unmet need for local parents.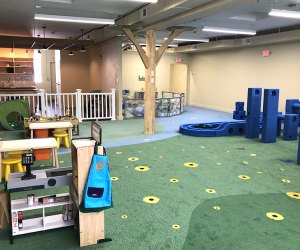 The space is inviting and cheerful.
As much an indoor landscape as play space, Pop In! features decor that's cheerful and inviting; it's almost like stepping into an episode of "The Magic Garden." The carpeting (which is padded to cushion little ones from the occasional tumble) is a grass-green festooned with multi-colored butterflies and flowers; walls are a cheery yellow; and the room's centerpiece is a decorative tree that was custom-built by a local carpenter.
RELATED: Top Indoor Play Spaces for Toddlers and Preschoolers in Westchester

Kids can build to their hearts' content with the giant blue foam blocks.
Throughout the open space are a tantalizing assortment of inventive stimuli and curiosities. While some units are more standard fare, like a play kitchen, easel, pretend store, train table, and the like, children could spend an entire visit building their own play area with blue foam blocks, then using it for forts, hide and seek, or wherever their imagination takes them.
A conveyor belt is another highlight, because who wouldn't want to place objects on top and turn the crank to move them? Personally, I could have spent the day with the light fixture on the wall with colorful tiles that illuminate when tapped. Beyond all this are other interactive attractions that capture the imagination.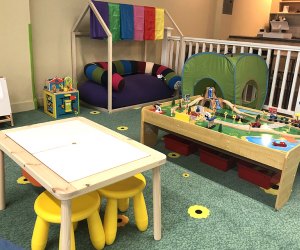 Take a break on the cozy couch while the kids play at the train table.
For those who need a breather, a canopied couch might do the trick, and the cafe serves up drinks and snacks for both adults and kids. For those under 18 months, a fenced-off area is just the right size.
A flexible pricing plan allows drop-in rates of various durations (even as brief as 15 minutes), with a cost savings for longer stays or the purchase of ticket packs, which don't have an expiration date.
Pop In! also offers birthday parties, with scalable options. The venue closes for private events, so visitors are advised to verify business hours in advance by calling or checking its Facebook page. Usual hours are 9am – 6pm daily.
Interested in another recently opened indoor play space? Read our review of Tig & Peach in Pelham.
Photos by Susan Miele