25 Top Indoor Birthday Party Places in San Francisco for Kids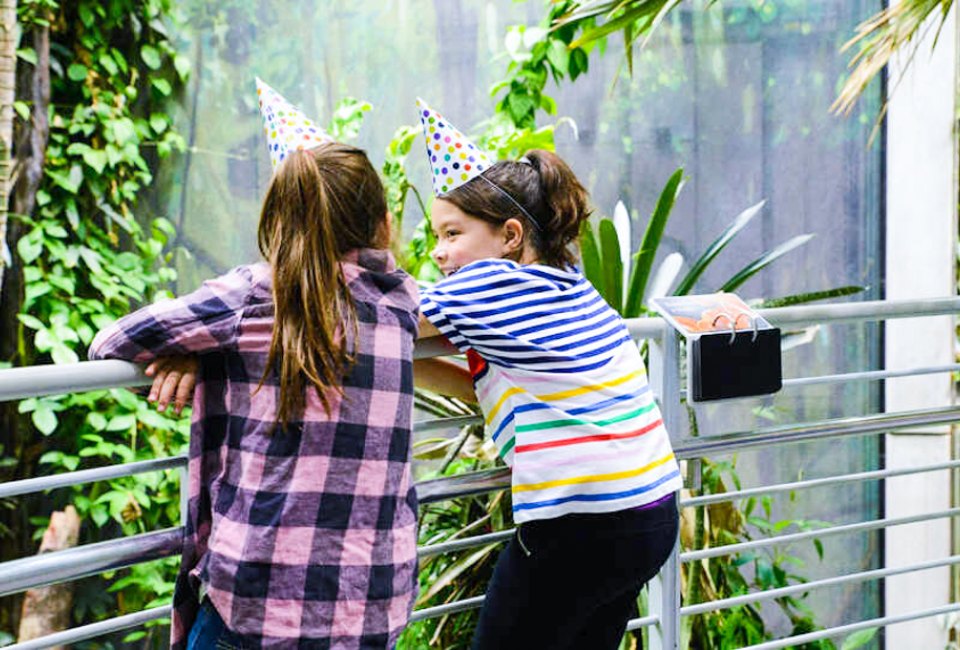 2/26/23
- By
Sandra Lee
There are so many indoor birthday party places in San Francisco that it will be hard to choose just one. Luckily, kids will have years and years of birthdays in the future, with no shortage of exciting indoor party places in San Francisco to hold those memorable birthday parties.
A wide range of indoor birthday party spots for all interests and energy levels makes it easy to plan an indoor birthday party in San Francisco and the Bay Area, especially if the weather isn't ideal. From places that let kids learn about animals, science, arts, and interactive activities like inflatables, LEGO, and bowling, there are indoor birthday places for all interests and all ages. We rounded up our favorite indoor birthday party places in San Francisco that pretty much do all the party planning for you while making your kiddo's milestone a special one. These birthday party places might have walls, but they'll still be the life of the party.
Want more indoor fun? We love these indoor playgrounds when the kids need to release some energy, and these cooking classes for little foodies. Our at-home guide also has tons of engaging activities to try inside the house.
Indoor Birthday Party Places in San Francisco
Celebrate the big day under the sea at the Aquarium by the Bay in San Francisco. See and touch over 24,000 aquatic animals, from sea otters, sharks, octopuses, and bat rays. Outside food and drinks are allowed, and add-ons include a welcome visit from Ollie the Otter mascot, animal encounters, and a VIP private tour of the aquarium.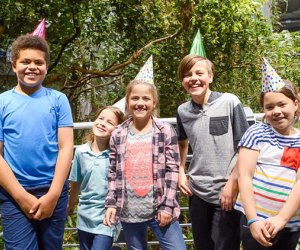 It's a proven method that little scientists enjoy a birthday party at the Cal Academy. Photo courtesy of the California Academy of Arts and Sciences
Bring your little scientist, ages 2-12, to the Cal Academy for a very special birthday celebration. With different packages, including "Creature Crafts," "Canopy Quest," and "Small Fry Storytime," kids will have a great time. Parties include admission to the museum, all decorations (so you won't have to search those party supplies), and a goody bag for each guest. Note that parties are booked only on Saturdays and Sundays, and they book up fast!
For an elevated birthday experience, invite guests for a proper tea party at Crown and Crumpet for your 7-12 year-old. Age-appropriate crafts, party favors, and two rounds of "Tea Party Bingo" are included in the price, along with traditional tea sandwiches, scones, and desserts. American Girl fans can get a craft and favor kit by Kit & Sis to personalize the party, and for younger kids, there is an option to fly in a fairy to keep them entertained.
For kids that want to jump, House of Air is the perfect spot to let them do just that. Packages are grouped for 3-6 year-olds and 7-12 year-olds and are all-inclusive. The one or two-hour party includes a private room, grip socks for each guest, pizza, drinks, a party attendant for set-up and clean-up, and plenty of time to jump.
Whimsical, engaging, themed parties for little ones, ages 3-8 years old, are at this San Francisco party spot. Whether your little one is into rainbow unicorns, marvelous monsters, warrior princesses, or space explorers, this children's theatre can make it happen. The party includes custom decorations, theatre games, crafts, art supplies, and activities. Specialized themes like Harry Potter and Encanto are also available.
Indoor Birthday Party Places in East Bay
Choose between a sports or inflatable party so kids can run free, hang out with their friends, and celebrate the big day as you sit back and enjoy the fun. Kids into sports can play flag football or dodgeball with the sports party. Or if they would prefer to jump around, inflatable slides, bounce houses and basketball hoops are available at the inflatable party. Packages include two hours of playtime, a room, and party set-up and clean-up. Parties are for up to 15 kids, and outside food is allowed except for pizza and alcoholic beverages.
If your little one likes science and art, a party at the Junior Center is a great pick. All parties (up to 14 kids) include a hands-on project led by an instructor and access to the play space and animal room. Outside food is allowed, and while balloons are allowed, they cannot be outside as the center is next to an animal sanctuary. The art projects can also get messy, so keep that in mind when picking out that birthday outfit!
RELATED: 100 Things to do in San Francisco with Kids Before They Grow Up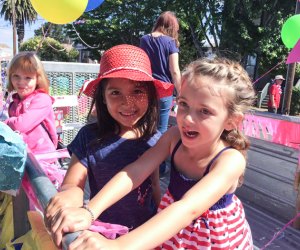 Creativity and art will keep the kids immersed. Photo courtesy of Twirl in Alameda
8. Twirl — Alameda
This beautiful play space in Alameda is a favorite of East Bay parents. Accommodations include up to 45 guests and 12 kiddos, and packages include pinwheel party favors, a party attendant, and canvas stamping for the birthday boy or girl. While the space is full of fun things to play and explore, Twirl has some cool add-ons like a guided art project, a cotton candy or popcorn machine, and face painting.
Create tangible memories with friends while chatting, laughing, and making art to take home. The art space in Berkeley lets you have the whole studio and outdoor courtyard to yourselves for two hours, with a one-hour instructor-led reuse/craft project that is age appropriate. Kids can build with cartons, paper, wood, corks, and fabrics to create something unique depending on the interests and likes of the birthday kid.
Do you have the skating bug after visiting all the fantastic Bay Area ice rinks during the holidays? The Oakland Ice Center is open for birthday parties and includes two hours of skating, with a lesson and games for up to ten guests. Skating is not private and will be part of the public skating session. While all ages are welcome, it is recommended for kids ages three and up, as the smallest skates available to rent are a size six.
Indoor Birthday Party Places in North Bay/Marin
Birthday parties are pretty special at the Bay Area Discovery Museum. While not the most affordable option, it's definitely a party your birthday kid and guests will remember, especially with the beautiful backdrop of the Golden Gate Bridge. Three rooms are available depending on the size of the party, with each one including a group activity like costume design and a transportation device, along with add-on options like a photo booth and gift bags. All guests get free admission to the museum for the day!
For a complete turnkey event that even includes the cake, Fox & Kit in San Rafael has you covered. Choose a theme like princess, robot, under the sea, and others, and let the party planners take over. The "Foxtravagant Celebration" includes cupcakes, a birthday banner, drinks, gift bags, a barista, and all utensils for two hours of private party fun. Available extras like an open espresso bar are an enticing (and much-appreciated) addition for adults needing a little pick-me-up.
Little gymnasts will be flipping over the moon to celebrate the big day with a gymnastics or parkour (or combo!) themed party. Kids 4-13 will get warmed up, learn some skills, and have structured free play for an hour and a half before going inside for pizza and cake. Note that parties are reserved only for Saturdays and Sundays with a max of ten kids.
14. Tutu School — Various Locations
With locations all over the Bay Area, including Larkspur, the birthday parties at Tutu School are beyond adorable. Each party includes a dress-up, mini ballet class, a special birthday story, crown craft, a cupcake picnic with all the guests, and party favors. Keepsakes and games are optional add-ons depending on the Odette, Cinderella, or Sugar Plum Fairy package. Get those tutus ready!
Indoor Birthday Party Places in the Peninsula
RELATED: Free Museum Days for Kids in San Francisco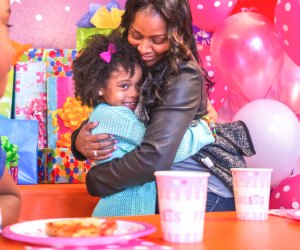 All the inflatable fun that birthday wishes are made of. Photo courtesy of Pump It Up
Inflatables are a big hit with kids. They provide a safe place to run, jump, and bounce all that energy out. Pump It Up in Belmont is a super popular spot, as the turnkey party packages are available rain or shine. Every party is a private event, meaning you don't have to worry about sharing the space with other kids. It's also customizable depending on the number of kids, add-ons (like a balloon drop or glow party), and food needed. No outside food is allowed, making this an easy party to plan.
Go on a play safari for your little one's birthday at Safari Run in either San Mateo or Sunnyvale. Party packages include an hour of playtime with a staff member who can play games with the kids or supervise unstructured play. There's also an option for a time in the arcade, followed by cake and food in the private, decked-out safari-themed room. Heated food (like pizza) is not allowed if brought in. Cold appetizers, as well as cake or cupcakes are allowed. Note that Safari Run is a nut-free facility, so all food that comes in needs to follow those guidelines.
This San Mateo museum is a popular spot to take the kiddos on a rainy day, so hosting a birthday party here is a no-brainer. With free admission to the museum and a dedicated party space (dependent on size), it's a great way to let kids explore, learn, and hang out with friends. Outside food and drinks are allowed, as well as decorations, except for noisemakers, glitter/confetti, balloons, or animals. If you are a member, there's a discount for all party packages.
For imaginative kids who love to play dress up, go on pretend adventures, and create stories, check out Imagination City. Recently opened in San Mateo at Hillsdale Mall, this brand-new facility also hosts birthday parties. Kids can walk around a make-believe neighborhood, cook in a pretend kitchen, go grocery shopping, and travel wherever their imagination takes them. Party package pricing depends on size and day of the week (weekday vs. weekend) and includes a staff member to help with set-up and clean-up. Bring all the decorations, food, drinks, and cake, and then let the kids play!
Hassle-free party planning is the name of the birthday game at this undersea playland in Redwood City. The basic party package includes 75 minutes of playtime followed by 40 minutes in a private room, a photo booth, free parking, and a party attendant to help with set-up and clean-up. A party menu is available that includes pizza, chicken wings, and more, and you are welcome to bring a birthday cake and other decorations.
20. K1 Speed — South San Francisco
Ignite little Lighting McQueens for a party where they can race and drive to their heart's content. Indoor go-kart racing includes an actual 12-lap qualifying and final event race, with medals and a podium ceremony for the top racers (and the birthday kid). Celebrate in a private-themed room with pizza and drinks. Want more? Include a games package that includes arcade game cards for each guest.
Indoor Birthday Party Places in South Bay
Little foodies can step into the shoes of a chef at this adorable cooking school for kids. For up to 40 guests, kids will get a two-hour cooking class, chef's hat and aprons, cupcake decorating time, and pink lemonade to celebrate the day. Choose from making a pizza (with toppings), fresh pasta with pesto, alfredo, or marinara sauce, or making cupcakes from scratch and learning how to decorate them. Parties are planned for ages three and up and can be any day of the week.
For a Pinterest-worthy play space that is not only modern and beautiful but fun to play in, check out Whirlygig in San Jose. Parties are in the beach or farm-themed rooms, with the basic package including private play, decorations, and drinks. To fully utilize the space, the ultimate party package includes a theme, group activities, and decor designed by party planners and artists.
LEGO lovers will love celebrating a birthday at the LEGOLAND Discovery Center. Choose from an "Awesome," "Awesomer," or "Awesomest" party package that includes free admission to all the play activities, rides, and 4D movie theater, along with cupcakes and drinks. Downloadable complimentary invitations are available. Reservations should be made two weeks in advance.
RELATED: 25 Top Indoor Playgrounds and Play Spaces in San Francisco

A birthday party that kids will be jumping up and down for. Photo courtesy of Luv 2 Play
A play space for the littlest of birthdays (starting at five months old), Luv 2 Play has four party packages available depending on guest size and add-ons. While you can go basic, we think the extra additions of a kid's meal (cheese pizza), a month of playdate passes, game cards, and mini cupcakes are worth it. This play space is ideal for infants and toddlers as it's a perfect spot for crawlers and new walkers.
25. Bowlero — Milpitas
Bowlero in Milpitas has parties for kids (4-12) and teens (13-19), so keep this spot in mind as the kids get older. The parties are customizable, and you'll work with a party planner to hash out all the details like food, how long to bowl, and any extras like laser tag or arcade games. Bowling can be intimidating, but Bowlero has lightweight balls and bumper rails to make every game enjoyable for any age. Entrees, two hours of bowling, and shoe rentals are all included for teens.
Sign up for the Mommy Poppins Newsletter today!