< Event Calendar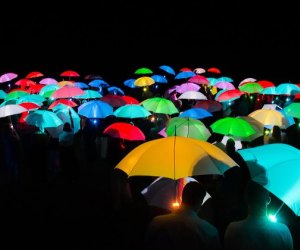 Earthfest
Sat Apr 13, 2019
7:00am to 8:00pm
Free with museum admission
From early-morning yoga to special performances, visitors are immersed in art, science, and culture at this festival honoring Earth Day. Participate in hands-on activities, join special music guest stars on the Main Stage, and celebrate the beautiful planet we call home.
Pathway to Paris in Concert—1 pm, 2 pm, 3 pm, and 4 pm
Irma and Paul Milstein Family Hall of Ocean Life
This rolling concert features performances by Patti Smith, Patrick Wilson, Michael Stipe, and other friends of Pathway to Paris, an organization dedicated to turning the Paris Agreement into reality through innovative and ambitious solutions for combating global climate change.

Concerts are all first-come, first-served, with tickets to each performance available free of charge at the entrance to the Milstein Hall of Ocean Life on the day of the event.

Sunrise Party
Daybreaker: Party Animals—6 am Yoga or "The Class by Taryn Toomey" | Dance Party 7–9 am
Akeley Hall of African Mammals, Hall of Birds of the World, Wallach Orientation Center
Answer the call of the wild with this early-morning sunrise workout session and dance party. Kick off the morning with the workout your choice: yoga, acro yoga (both by Modo Yoga), or join "The Class by Taryn Toomey" (taught by Taryn herself!), a music-driven practice of self-study through physical conditioning. The workout sessions will be followed by a DJ-led dance party in the Wallach Orientation Center under the iconic Titanosaur. Visitors are encouraged to wear something animal-inspired—panda onesies, cat ears, and bunny tails are welcome.

Limited availability. Register in advance.

Pop-Ups
Party Like Brooklyn, Baby—10 am–1 pm
Bernard Hall of North American Mammals
Bring your best moves to this dance party for all ages, and celebrate what makes Earth the best place in the universe to boogie down. Hosted by Mr. Marc and DJ Mikey Palms.

Chicago City Limits—10 am, 11 am, and Noon
David S. and Ruth L. Gottesman Hall of Planet Earth
What's funny about climate change? Nothing—but don't tell that to this improv comedy troupe, who will use the theme of climate change and the unique setting of the Museum to conjure up some apocalyptic hilarity.

The Sound of Science, by Jeff Zeigler—2 pm, 3 pm, and 4 pm
David S. and Ruth L. Gottesman Hall of Planet Earth
The Sound of Science is eight pieces of music written by composers from around the world, who paired with scientists of their own choosing to create music inspired by and reflective of each person's research. Each piece, written for amplified cello and electronic, will be performed by Jeffrey Zeigler, a long-time member of Kronos Quartet and cellist for John Zorn, Philip Glass, Laurie Anderson, and many more.

Hands-On Activities
Science Stations—11 am–4 pm
Theodore Roosevelt Memorial
Check out ice shelves in Antarctica, discover deep-sea fossils, explore the Earth's mantle layers, and analyze the changing sea levels with hands-on activities for all ages, presented in collaboration with Columbia University's Lamont-Doherty Earth Observatory.

Bash the Trash Workshops—11:30 am and 1:30 pm
Theodore Roosevelt Memorial
Build musical instruments from recycled and reused materials with Bash the Trash, experts in showing how science can transform even the simplest stuff into cool-sounding works of art. Participants are invited to march in a parade with their new instruments later in the day.

Interactive Carts—11 am–4 pm
Grand Gallery
How do snakes see in the dark? What ocean animals produce more than 50 percent of the oxygen we breathe? Explore these topics and more at interactive carts led by high school students in the Saltz Internship Program at the Museum.

Drop-In Session—12–5 pm
Sackler Educational Lab
What is the story of humans' relationship with the Earth? Stop by the Sackler Educational Lab to talk to a scientist, learn about the latest discoveries in human evolution, handle fossil casts, and see a real human brain.
American Museum of Natural History
Central Park West at 79th Street Hayden Planetarium at 81st
New York, NY
** Event dates/times are subject to change. Please click through to the event website to verify.