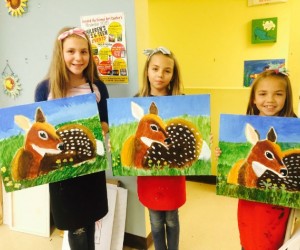 Central New Jersey Summer Art Camps
Summer is the perfect time of year for artists to express themselves. Summer art camps allow children the opportunity to build confidence, enhance creativity and have fun. With its close proximity to both New York City and Philadelphia, central New Jersey is home to a wealth of talented artists hoping to educate and inspire children of all ages. Here are a few summer camp options for parents looking to inspire their little Da Vinci during the long hot days of summer vacation. And to find out all the day camp options in NJ, check out our New Jersey Summer Day Camp Guide.
Visual Arts Center of Somerset County, Summit, NJ (ages 5-15)
The Visual Arts Center offers two fun-filled opportunities for students to develop their artistic skills. The day camp, which runs from 10 am to 3 pm, focuses on developing student's appreciation of the visual arts through hands-on activities. Under the guidance of highly qualified instructors, students have the opportunity to explore a variety of media including drawing, painting, ceramics, sculpture, printmaking and three dimensional work. The camp runs during the months of July and August, and students can register for as many or as few weeks as they wish. Each week focuses on a specific theme, such as "Art Around the Globe", and concludes with an exhibition for parents to view their child's artistic creations. In addition, the Visual Arts Center offers a Summer Saturday Art Camp for 6 to 9 year olds.
Zimmerli Art Museum, New Brunswick, NJ (ages 7-14)
What better place to inspire a child's creativity than one of New Jersey's own art museums? Located on the College Avenue campus of Rutgers University, the Zimmerli Art Museum is one of the largest and most distinguished university-based museums in the country. During the hot days of summer, the Zimmerli is a wonderful place to be for budding young artists. Offering both a half day (9 am to 1 pm) and full day (9 am to 4 pm) program, the Zimmerli offers classes in painting, drawing, pastels, watercolors, sculpture and an art "sampler" class. Each year, new classes are added to stimulate and delight the many students who participate. Students are given the opportunity to explore the museum galleries and draw inspiration from the many beautiful works of art on display.
Summer Art Camps at the Wagner Farm Arboretum, Warren, NJ (ages 5-14)
Natural beauty is everywhere at the Wagner Farm Arboretum. From the lush gardens to the walking trails, students can find inspiration all around them. Run by Lisa Young, of the Artfully Young studio, the art camps are are offered for children from kindergarten through eighth grade. Older campers can specialize in water colors, modern art and life drawing. Younger campers will be exposed to a variety of arts and crafts including t-shirt making, painting, weaving, clay and origami.
duCret School of Art, Plainfield, NJ (ages 6-15)
Established in 1926, duCret School of Art is New Jersey's oldest art school. Boasting an alumni that features a wide array of prominent and published artists, the school has established itself as a professional art education and resource center. During the summer, the school opens its doors to children for its two week summer camp program. Children ages 6 to 15 can attend two full and consecutive weeks of morning classes during which a variety of art mediums are taught. Parents can enroll children for one or both weeks. Children are divided into 3 age groups and taught by experienced artists.
Around the Corner Art Center, Freehold, NJ (ages 8-13)
With more than 30 years of experience educating young artists, the Around the Corner Art Center is the perfect place for your little artists to express themselves. Divided into Little Picassos (ages 5-8) and Master Monets (ages 8-13), children attend sessions from 10 am to 1 pm. The popular summer camp sessions are offered for ten consecutive weeks beginning in late June. Children may register for as many weeks as they would like. Themes vary by week but include a variety of artistic expression including drawing, painting and clay. Older campers can take part in design, sewing and jewelry making classes. All supplies are included and campers receive a free t-shirt. In addition to the summer camp, a paint your own pottery studio is open year round..
The Center for Contemporary Art, Bedminster, NJ (ages 5-teen)
The Summer Art Camp at The Center for Contemporary Art stimulates creative expression through theme based art projects that change from week to week. The sessions, led by professional teaching artists are designed to deepen a child's appreciation and understanding of the visual arts. Children in both the 5-8 and 9-12 age groups explore painting, drawing, ceramics, sculpture and more. Week long camps in ceramics are also offered. The Center also has camps for students 13 and older, allowing them to fine tune their skills through exploration of a single medium.
Artlab, Westfield, NJ (ages 4-teen)
Artlab offers summer camp classes that meet four days a week during the summer months. Sessions run for two weeks, and offer students an opportunity to explore personal expression through a variety of art experiences. Some typical projects include portrait drawing, landscape painting and creating a cartoon cell. Artlab prides itself on its ability to stimulate students of all levels and experience.
Choosing the right summer camp for your child can be tricky. However, with so many options for children who love art, it should be easy to find a place where your child's imagination can flourish.
Image: Around the Corner Art Center
Originally published February 2014