< Event Calendar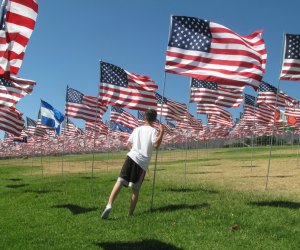 9/11 Flag Memorial
Each year, Pepperdine fills its green hillside on PCH with 2,977 flags, to commemorate the victims of the terrorist attack on September 11, 2001. The vision of thousands of flags flapping in unison in the sea breeze is beautiful, inspiring, and memorable, and can be a great way to introduce the idea of a 9/11 memorial to children.
There is nothing explicit—just rows upon rows of flags—so parents can explain as they deem appropriate. Either way, the image makes an impact. And wandering between the vast number of flags on the windy hillside is a novel outing, with or without explanation.
Members of the community are welcome to join in the process of putting up the flags starting at 11am on September 8. No registration is necessary.
The flags remain up until September 25.
Pepperdine University
24255 Pacific Coast Highway
Malibu, CA 90263
** Event dates/times are subject to change. Please click through to the event website to verify.