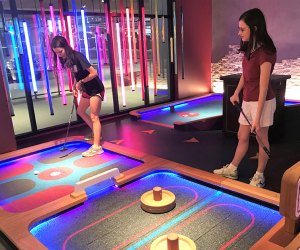 25 Fun Things To Do with Atlanta Teens and Tweens
Raising Atlanta teens and tweens, compared to little ones, has a lot of benefits; besides getting a full night of sleep, you no longer need to change diapers, tie shoes, or swaddle (hopefully). As these teens in Atlanta participate in sports and school activities, it's rewarding to watch their personalities and skills develop. They may even start performing chores around the house (hopefully)! On the flip side, these same wonderful kids begin asserting their independence, and parents eventually realize they may not be the center of their teen's world anymore.
Welcome to the tween and teen years! Although teens' behavior is completely normal, finding family activities can prove challenging. Let our guide of exploring Atlanta with teens help you find new and exciting things to do together in the area while keeping the bonds with your Atlanta teens strong.
Hanging Out with Atlanta Teens
1. Teens in Atlanta are in search of a real thrill, so try indoor skydiving together at iFly. There are no special skills required as everyone attends a short, training session and instructors fly tandem in the wind tunnel.
2. Play a game of indoor miniature golf on a heightened level. At Puttshack, moving obstacles with lights and sounds offer a fun spin on the classic adventure; after you work up an appetite, eat at the full-scale restaurant. Topgolf is another fun place to hit some golfballs in a cool atmosphere.
OUR LATEST VIDEOS
3. If your Atlanta teen enjoys shopping, visit Avalon. With stores like Altar'd State, Lululemon, and Vineyard Vines, you may both end up with a new wardrobe. Reward yourself with a scrumptious slice of chocolate-peanut butter cup cheesecake at Café Intermezzo.
4. Since your teen meets all the height requirements, skip the kiddie rides and enjoy Six Flags Over Georgia to the fullest. Check out Gotham City with seven rides including the revamped triple-loop coaster, the Riddler Mindbender.
5. Eat your way through Krog Street Market. Featuring a diverse range of food stalls, everyone will find something they like. Try out new cuisines including samosas at Jai Ho Indian Kitchen, chicken shawarma from Yalla, and sushi at Makimono.
6. Now that kids are getting older, they can take on more responsibilities such as cooking. Head to Publix Aprons Cooking School in Alpharetta or Cooks Warehouse in Midtown (and various locations) to learn new recipes and techniques together. They'll be no excuse for them not to make dinner.
7. Hiking is a great way to enjoy the outdoors and maybe even have a conversation with your tween or teen. With our list of 14 family-friendly Atlanta trails, your hardest decision will be deciding which trail to hike.

Don't forget to visit Ponce City Market's rooftop attraction, Skyline Park, for even more fun!
8. Explore Ponce City Market. This bustling area offers shopping and picturesque views of Atlanta, plus a world-famous food hall. Don't miss Skyline Park on the rooftop —enjoy carnival games, miniature golf, a free fall from the Heege Tower, and awesome special events.
9. Enjoy some pampering together with a manicure and pedicure at a nail salon like Sugarcoat. For an extra indulgence, get a foot massage at Treat Your Feet in Buckhead.
10. Teens in Atlanta don't need driver's licenses to have fun at Andretti Indoor Karting & Games—race in the karts on a multi-level course or try out the race simulators. Play a game of laser tag, try the virtual reality game, Hologate, or the 7D Xperience ride. Bowling and arcade games are also available.
11. The training wheels have gone by the wayside for your Atlanta teen, so enjoy longer rides on one of the many bike trails in the city. If you're looking for lots of challenging hills, head over to the Arabia Mountain PATH with 30 miles of trails.
12. Spend a day at Stone Mountain Park. Hike the one-mile trek to the summit or bike the five-mile path around the lake. Seasonally, try the SkyHike obstacle course, catch the evening laser show, or attend one of the many festivals.
13. No matter the season, you'll find plenty of opportunities to watch a professional sports team. Head to downtown's Mercedes-Benz Stadium to watch the Atlanta Falcons play football or an Atlanta United soccer match. Nearby, the Atlanta Hawks play basketball at State Farm Arena, while the Atlanta Braves play baseball at Truist Park in Cobb County.

The SkyView Ferris wheel is a wonderful way to discover Atlanta with teens. Photo by Bill Leffler
14. For hard-to-beat views of Atlanta's skyline, ride the SkyView Ferris wheel. Rising almost 20 stories tall, this attraction is climate-controlled and open all year.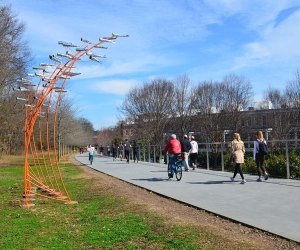 Atlanta BeltLine is perfect for any age. Photo by Bill Leffler
15. Discover the BeltLine. Look at the outdoor art exhibits while you walk, bike, or scooter. Stop and watch the skateboarders catch air at Historic Fourth Ward Skatepark or bring your own board to practice. Take a Segway tour with a teen who is more coordinated than those wobbly toddlers (hopefully).
16. If you have a future pilot that's over 16, book a session in the Boeing 737-200 flight simulator at the Delta Flight Museum. Actually used to train pilots, the full-motion simulator allows you to feel every roll, pitch, and bump as you attempt take-off and landing procedures with the guidance of a retired Delta flight trainer.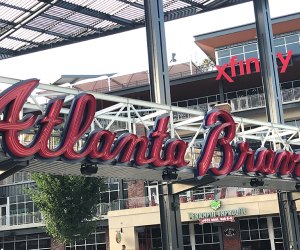 Whether your teen likes baseball or not, The Battery Atlanta has a ton of stuff to do together.
17. The Battery Atlanta encompasses Truist Park and is a fun time even when the Braves aren't playing. The park offers outdoor concerts, restaurants, and lots of shopping. Be sure to stop at Jeni's Splendid Ice Cream for a scoop of salty caramel.
18. The Splatter Studio allows everyone to unleash their inner creative skills in one-hour sessions. They provide the gear, paint, supplies, and most importantly – all the cleanup while you get to keep your 16 x 20 canvas of artwork. Atlanta teens who prefer clay can paint pottery of their choosing at All Fired Up studio.
19. Try rock climbing at Stone Summit Climbing and Fitness Center. As skill levels increase, those 12 and up can ditch the ropes and harnesses to experience the boulder room.
20. Go tubing down the Chattahoochee River. At Shoot the Hooch, you'll begin at Island Ford and float over three miles to Paces Mill. All equipment including life jackets are provided and a shuttle bus brings you back.
21. Atlanta offers plenty of museums to visit. National Center for Civil & Human Rights and the William Bremen Jewish Heritage Museum will open the door for deep discussions as a family. Sports fan will love the College Football Hall of Fame.
22. If you have fans of "The Walking Dead," catch one of the many tours offered at Georgia Tour Company. They also have a scavenger hunt and a film-themed escape room.
23. Watch a performance at one of the many venues including the Fox Theatre, Dad's Garage, and the Horizon Theatre. If your student is struggling with Shakespeare in school, go to Shakespeare Tavern Playhouse for dinner and a show.
24. When's the last time you've watched a movie with your teen? For a twist, catch a show at the Starlight Drive-In Theater. Your car radio FM frequency will transmit the sound. Restrooms and a snack bar are located on the premises.
25. When all else fails and everyone wants to stay home, whip up some hot chocolate and host a family game night. Who doesn't love classic board games and cards games? Or complete a family TikTok dance challenge as proof that your teen really does like hanging with the fam.
Unless noted, photos by author