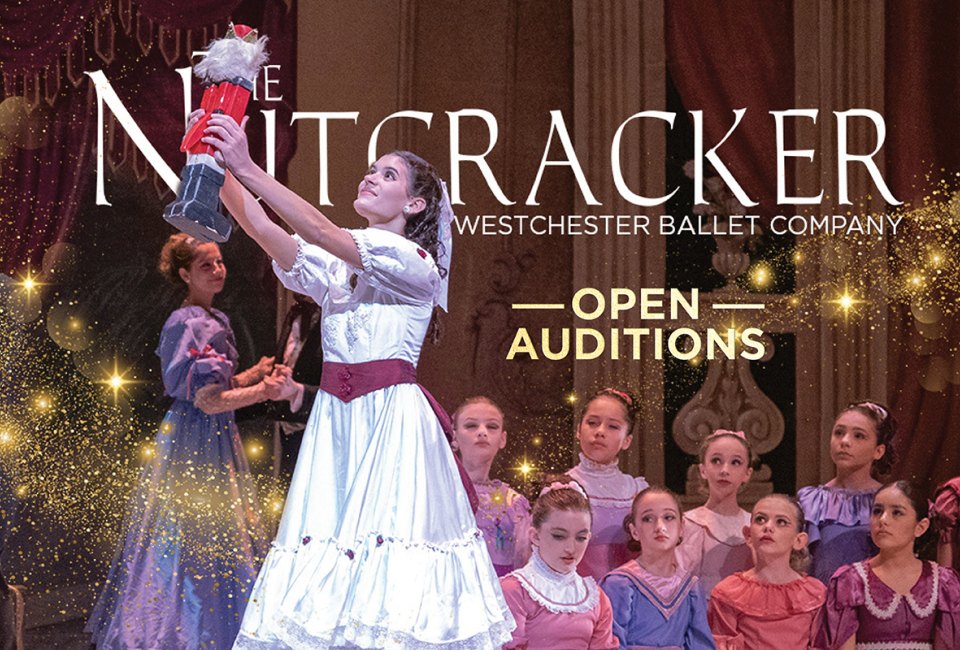 Sat Sep 23, 2023
1:30pm to 4:30pm ET
Age: 6-14
Price: free
Location:
Westchester Ballet Company
This audition is the entry point for young dancers to join the Westchester Ballet Company and to be cast in a professionally produced staging of the Nutcracker. If selected, a dancer receives an invitation to join the Company, is placed in a ranked position within it, and is offered a role or roles in the December production. 
Westchester Ballet Company's 2023 Nutcracker will be performed on December 15, 16, & 17 at Lehman Center for the Performing Arts.
Auditions are open to all dancers in the community, as long as they meet the age requirement and training qualifications associated with the rank in which they are placed in the Company.
Audition date: Saturday, September 23, 2023
Location: Tarrytown, NY
Registrants will be notified of the Tarrytown location once dancer's registration is received.
For beginner, advanced beginner, and intermediate level dancers, boys and girls, 6-14 years old. For dancers who are NOT yet on pointe.
1:30 pm—Beginner & Intermediate Boys; ages 6-10
2:00 pm—Advanced Beginner/Intermediate Girls and Boys; ages 10-14
3:00 pm—Intermediate Beginner Girls; ages 8-10
3:30 - 4:00 pm—Beginner Girls; ages 6-9
These auditions are for roles such as Party Child, Mouse, Page, and Clown.
Registration deadline: Saturday, September 16
Register using this form or visit our website.
Note: Westchester Ballet Company is NOT a ballet school. It is an organization that creates professionally-produced peformance opportunities for young dancers. Dancers can train at the school of their own choosing. They receive extra training and performance experience by dancing with the ballet company.
** Activity dates/times are subject to change. Please click through to the activity website to verify.