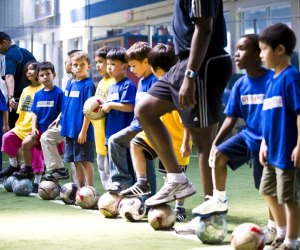 Top Preschool Camps in Fairfield County, Connecticut
That very first camp session is so very exciting for kids—and the parents. If your Fairfield, Connecticut-area toddler or preschooler is ready to jump into summer camp this year, take a look at the local Connecticut camps we've rounded up.
As exciting as camp can be, it can also be nerve-wracking for first-timers wary of a new routine, schedule, and people. Luckily, these well-established camps know how to cater to our youngest campers with fun water play, nature, sports, shorter sessions, hands-on summer activities, and yes, plenty of hand-holding. By the end of the summer, everyone will be exhausted but ready to sign up for more, I bet!
Find preschooler camps in the Hartford area, too. Search our Connecticut Summer Camp Guide for more ideas, or by age, interest, and area in our Directory of Listings.
Chelsea Piers Connecticut — Stamford
Ages 3 and up
This sports-focused summer camp offers a half-day camp, Little Athletes, for kids ages 3-5, as well as a Junior Camp program that runs a bit longer. Kids can choose from several specialized tracks, including gymnastics, dance, swimming, soccer, and more. They'll get plenty of sports instruction, but also playtime with arts and crafts, games, and more activities with their new friends.
Connecticut Audubon Society — Fairfield, Milford
Ages 4 and up
This preschool camp offers an outdoor, nature-fueled half-day camp experience for campers ages 4 to 5. (There are also full-day camps for the big siblings.) Themes vary by the week and keep the kids busy exploring wetlands, woods, ponds, and all the creatures that can be found within them! Join by the week, or for the whole summer. There is before care and an extended lunch option, too.
Darien Nature Center — Darien
Ages 2 and up
Even toddlers can enjoy outdoor, summer camp fun at the Darien Nature Center. Attend just a few days a week, or Monday-Friday, at this summer camp that caters to all ages. The youngest campers are separated into several groups, depending on their birth year. Examples of camp week themes include, "Forest Friends," and "Adventures in Science."
Earthplace — Westport
Ages 2 and up
Campers will hit the trail at this nature-focused summer camp at Earthplace. They'll be exploring local ecosystems and our natural environment, including ponds, woods, and more. There will still be plenty of time for camp-style, preschooler activities, too, such as arts and crafts, music, and storytime. Preschool age kids (2-5) are separated into additional groups by age, including one just for the toddlers (age 2). Early drop off is available for all ages, and extended day options are available for ages 3 and up, a boon for working parents.
Hill Farm Preschool — Fairfield
Ages 2-6
Enjoy summer camp at this sweet preschool this summer. Each week carries a different theme, from patriotism (July 4 week) to an arts/create week to a "backyard bash" complete with water play and popsicles. Kids can join for a half day, or a slightly longer day ending in the early afternoon, and parents are welcome to enroll them for one day a week, up to all five.
International Day Camp at Enchanted Garden — Ridgefield
Ages 3-5
This preschool opens its doors (and outdoor play areas) up for summer camp June-August. Each week hosts a different theme. Past examples include dragons, games from around the world, mermaids, and folklore. Campers will also engage in outdoor fun, cooking, science, art, and music. We love that the camp describes its mission as being about "kindness, creativity, and fun."


Even toddlers can get into the summer camp fun at Kidville. Photo courtesy the camp
Kidville — Westport
Ages 2 and up
This indoor camp offers little campers plenty of activities to wear 'em out and pique their curiosity. Preschoolers (and toddlers) will enjoy gym-style games and fun on the mat, but also music, arts and crafts, science, and more guided activities with their counselors. Check out each week's theme before booking your sessions. There's also an option for 18-months and up with a parent or caregiver.
Long Ridge Camp — Stamford
Ages 3 and up
The Long Ridge Camp held on the wooded grounds of this independent day school offers a full day of camp your preschooler (or half day). The "nursery and preschool" division of this day camp participates in all the typical camp activities but geared to the needs of the younger set, including games, art, swimming, dance, and music. Bus transportation is available to full-day campers. The 14-acre campus includes three pools, playgrounds, air-conditioned indoor facilities, and sports fields.
New Canaan Nature Center — New Canaan
Ages 3 and up
This popular summer camp spans 40 acres with plenty of fields, ponds, and woods to explore. There's a half-day option for ages 3-5, or full day for ages 4 and up. Promising an "action-packed" day camp, the New Canaan Nature Center serves up games, arts, wood hikes, bird watching, gardening, and even baking.
Ridgefield Academy — Ridgefield
Ages 2 and up
A new "twos" program at Ridgefield Academy's summer camp on the independent school's 42-acre campus lets the state's youngest campers take part in the seasonal fun with water play, playgrounds, sensory tables, preschool classrooms, a Kitchen Lab, and more. Your 2-year-old can enjoy a half-day program, while those ages 3 and up are eligible for full-day sessions. Before and after care are available, too. Each week carries a fun theme, such as "Sports Extravaganza" and "Under the Sea."
Summer at Wooster — Danbury
Ages 4 and up
The pre-K and kindergarten-age summer camp program at Wooster School offers its youngest campers both half-day and full-day extended care options. Either way, your little camper will enjoy a day filled with fun orchestrated by the teachers and counselors who have access to the school's wonderful grounds, including swimming pools, gymnasiums, playgrounds, theater, art studios, nature trails, and more. Bonus: Full day camp comes with hot lunch!
Stamford Nature Center — Stamford
Ages 18 months and up
Meet live animals, visit the vernal pools and trek through the nature trails at the Stamford Nature Center. There are plenty of half-day camps for the youngest campers.
Toddlertime — New Canaan
Ages 18 months - kindergarten
Fantastic teachers and well-planned activities, including water play, made the half-day Toddlertime camp a consistent favorite in our house for the preschool set. Toddlers, of course, are welcome at this summer camp with exciting rotating themes, including Kaleidoscope Adventure and Pop Fizz Academy. Either way, water play, outdoor games, and music are part of every camp week. The focus on creativity is a total win for this age group.
Tumble Jungle — Norwalk and Fairfield
Ages 3 and up
Tumble Jungle offers half-day summer camps for toddlers and preschoolers from early June to late August in its climate-controlled facilities. Kids will bounce on the trampolines and inflatables, and enjoy themed crafts, and games.
Whitby School — Greenwich
Ages 18 months and up (for existing attendees) or ages 4 and up for non-Whitby families
This private Connecticut school extends its Montessori classroom to the outdoors for summer camp each year. Families attending the school can start their children in the summer camp program as young as 18 months, while others can join at age 4. Kids will explore the 30-acre campus, including classrooms, a revamped gym, nature, water fun, arts, music, science, and cooking, depending on the age group. Half-day options are available.
Woodcock Nature Center — Wilton
Ages 3 and up
This wilderness camp encourages campers of all ages to explore its 150-acre preserve with hiking, wildlife encounters, nature crafts, and more. Preschoolers are divided into two separate age groups: 3s and early 4s, and a pre-k and kindergarten group. Dress to enjoy outdoor play no matter the weather!
A version of this article first published in 2012.