< Event Calendar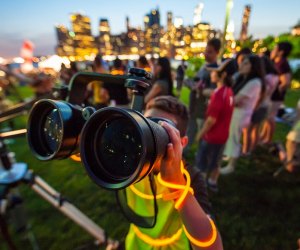 World Science Festival NYC
Tue May 28, 2019
Mostly FREE - Some events have fees
The 12th annual World Science Festival kicks off on May 28th for a week packed with over 60 events that take science out of the lab and into the streets, parks, museums, and premier performing arts venues of New York City.
Best for kids:
New York City Fish Count - FREE!
Citywide
June 2, times vary with location
Top marine biologists and scientists work with families and kids to discover–and count–the many species of fish and marine creatures (even seahorses) right here in our own city waterways.
Stargazing - FREE!
Brooklyn Bridge Park, Pier 1
Riverside Park, Pier 1
June 1, 7pm-11pm
This night has it all: multiple telescopes for planets and stargazing; an LED-lit balloon chain installation, floating overhead and swaying to the changing winds; and world renowned scientists and chefs, including a former White House pastry chef, discussing the vagaries of cooking, eating, and staying alive in outer space. Grab your picnic blanket and head to Brooklyn Bridge Park to contemplate–and savor–your singular, magical, miniscule spot in the universe.
City of Science Street Festival - FREE!
Washington Square Park
June 2, 10am-5pm
A larger-than-life touring event where the wondrous properties of science, technology, engineering, and math collide. Filled with interactive demonstrations, hands-on activities, and enormous exhibitions, this FREE program unleashes everyone's inner scientist.
Looking for more festivals in NYC this May?
Citywide
(various locations TBA)
NY, NY
** Event dates/times are subject to change. Please click through to the event website to verify.