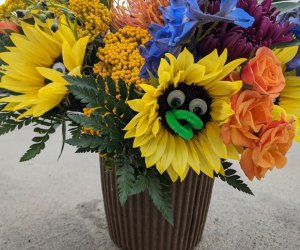 Flower Duet - Floral Design Classes
Flower Duet helps kids and parents to make fabulous floral designs and botanical crafts, and gain a few entrepreneurship skills, too. Flower Duet's online Living Art Camp themes, virtual lessons, projects, and supply kits align with today's parents' wishes to keep kids occupied with activities that are hands-on, fun, and educational. Through themes including Wizard Week, Classic Art Week, Outer Space Week, Brick Builder Week, Jurassic Week, and more, students learn STEAM skills in real life.
Each week's themed camp is made up of six projects. There are three price points for each camp week: lessons only, lessons and supply kit mailed to you, and lessons and supply kit plus fresh flowers (LA area only).
When students sign up for any camp by a Sunday night, they can receive a camp supply kit, and if they are in the Los Angeles area they can arrange to pick up fresh flowers that align with the week's projects.
---
Flower Duet Floral Design Studio
---
Flower Duet Virtual Classes
Reviews