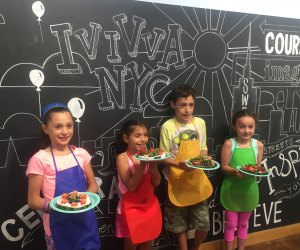 Tiny Turnips Kitchen is now offering virtual cooking and baking classes and camps. Bring the all the fun from the Tiny Turnips virtual kitchen to yours! Email or call for details today.
Tiny Turnips can come to your home to personalize and design the perfect cooking class for your picky eaters, aspiring chefs, and creative bakers. Classes start with kids as young as 3 years old and include private lessons, play dates, and birthday parties.
Tiny Turnips will have children excited to cook and try healthy and yummy food week after week!
---
Tiny Turnips Kitchen (mobile)
---
Tiny Turnips Kitchen Virtual Programs
Reviews