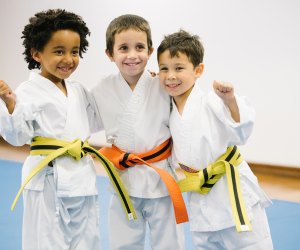 West Side YMCA Youth Sports, Dance, & Theater Classes
The West Side Y offers a wide variety of wonderful classes to get your kid moving and unleash their creativity!
Jin Sei Ryu Karate (ages 4-12): Develop physical conditioning, mental awareness, and self-defense strategies in a fun and encouraging environment.
 
Ballet (ages 3-8): This class is perfect for young dancers of any skill level. Classes are tailored to each student's abilities while challenging them through classical barre exercises, across-the-floor combinations, and creative play. Dancers will learn basic ballet positions, balances, port-de-bras, short variations, and modes of expression form the classical canon.
 
Intro to Musical Theatre (ages 8-12 years): Introductory course on the basics of musical theatre. Learnings include composure role, story arcs, musicals, straight plays, ensemble dances, and more. Singing and dancing isn't hard when you're having fun!
 
Intro to Theatre (ages 6-8 years): Introductory theatre course for beginners to build confidence, vocabulary, and skills for theatre making. Learnings include stage directions, script reading, character arc, emotive action, and more. Low pressure and lots of fun!
 
Basketball Clinic (ages 3-12): This high-energy clinic allows young people to develop their basketball skills while building relationships. Students are grouped according to skill level–beginner, intermediate, and advanced.
Click Here to Sign Up!
i