Best Quebec City Family Restaurants and Kid-Friendly Eats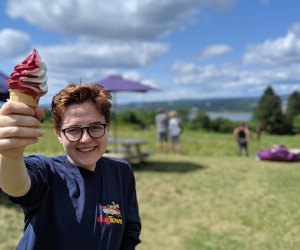 If your ideal travel includes eating your way through a foreign city, Quebec City should be on your bucket list. Quebecois favorites like poutine, maple syrup pie, crepes, and pastries are very kid-friendly.
The city is full of bistros and restaurants that serve excellent food, with a focus on locally-sourced ingredients and most restaurants are kid-friendly. Read on for my tips on Quebec City's best restaurants for families.
Best Family Restaurants in Old Quebec City
Diving into dessert as we spin around the city at Ciel!
What's not to love about a rotating restaurant with beautiful Old Quebec and river views? How about actually good Continental food and an unstuffy, family-friendly vibe? A meal at Ciel! feels special and will be a memorable meal for the whole family, and there's a children's menu!
Everything about La Buche is fun. From the menus that are designed like school books with quirky illustrations and puzzles, to the idiosyncratic dishes that take a modern twist on Quebecois cuisine like "rabbit wings" and shepherd's pie balls. The kids menu includes "Maple Taffy on Snow" that kids make themselves on an ice table!
One of the most popular family restaurants, Cochon Dingue is a casual Parisian style bistro in the Petit Champlain area, making it a convenient stop for traditional Quebecois foods while walking around Old Quebec City. They have a kids menu and offer coloring books.
Another kid friendly spot in Petit Champlain, Spag & tini offers pizzas, pastas and salads, as well as gluten free and vegetarian options. Their outdoor seating is in a very picturesque spot, directly down the hill from the Chateau Frontenac.
Turn your meal into a kid-stravaganza when you eat inside Quebec City's biggest and most famous toy store. Kids can take a train ride, participate in a workshop, and then have a bite to eat in the cafe.
Locals youngsters eat at spots like Snack Bar Saint Jean where you can grab a poutine, burger or hot dog in a fast casual setting.
Another fast option that's popular with locals is Galette Libanaise, the Quebecois take on shawarma or falafel. Inexpensive, kid friendly, and there are locations all around town.
This popular spot on the Rue Saint Jean specializes in crepes, a favorite for both kids and locals. Try sweet or savory.
If you go to Quebec City you have to try the hand dipped ice cream at Chocolats Favoris. It's a local fave as well as being an instagram star. Multiple locations.
Locally roasted, La Maison Smith offers excellent coffees, sandwiches and pastries. There are several locations within Old Quebec City, but the one on Rue des Jardins has the added bonus of being across from a big splash pad.
For more foodie adventure don't miss the Ile d'Orleans. Just 20 minutes outside of Quebec City, the island is stunning and packed with farms and food makers.