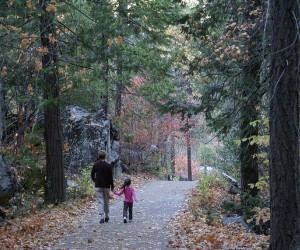 Nature Trails for Westchester Families: 3 Places to Experience Nature with Kids
Westchester is chock full of beautiful places to enjoy nature--it's one of the reasons so many families choose to live here. From historic sites like Kykuit and Sunnyside with lush gardens to explore, to huge parks like Rockefeller State Park and Croton Point Park, there's more than enough green space to go around. We previously wrote about great places to go hiking with kids, however some of the most gorgeous spots to commune with nature are not the most commonly known. If you're looking to blaze new trails, here are three great places to start.
Rockwood Hall - Sleepy Hollow
1 Rockwood Road
Most of the land in The Rockefeller State Park Preserve was bequeathed to the state by the Rockefeller family, and it now makes up a whopping 1,400 acres of wooded trails and rolling hills. Many visitors explore the park via the main entrance, but the Rockwood Hall area is one of the many other ways to access the park. After a short walk up a forested hill, the trail opens up to a startlingly majestic view of the Hudson. Walk a little further in and your kids will be delighted by the grand old weeping beech that forms a natural jungle gym right next to the trail. Bring a picnic and relax amongst the romantic ruins of Rockwood Hall, the former home of William Rockefeller.
Directions: The trailhead is near an unassuming parking lot behind Phelps Hospital. Once you park, cross at the crosswalk. Continue up the hill where you'll see a sign for "Rockwood Hall Recreation Area."
Halsey Pond - Irvington
150 Hamilton Road
This little park is known as Irvington's 'best kept secret.' Nestled between a golf course and suburban developments, it's a peaceful oasis drawing families and dog walkers alike. An easy trail meanders around the small pond, with lots of flat areas for kids to get up close to the water. On a given day, you might see ducks, geese, herons, cormorants or painted turtles. A little castle overlooks the pond (it's actually a teahouse from the pond's history as part of an estate). Walking inside the castle takes you onto a stone terrace overlooking the water- a great place for imaginations to flourish.
Directions: Coming south on Route 9, pass Dows and Clinton Street and then Hamilton Road will come up quickly on your left. Turn left on Hamilton and drive to the end, where you can park in the small cul-de-sac.
Old Croton Aqueduct State Historic Park - Yonkers to Croton
Before Manhattan's Highline park, there was the Old Croton Aqueduct Trail. The park was created in 1968, and sits atop the route of a now-defunct aqueduct which once carried water to the city. The trail is 26 miles in length, and meanders through villages and parkland. It's great for kids--it's mostly flat and you're never very far from a bathroom. Park at any one of the many lots along the route and start exploring. In the Yonkers section, you may be lucky enough to find the Narnia-like ruins of an stone lion and horse. The ruins are part of Untermeyer Park, a former Beaux Arts estate. Check their website for information on accessing the park at various points.
Creative Commons image credit: Mike Barlow