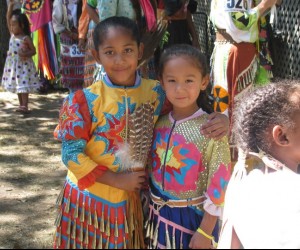 Labor Day Weekend Fun for LI Kids in the Hamptons & North Fork, September 4-7
Labor Day weekend brings an unofficial end to the vacation season on the East End of Long Island. The calendar gave us an extra week to celebrate and Mother Nature blessed us with near-ideal weather all season long. Let's hope she stays kind for one more final weekend because there's just too much going on to be stuck inside.
From Friday to Monday, East Enders can enjoy arts festivals, community parties, fishing derbies and, of course, the Shinnecock Pow Wow, Southampton's annual celebration of the East End's indigenous people.
So get out and enjoy yourself. Take one more look at our Hamptons and North Fork Family Guide for the best in East End entertainment and check out our Long Island Classes Guide to help you get ready for the school year. And remember: Memorial Day 2016 is only nine months away!
Friday, September 4-Monday, September 7
Shinnecock Pow Wow - Southampton. The 1,300-member Shinnecock tribe celebrates with traditional dance and drum performances, native arts and crafts, food and more.
Saturday, September 5-Sunday, September 6
Westhampton Festival of the Arts - Westhampton Beach. Join national and international artists on the Great Lawn for painting, sculpture, jewelry, mixed media, photography and more.
Friday, September 4
"Bug" Lighthouse Cruise - Greenport. The lighthouse off the tip of Orient Point State Park is one of the few offshore lights in the world open for public visit.

Family Drip Painting - East Hampton. Children's book artist and writer Joyce Raimondo leads kids in the art form mastered by East End artists Jackson Pollock and Lee Krasner.

Music and Movie Trivia Night - Westhampton Beach. It's "Jeopardy" for teens and tweens with a pop culture theme and prizes.
Saturday, September 5
Annual Snapper Derby - Shelter Island. The baby bluefish come of age in September. This end-of-summer ritual is as time-honored as Shelter Island itself.

Classic Car Show - Peconic. More than 100 trophies will be awarded for antique, classic and collectible cars and trucks.

Family Fun Day - Hampton Bays. This community event features a bounce house, raffles, barbecue, magic show and, of course, the famous rubber duck race.
Sunday, September 6
Bay Seining - Sag Harbor. Get a close-up look at marine creatures along Noyac Bay with local fisherman Al Daniels.

Apples and Honey for Rosh Hashana -Bridgehampton. The combination of apples and honey has long symbolized hope for a sweet New Year in the Jewish tradition.
Monday, September 7
Vines and Canines Educational Walk - Riverhead. Bring your dog down for an educational walk through Martha Clara Vineyard to benefit local animal shelters.
Photo: Shinnecock Pow Wow