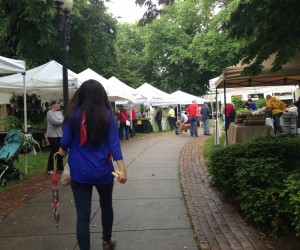 Cream of the Crop: Boston's Best Farmer's Markets and Farm Stands for Families
I spend the spring months eagerly awaiting opening day, not at Fenway, but at Adams Park, where on the first Saturday in June, the Roslindale Farmer's Market begins its summer run. Our farmer's market outings aren't just for picking up extra groceries. They are the first sure sign of summer, long lazy mornings spent on picnic blankets watching our daughter play with her neighborhood friends. If you don't have a local market or farm stand you call your own, check out Tara's post from a few weeks back, or one of these three urban/suburban oases.
The Roslindale Farmer's Market

As a Rozzie resident for the past seven years, I've watched our Roslindale neighborhood market grow in size from a few small stalls to a full-fledged destination farmer's market, recently featured, along with the neighborhood itself, in this article in Edible Boston. Some of our favorite vendors come, including Allandale Farm (see below), Two Field Farm, and Taza Chocolate (Free. Samples). But the best thing about our own neighborhood market are the little details that make it so very family friendly and just a great place to hang out for the morning. A couple neighborhood kids have a donation-only lemonade stand with proceeds to benefit various favorite charities. Weekly children's entertainment has in the past included clown shows, music and Spanish programs, craft projects, and even an amazing archaeological dig. Dogs, kids, unicycles, friends, neighbors, and neighbors' friends, all welcome.
Location: Adams Park, Roslindale Village, 72 Poplar Street, Boston, MA 02131
Parking: Free in lower commuter rail lot
Hours: Saturdays 9.30am-1pm, June-November
Contact: 617-327-4065 or director@roslindale.net
---
Allandale Farm
Located on the Brookline border, Allandale is a working farm, farm stand, and garden center. They don't usually have 'U pick' options, but they do have some of the best seasonal produce around, grown sustainably right on site. You'll recognize some of their baked goods from Clear Flour and Canto 6 (salted chocolate chip cookie anyone?). It's also a great place to get good gardening advice if you're a beginner, like me, and even if you're not. My daughter loved adding the worms I picked up from Allandale to our soil. (And I loved that she loved them).

The other great thing about Allandale is that they have some awesome seasonal events: camps for four-to-ten year olds in the summer, guest speakers and demos from local farmers, and hayrides in the fall. And, they have reasonably priced CSA program, which will keep you in greens all summer long. (See my next post for what to do with all that summer produce).
Location: 259 Allandale Road, Brookline, MA 02467
Hours: Mon-Fri 10am - 6:30pm, Sat and Sun: from 8am-6pm.
Contact: 617-524-1531
---
Verrill Farm

Verrill Farm has been a destination of ours for years, pre-and post-kid. I remember waiting out a rainstorm in the parking lot just to get some of their sweet corn. Verrill does have some opportunities for pick your own produce and various festivals throughout the season, but my favorite is the mid-August corn and tomato festival, where I tasted some of the best corn chowder I have ever had. Because Verrill is larger than Allandale, they have the space to offer pony rides at festivals, and cooking classes for kids and adults alike. Check their website for details and go if you've never been.

Location: 11 Wheeler Road, Concord, MA 01742
Hours: Mon- Sat 9am - 7pm (to 5pm Sundays in January, February), Closed on some holidays
Contact: 978-369-4494
---
Photo: Roslindale Farmer's Market on a rainy Saturday.