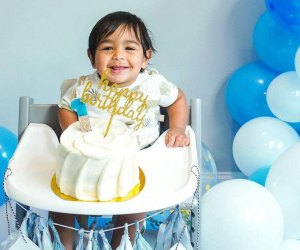 The Best Birthday Cakes for Kids Are at these Houston Bakeries
Whether it's a multi-tiered masterpiece of fondant or a tower of personalized cupcakes, birthday parties with standout birthday cakes are having their day. And while showpiece cakes were already a thing before COVID, with socially distant and virtual parties on the rise, securing a birthday cake that doubles as a centerpiece is becoming an even bigger deal.
The good news is that Houston is home to some of the best cake bakeries around, but that also makes for a lot (we mean a lot) of exceptional bakeries to choose from. Narrowing down which one to choose for your next party can be downright overwhelming.
While this list is by no means exhaustive, we selected a handful of our absolute favorite bakeries from each part of town, ensuring that you get an incredible looking and delectable tasting cake and you get to support a local business. Find yourself in a pinch and need something on the fly? We also included a couple of chains that consistently deliver quality cake!
Find more party ideas in our Birthday Party Guide for Houston Families.

Photo courtesy of Nancy's Cake Designs
Birthday Cakes in the Inner Loop
3600 Kirby Dr., Houston, TX 77098
713-522-9999
When the owner's motto is "If I wouldn't serve it in my own home, I'm not serving it at Dessert Gallery," you know it's going to be good. The custom cakes at Dessert Gallery are nothing short of amazing, especially when you pair them with matching custom cookies! Additionally, you can stop by the cute café daily for a cup of coffee and a slice of cake or pie. Dessert Gallery promises calories don't count inside its walls!
1811 S Shepherd Dr. Houston, TX 77019
713-528-4719
Renowned for award-winning wedding cakes, "Who Made the Cake!" doesn't stop there. The Houston bakery has also made celebratory cakes for legends like Simone Biles, Michael Jordan, and Charles Barkley and boasts an online gallery of more than 100 custom kids' birthday cakes that are sure to amaze you. A birthday cake from here is a slam dunk.
6969 Gulf Freeway Suite 455, Houston, TX 77087
713-644-9505
Nancy's passion for cakes began as a little girl in Nuevo Leon, Mexico, when her father ran a bakery out of their home. Now, Nancy makes custom cakes in 13 different flavors that have been featured on several well-known websites, and it's easy to see why when you see her creations. It doesn't stop there, either; you can also order custom cake pops, cupcakes, cookies, and more, all hand-crafted with the same passion that goes into Nancy's cake creations.
Related: 10 Outdoor Party Games for Kids' Birthdays at Home

Photo courtesy of Sugarfoot Cupcakes
North & East Houston Birthday Cake Bakeries
17711-B Kuykendahl Rd., Spring, TX 77379
832-856-2253
Sugarfoot may be known for cupcakes, but its layer cakes are also not to be missed. Whether you're looking for a more traditional sheet cake or a custom creation, Sugarfoot can deliver. We are big fans of the Giant Cupcake Cake; it's the best of both worlds!
5332 FM1960 E suite B Humble, TX 77346
832-995-5834
This small town bakery started out as a home-based hobby used to fund dog rescues, but a dedication to crafting custom baked goods soon helped the business grow exponentially. Now you can find a variety of custom birthday cakes, cupcakes, macarons, and more that are sure to not only satisfy your sweet tooth but be visually appealing as well. Want to test out cake flavors before your birthday? We recommend grabbing one of the bakery's cakes in a jar!
2624 Chestnut Ridge Dr., Kingwood, TX 77339
281-360-7593
There are a lot of delicious cake flavors to choose from at Elite Treats, but our eyes are all on the Symphony. With layers of chocolate chip cookie, chocolate cake, and vanilla cake with ganache filling and raspberry mousse filling, wrapped with white chocolate, it sounds a little like heaven in cake form!

Photo courtesy of World Catering Houston
Birthday Cakes in Northwest Houston
1073 Silber Rd., Houston, Tx, 77055
713-780-4351
With flavors that are inspired from around the globe, World Catering Bakery has managed to create its own niche in the cakery market. Delicious and beautiful cakes aside, World Catering Bakery is also known for having outstanding customer service, and we all know great customer service is the icing on the cake.
13010 Farm to Market Rd 529, Houston, TX 77041
713-518-4868
Cake Fine Pastry doesn't just boast having exceptional cakes, but exceptional cakes that can be delivered, even last minute. Just send or bring in a photo or idea of the cake you have in mind, and this husband-wife baking duo will bring it to life. As an extra sweet incentive, when you join the birthday club you have a chance to win a free birthday cake!
17488 NW Freeway Houston, TX 77040
832-876-9197
If you're looking for scratch-made cake made from fresh, organic ingredients, then look no further than For Heaven's Cake. Owner Dawn is a self-taught cake master who works hard to create unique cakes that are as stunning to look at as they are to taste. FHC even has gluten-free options to accomodate dietary restrictions.

Photo courtesy of Angela's Cakes
West Houston Bakeries for Birthday Cakes
Home Bakery, Katy, TX 77494
info@angelaibarra.com
Angela's home bakery may be a small operation, but Angela is able to deliver big when it comes to both presentation and taste. Her desire to create beautiful, unique custom cakes is evident through her work, and the attention to detail is bar none.
12280 Westheimer, Suite 6A Houston 77077
281-493-3222
For two generations Susie has been creating cake masterpieces for brides and families, giving her plenty of time to perfect her craft. With more than 20 different flavors and fillings to choose from and an ability to take a fun idea and bake it into reality, Susie's is sure to take your next birthday party to the next level.
12620 Briar Forest Dr, Houston, TX 77077
281-597-9430
Tiara Cakes is in the business of baking memories, and you're going to remember your cake for years to come when you trust Tiara with your vision. There are 40 different flavors and multiple fillings and icings available for your cake creations, and even a Party/Events menu should you want to cover your party food as well.

Photo courtesy of Cakes by Gina
Birthday Cakes in Southwest Houston
14165 Bissonnet St M, Houston, TX 77083
281-495-9400
Cakes by Gina has been crafting custom cakes since 2003, and in that time has made a name for itself throughout Houston. Layer by layer Gina and her team will take your birthday cake idea and bring it to life to create an edible 3D masterpiece.
3335 Cartwright Rd Suite 100, Missouri City, TX 77459
281-546-5840
What started as a desire to become a designer and own her own business blossomed into a desire to create beautiful custom cakes and desserts. Whether it's a cookie cake, a custom birthday cake, cupcakes, or cake balls that you're looking for, Cakes by Maria will get it done with flair and finesse.
867 Dulles Avenue, Suite A, Stafford , TX, 77477
281 530-1666
Cillie's was started by her mother in Pakistan, and - after many years - eventually made its home in Houston. The result is a cake bakery that specializes in whipped cream cakes that come in a variety of flavors (vanilla chocolate raspberry, anyone?). Plus, these cakes are visual gems that enhance any and every birthday party.

Photo courtesy of DJ's Bakery
Southeast Houston Birthday Cake Bakeries
16614 Blackhawk Blvd, Friendswood, TX 77546
832-229-1468
DJ's may be located in Friendswood, but this little bakery serves up cakes to the entire Greater Houston area. Simple cakes can be baked with as few as four days' notice, while more intricate custom cake orders need to be placed 1-2 weeks in advance.
9811 W Broadway St., Pearland, TX 77584
713-434-7874
Cupcakes in a cup, mini cakes, single layer cakes, double layer cakes, triple layer cakes... cakes are Sugar Rush's specialty! Additionally, Sugar Rush has a storefront where you can pop in for an afternoon sweet treat, which is how we love to taste-test flavors before we buy. Our personal favorite is the fancy tuxedo flavor, which comes with cream cheese icing, a Heath Candy Bar topping, plus caramel and chocolate. Yes, please.
190 S. Gulf Fwy. #B3, League City, Texas 77573
832-932-1353
The cake queue at Cakes by Jula books fast, and it's easy to see why when you glimpse the intricate party cakes, which taste just as good as they look! Make sure you book early, because Jula has been known to have to turn away customers when availabilty fills up. Why? Because Cakes by Jula is committed to baking cakes with the freshest ingredients possible, and that's something we can get behind.

Photo courtesy of Nothing Bundt Cake
Chains That Bake Great Birthday Cakes
Find the location closest to you here.
These may not be custom designed cakes, but the bundt cakes at Nothing Bundt Cakes are so consistently good that they make regular appearances at everything from birthday parties to baby showers to work events and more. Whether you're looking for bite-sized bundtinis, miniature bundtlets, or full-sized cakes, this place has you covered--and you can always expect a quality product.
Find the location closest to you here.
What started as a small bakery has grown into three different bakery locations in Houston, and each one is serving up some seriously delicious cakes. You can share your inspiration and build your own birthday cake or pick up one of a variety of ready-to-purchase dessert cakes, like Chocolate Ripple Fudge Cake or a sprinkle dusted Rainbow Cake.
Find the location closest to you here.
I know what you're thinking... a grocery store? But the cakes from H-E-B are tasty and reasonably priced; and you just can't beat that. For advance orders, you can get sheet cakes with edible images and even some custom designs. Find yourself in a pinch? They have cakes ready to buy day-of as well, sans the personalization.