< Event Calendar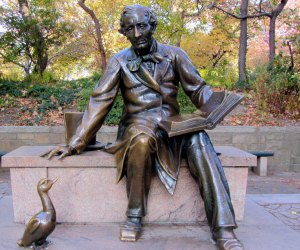 Virtual Stories at the Statue: Hans Christian Andersen Story Telling
FREE (donations appreciated)
Stories at the Statue celebrates its 64th year this summer, continuing a beloved legacy of sharing tales and music in NYC's Central Park - but, this year, it's online!
Storytelling is held rain or shine. The stories are appropriate for children six years and up. Parents or guardians are asked to sit with their children.
Full Schedule for 2020:
May 30
Sheila Arnold, Laura Simms, Simon Brooks
The Man and his Shadow, The Old House, and Jack, the Dullard

June 6
Judith Heineman, Julia Della Torre
The Wild Swans, The Emperor's New Clothes

June 13
Regina Ress, April Armstrong, Noa Baum
The Most Incredible Thing, The Tea Pot, The Crippled Boy

June 20
Jim Brule, Angela Halvorsen, Donna Jacobs Sife
The Last Pearl, The Puppeteer, The Three Languages
July 4
Julie Pasqual, Karen De Mauro, Laura Simms
The Goblin and the Huckster, The Princess and the Pea, Everything in its Right Place

July 11
Joy Kelly Smith, Jean Hale, Robin Bady
The Steadfast Tin Soldier, What Father Does is Right, The Journey of the Beetle

July 18
Megan Wells, Angela Lloyd. Loren Niemi
The Sandman, The Darning Needle, The Swineherd

July 25
Lise Marie Nedergaard, Connie Regan-Blake
The Life of Andersen, Five Peas in a Pod

August 1
Regi Carpenter, Angela Lloyd
Ugly Duckling, The Red Shoes August 8
Ed Stivender. Sally Pomme Clayton
There is a Difference, The Little Mermaid

August 15
Linda Humes, Ellen Shapiro, Sanga of the Valley (Drummer)
Everything in its Right Place, Hans Clodhopper

August 22
Mia Shelton, Katie Green, Laura Simms
The Monster of the Sea, The Butterfly, The Flax

August 29
Laura Simms, Milbre Burch. Heather Forest (with guitar)
The Girl Who Stepped on Bread, The Angel, The Silver Shilling

September 5
Robin Bady, Valentina Ortiz
Children's Prattle, The Little Fir Tree

September 12
Therese Folkes Plair, Rita Auerbach, Diane Wolkstein
The Shadow, The Tinderbox, Recorded Andersen Story

September 19
Usha Ventrakaman, Jonathan Kruk
Thumbelina, The Snow Queen

September 26
Laura Simms, Peninnah Schram, Rolf Stang, Simon Brooks
The Ugly Duckling's Birthday Party!
Beauty abounds in stories – serve cookies!
** Event dates/times are subject to change. Please click through to the event website to verify.