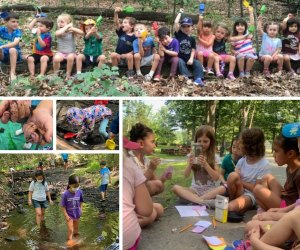 Puddlestompers Nature Exploration
Puddlestompers is committed to connecting the youngest naturalists (ages 2-9) and their parents and caregivers to the open spaces in their communities. By providing the seeds of interest, the tools for exploration, and the caring guidance of seasoned teacher-naturalists, Puddlestompers hopes to help build the foundation for a lifelong enjoyment of the outdoors and stewardship of nature.
Puddlestompers programming is offered throughout the Greater Boston Area. The organization partners with various schools, preschools, and park and recreation departments in order to service as many different communities as possible. Offerings include summer camps, child/adult classes, birthday parties, after-school programs, enrichments, school vacation drop-off programs, and more.
Summer camps are offered in four locations throughout greater Boston for children ages 4-8. Locations include Needham, Newton, South Newton, and Wellesley. Sign up for one or more weeks today on the website.
---
Puddlestompers Nature Center
Reviews
Click Here to Sign Up!
i