Holiday Break in Boston: 20 Things To Do Between Christmas and New Year's Eve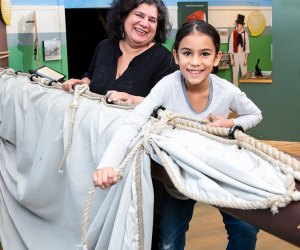 12/18/22
- By
Caitlin Dowling
Holiday break in Boston is almost here! When school takes a pause between Christmas and New Year's, it's nice to kick back and relax from the usual routines. But keeping kids busy over winter break can be a challenge. Thankfully, there is no shortage of fun and easy things to do around Boston during Christmas vacation week! Here are 20 enriching activities from cooking workshops to STEM crafts and nature classes. These holiday break activities around Boston will be sure to nip "I'm bored" in the bud.
For more things to do in Boston with kids over winter break, consult our Winter Fun Guide and our holiday guide. Plan to have a great time with your kids during the upcoming, and much-needed, school break. And have a safe, healthy, and happy holiday season!
Holiday Break in Boston - In-Person Activities
Weekdays December 19-30, 2022
Sign up for a single-day workshop (9 am-12 pm, with additional time optional) or multiple days and do a variety of painting projects, crafts, and games. There will also be outside play opportunities during snack and game time, weather permitting. Sign up for workshops on the website.
December 26 - 20, 2022
Visit the USS Constitution for daily activities including LEGO® invention at the LEGO® Shipyard, Letters of Thanks, holiday crafts and other building challenges.

Stop to enjoy some unique art during holiday break in Boston. Art of the Brick courtesy of Michael Del Llano
Daily through April 23, 2023
Kids and families will see over 70 LEGO® sculptures made from over one MILLION LEGO® bricks. Sculptures include unique pieces as well as replications of famous pieces of art.
December 19-23 and December 27-30, 2022
Kids ages 4 to 7 will explore wintry nature habitats and play outside together during this drop-off program. Sign up kids for a session that begins at 9am and ends at 1pm, or sign up for multiple days, depending on availability.
Daily through January 8, 2023
For those who had trouble getting tickets before Christmas, ZooLights will stay aglow through January 8. Take the whole family for this magical tour of lights on a winding illuminated path full of enchanting lights and exotic animals. Reserve tickets online.
Offered most days throughout December 2021
Learn all about sharks in this immersive exhibit at Harvard. Kids will leave with a new understanding of how sharks are built, how they think and what makes them such incredible hunters.
December 28, 2022
The Harlem Globetrotters are back for their 2023 World Tour. Expect wild tricks, unique shots and and a game against the Washington Generals.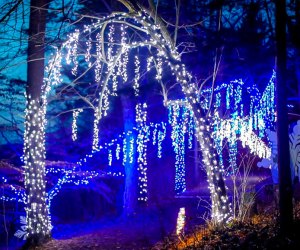 Put a little sparkle in your holiday break activities this season. Photo courtesy of Naumkeag Winterlights
8. Winter Lights—Canton, North Andover, or Stockbridge
Wednesdays to Sundays through January 7, 2023
The gardens at the Bradley Estate, the Stevens-Coolidge House and Gardens, and Naumkeag are made even more magnificent at sundown with sparkly lights.
Daily through December 31, 2022
Walk over 15 acres of magical gardens illuminated by thousands of lights at Tower Hill Botanical Garden. Then warm up by the fire roasting marshmallows and sipping on a delicious cup of hot chocolate.
Wednesdays to Sundays through December 31, 2022
Drive through the Winter Wonderland and have a meet and greet with Santa. Enjoy a cup of hot cocoa or delicious s'mores to warm up.
December 31, 2022
Ring in the New Year at this afternoon party with a 12pm balldrop. Kids will make party hats, noise makers and rock out in their PJs for a NYE afternoon balldrop.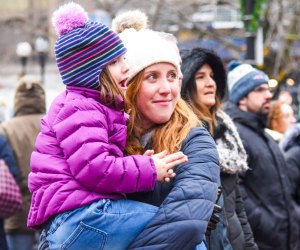 Boston's holiday season is capped off by family-friendly First Night. Photo courtesy of First Night
December 31, 2022
An annual celebration since 1975, families can ring in the New Year in downtown Boston. As is tradition, the day will bring a variety of performances and experiences, ending in a fireworks show to welcome 2023.
Daily
If your kiddies are really digging the sparkly lights, take a family drive to see some of the most elaborate holiday lights on houses in Boston area neighborhoods.

Skating on Frog Pond is a fantastic holiday break excursion in Boston! Photo courtesy of the Boston Frog Pond
Enjoy several Boston-area outdoor ice skating rinks, including a reopened Boston Common Frog Pond, for a fresh-air spin.
See our ideas for spots that offer fun kids' winter activities, from Canton to Carlisle.
It might be hard to fly away for a vacation, but tubing parks within 1 to 3 hours of Boston are open (and making snow) for downhill thrills.
December 28-29, 2022
Kids (ages 4 and up are recommended) will design a candy maze and experiment with different spice drop structures at the Waterworks Museum. The museum recommends a $5 donation to attend.

Boston Ballet's Nutcracker will entertain audiences during holiday break. Photo courtesy of the Boston Ballet
Now through December 31, 2022
This treasured classic is back on the big stage to make this holiday season bright. Join Clara, Uncle Drosselmeyer, the Mouse King, and all of the cast at the Boston Ballet.
Holiday Break in Boston - Virtual Winter Break Activities
Purchase and stream online December 28-30, 2022
Want to watch this performance from the comfort of your home? The Tanglewood Marionettes have adapted this classic fairytale with a few unexpected twists that will keep viewers engaged.
Multiple dates
This five day online camp will teach kids the intricacies of the Rubik's cube. Beginner and advanced levels available.