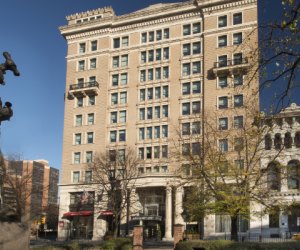 Kimpton Hotel Monaco Philadelphia
The Founding Fathers knew they were onto something good when they landed here, and Kimpton Monaco Philadelphia happily followed their lead. Fueled by an admiration for Philly's rich past and ever-evolving present, Kimpton Monaco Philadelphia feels proud to have established roots in this friendly town full of passion and personality. Much like Kimpton's distinctive personality, Philly has unique, endearing quirks—from "whiz wit" cheesesteaks to "Rocky" step-running traditions.
Family-friendly suites and a location right in the middle of Philadelphia's historic district make Kimpton Monaco Philadelphia a place the entire crew can enjoy.
---
Kimpton Monaco Philadelphia
Reviews
Sign up for the Mommy Poppins Newsletter today!